In this guide, which is about "Green Mountain Grills vs Traeger", I will be giving you the major differences between the Green Mountain Grills and Traeger.
The Green Mountain Grills (GMG) have long been appreciated since 2008 when they started selling their high-tech, foolproof pellet grills.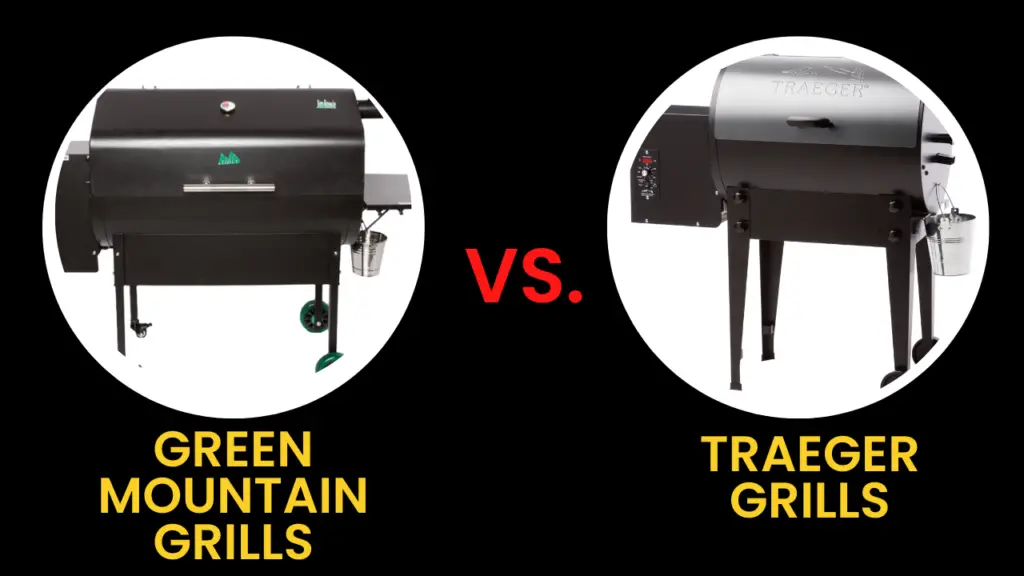 Green Mountain Grills (GMG) is a much smaller company than Traeger, but they are still competitive and are definitely vying for Traeger's massive market share.
In the world of pellet grills, Green Mountain Grills made their grills a little bit different, which makes them sophisticated and a great option.
I'm sure you are here to know which of the two is the best pellet grill overall, and you are probably also planning to get one and don't know which one to choose.
As previously stated, this guide will go over the main differences between Green Mountain Grills and Traeger, which will aid you in making your decision.
So, read through to the end to get the full knowledge and understanding of the Green Mountain Grills and Traeger, and their major differences.
Let's dive in, but let's go over them singly;
Green Mountain Grills
Green Mountain Grills have been a fascinating hot topic in the world of pellet grills.
And, since 2008, Green Mountain Grills have been in operation and have also been spreading into the grill market ever since.
What truly got Green Mountain Grills' products household names and also placed them on the map was a revision of their pricing plan in 2014.
To manufacture and produce grills for personal use that are simple and not difficult to use has been the fundamental idea of Green Mountain Grills.
They pack their grills with the latest tech and features and also sell their products at highly reasonable price points to obtain or earn an edge in this competitive market.
The rate of satisfied customers of this company is large enough and also the extensive positive reviews they get all over the show prove that their strategy is working excellently.
Green Mountain Grills was a pioneer in introducing Wi-Fi control in pellet grills, and it is now becoming a standard feature.
This feature has been in the three major grill models that Green Mountain manufactures. Some of their extremely popular grills include Daniel Boone, Jim Bowie, and Davy Crockett.
Not only do Green Mountain Grills make popular grills, but they also make different kinds of pellets, grill accessories, and BBQ rubs.
Every last Green Mountain grill is produced and put together in China, while their headquarters are in Reno, Nevada.
Green Mountain, like every other brand, has also been expanding to obtain the economic advantages of producing in China, even though their model names are those of historical American icons.
Although you should know that this might seem to affect their quality levels in specific cases, fortunately, this does not seem to be the case with Green Mountain Grills' products.
Traeger
Now, coming to Traeger, the company that created the pellet grill in 2006, they are also the one that holds the patent.
A private equity firm was the one that bought the small, family company after the patent expired, and this act happened to be the cause of their sudden growth and new fame.
Traeger is regarded as the largest producer of pellet grills and, by our calculation, has sold more than 2 million pellet grills.
Traeger also started producing in China after the expiration of their patent, which resulted in quality problems and affected their brand's perception.
They fixed the problems with their quality, regaining their reputation and bringing to market grills that are admired and acclaimed by beginners and lovers alike. They also did the job.
Wi-Fi control was also added to their grills, making them equal with their other aggressive competitors.
The Pro Series, the Ironwood Series, and the Timberline Series are all among Traeger's product lines, and to talk about them briefly, the Pro Series is recommended for BBQ lovers that are beginners in the world of pellet grills and are also on a budget; it has basic features.
The Ironwood series has the latest features and comes in various sizes, so it is recommended for seasoned BBQ veterans.
And, lastly, the Timberline series is recommended for professional chefs and extreme lovers as this is their forerunner product.
Both Green Mountain Grills and Traeger are offering and also have so much to give people who are in the world of pellet grills and also want to get into it.
Below will be more about the two companies and, most importantly, their differences in some major aspects, so let's continue.
Comparing Their Top Features
Green Mountain Grills vs Traeger: Size
Traeger is more for cooking for a crowd, as the cooking space of some of their grills has more than 600 square inches and grates that can hold food from falling through.
And, while Green Mountain Grills are more appropriate for smoking and cooking food on camping or hunting trips or to tailgate before big gates, as they are much smaller in size, and the cooking space of their grills is still more than 200 square inches.
Green Mountain Grills vs. Traeger: Temperature Range
Green Mountain Grills' products have a digital display that displays the temperature, and you can also choose a minimum temperature of 150 degrees Fahrenheit and up to 500 degrees Fahrenheit by using the small buttons.
You can also adjust the temperature from a long distance as all you need is just the downloaded app on your phone.
Traeger grills' LED displays only feature a smaller temperature range, and the button you use to choose the temperature can go up to 375 degrees Fahrenheit.
Although it also has its highest temperature setting, which you can choose, this is only suitable for baking.
User Friendliness
Green Mountain Grills are the best when it comes to user-friendliness. Green Mountain grills are also Wi-Fi enabled, which makes them one of the only companies that do that.
A Wi-Fi-enabled grill means you will be able to control the grill with just an app on your phone.
You can turn off or on the entire grill, or turn on/off the timer, and you can even change the temperature just with your phone through the app.
And, unlike Traeger, whose grills are quite the opposite of Green Mountain's, as they are more traditional.
As the addition of wood pellets to the hopper will be done by you, the temperature can only be changed by using a dial or probably a knob, and as you are cooking, you have to watch your food.
Legs
How stable and firm a grill is and how you can easily move its legs determine it.
This is to say that even though the legs of a grill might not seem too important to all grilling lovers, they are still quite essential.
The legs of Green Mountain Grills products are folded up and down to help support the grill, and they can also serve the purpose of handles.
A lot of people will go for the legs of Traeger products as they have four legs, which you can find at the bottom, and they provide more support and firmness.
You can also move Traeger's grills as two out of those four legs attached have wheels attached to them.
Fuel Consumption: Green Mountain vs. Traeger
Pellets are the fuel source for the Green Mountain Grills, while for Traegers, pellets or regular hardwood briquettes are used as a fuel source, although there are also some Traegers that make use of gas as a cooking fuel source.
Warranty Coverage
The warranty coverage offered by Green Mountain Grills is 10 years, while that of Traeger on its pellet grills is 5 years.
Regional Availability
Green Mountain Grills sells their products intentionally and particularly in Australia, Austria, the Netherlands, Germany, New Zealand, Ireland, and Denmark.
Meanwhile, the Traeger products have only been sold in the US and this has gone on for a long time, although they now export their products to Canada.
Green Mountain Grills vs Traeger: Cost Comparison
The Green Mountain Grills Daniel Boone, the list price is $399, and you can get it for $199 at Home Depot. Green Mountain Grills Jim Bowie, the list price is $499, but Home Depot has it for $249. Green Mountain Grills Davy Crockett, the list price is $499, the same as GMG's Jim Bowie, and you can get it for $399 at Home Depot.
And now for Traeger: Traeger Lil Tex Elite 22 Wood Pellet Grill or Smoker, Black, 14.5 inches, One Size for $429.99. Traeger Lil Tex Elite 34 Wood Pellet Grill or Smoker, Black, 18.5 inches, One Size, $529.99.
Traeger Texas Elite 34 Wood Pellet Grill or Smoker, Square Inch Cart, 980 sq. Traeger Pro Series 34 Wood Pellet Grill and Smoker, 1700 Watt, Stainless Steel, Black for $689.99.
Traeger Lil Tex Elite 26 Wood Pellet Grill or Smoker, Black, 16 inches, One Size, for $449.99.
On Amazon, the Traeger Pro Series 44 Wood Pellet Grill and Smoker, Square Inch Cart – 1140 sq ft is $769.99, and all Traeger pricing here is for Amazon. The above prices are based on the present price listings at Amazon and Home Depot.
Final Thoughts
I'm sure this guide will be of good help with your decision-making of which one to choose between a Green Mountain Grill and a Traeger.
Green Mountain Grills' products are the best when you are not planning on stretching your budget, and you will also love them as they provide you with the best features and technology at a reasonable price.
And, not to be biased, it is true that both Green Mountain Grill and Traeger manufacture outstanding pellet grills and smokers, so the decision of which one to choose has to do with your personal needs and opinion.
Traeger products are what you should go for when you are looking for something bigger, and you can order them online.
And, to wrap this up, I will mention the top models of both Green Mountain Grills and Traeger.
So, for Green Mountain Grills, their top models are Davy Crockett, Daniel Boone, and Jim Bowie.
And, for Traeger, their top models are Traeger Pro, Traeger Ironwood, and Traeger Timberline, so this will be the wrap-up of this guide on Green Mountain Grills vs Traeger.