You will always turn to this simple smoked cream cheese when you need the ideal party appetizer.
It is covered in a delicious dry rub. The best recipe for smoked cream cheese results in a juicy spread with just the right amount of smoky flavor after a trip to the grill.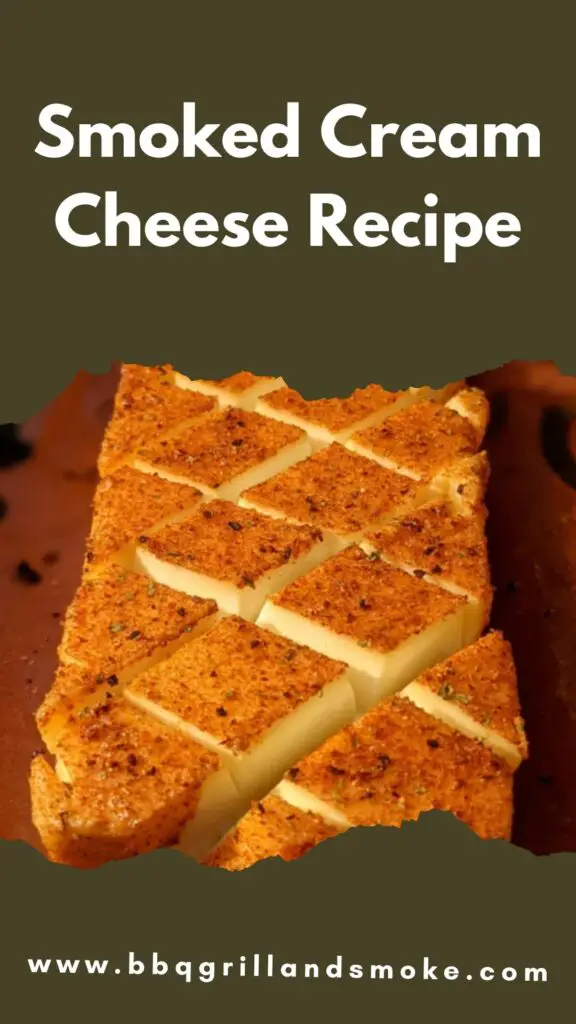 This simple recipe is easy to make and will only take a few minutes to prepare. After that, you can allow the smoker to do the rest of the job.
I will also suggest that you keep this best smoked cream cheese recipe accessible, as it is bound to become everyone's future favorite party snack.
Smoked Cream Cheese
The fact that you can put any twist on it that you prefer is actually the best part about smoked cream cheese.
This recipe is a simple and basic version of smoked cream cheese. However, you can always jazz it up.
You can change the binder, swap out the rub, and add a touch of sauce. You can do whatever you want with this recipe; the possibilities are limitless.
The smoked cream cheese is a simple appetizer to captivate your guests. You can also serve it hot or cold.
Recipe for Smoked Cream Cheese
This is an easy recipe that is flavor-filled. It is ideal as a cracker spread, and you can also use it as an extra ingredient in other recipes.
Course: Side Dish
Cuisine: American
Prep Time: 5 minutes
Cook Time: 2 hours
Total Time: 2 hours and 5 minutes
Servings: 16 servings.
Equipment
Smoking Chips
Aluminum Foil
Ingredients
8 oz of cream cheese
1 teaspoon of olive oil
1 tablespoon of seasoning
Laid-Out Instructions
The first step to this is to make a small aluminum dish. And, to do that, all you need is to layer two pieces of foil and pleat the edges to create a lip.
When that is done, you can place the unwrapped cream cheese in the center of the foil pan.
After that, you can gently cut it with a kitchen knife, making sure you cut it around ¼" deep. Now, sprinkle with your favorite rub.
Then, flip the cream cheese over and coat all sides. Also, make sure that you are quite lavish with the rub.
That being done, also pour a little olive oil on top. Now, it's time to set up the grill for indirect heat.
Add the plate setter for the Big Green Egg. And, for a gas grill, you can proceed to switch off the center burners.
That being done, you can now add some of your preferred smoking chips. If you intend to keep the smoke flavor mild, I suggest you go for cherry.
Allow the cream cheese to smoke for 2 to 3 hours at 250 degrees Fahrenheit. It will be darkened, which would be from the smoke, and the score marks will also open up.
Afterward, you can now remove it from the grill and allow it to cool before you proceed to serve.
How to Store Leftover Smoked Cream Cheese
Storage
When you have any leftover cream cheese, all you need to do is get it refrigerated.
And, you can keep the cheese in a tightly sealed container or cover it with plastic wrap.
Storing it in the refrigerator will allow it to last for three to four days.
Reheating
And, when you are ready to reheat your leftovers, allow the brick of cream cheese to cool at room temperature for around 30 minutes.
Doing this will help remove the chill and allow for more even cooking. After that, you can place the cream cheese in a 350°F oven.
Proceed to bake until it becomes warm. This should take around 10 minutes.
And, when it is ready and done, you can get to enjoy your juicy cream cheese again.
Freezing
However, freezing cream cheese is not something I recommend. After freezing, the texture can become coarse, so I suggest you avoid freezing your cream cheese.
How To Serve Smoked Cream Cheese
Bagels
A lot of people prefer regular cream cheese on bagels. So, instead, you can jazz it up and place this tender smoked cheese on that fresh bagel.
Crackers
You can serve your smoked cream cheese as an appetizer with Ritz crackers.
Tortilla Chips
Tortilla chips are an excellent choice, particularly when you go with Mexican seasoning.
Baguette
For this, just slightly cut the baguette, stroke it with olive oil, and grill it for one or two minutes. Make sure this is done on each side.
Raw Veggies
Just serve with some raw veggies like carrots, celery, red peppers, cucumber slices, broccoli, or thinly sliced zucchini if you want a low-carb option.
Recipe FAQs
What Kind of Wood Chips Should I Use?
The truth is that you can use any wood chip you want. Some of the great options are cherry and apple.
However, there are other wood chips that would also do a great job. They include pecan, hickory, and oak wood.
How Long Does Smoked Cream Cheese Last?
As stated above, you can store any leftovers in a tightly sealed container in the refrigerator. This will make them last for up to four days.
And, when you are ready to eat it, you can serve it cold from the refrigerator or reheat it and enjoy it warm.
Can I Freeze Cream Cheese?
Although I don't recommend you freeze your cream cheese, it is possible to do so. Just make sure you wrap it with plastic wrap.
After that, place it in the freezer. And there are two ways that you can use frozen cream cheese.
Either you leave it in the freezer and let it defrost, or you just place it in the refrigerator for two days before using it.
But, I will say this: cream cheese does not freeze perfectly; however, it freezes ok. You can process it in a food processor if the texture happens to be off.
Do this until it becomes smooth again. It will also be a great option for a dip.
Conclusion on Smoked Cream Cheese Recipes
This simple recipe is easy to make. And you can serve it with pretzels, crackers, vegetables, bagel chips, and chips.
However, the options are limitless. And you can stuff chicken breasts with them if you have leftovers, although I doubt you will.
You can also add it to a sandwich, place it on a bagel, and so on. Furthermore, make sure that you score the cream cheese.
Scoring the cream cheese is quite important because it helps the smoke flavor gets imbued in the cream cheese block, which results in giving it the best flavor.
And, this concludes this guide, as you now have the best recipe for smoked cream cheese. So, go make yourself a delicious treat.