I highly recommend you check out this smoked burger recipe as it is one of the best recipes for burgers, which includes in it, choice of breathtaking rub.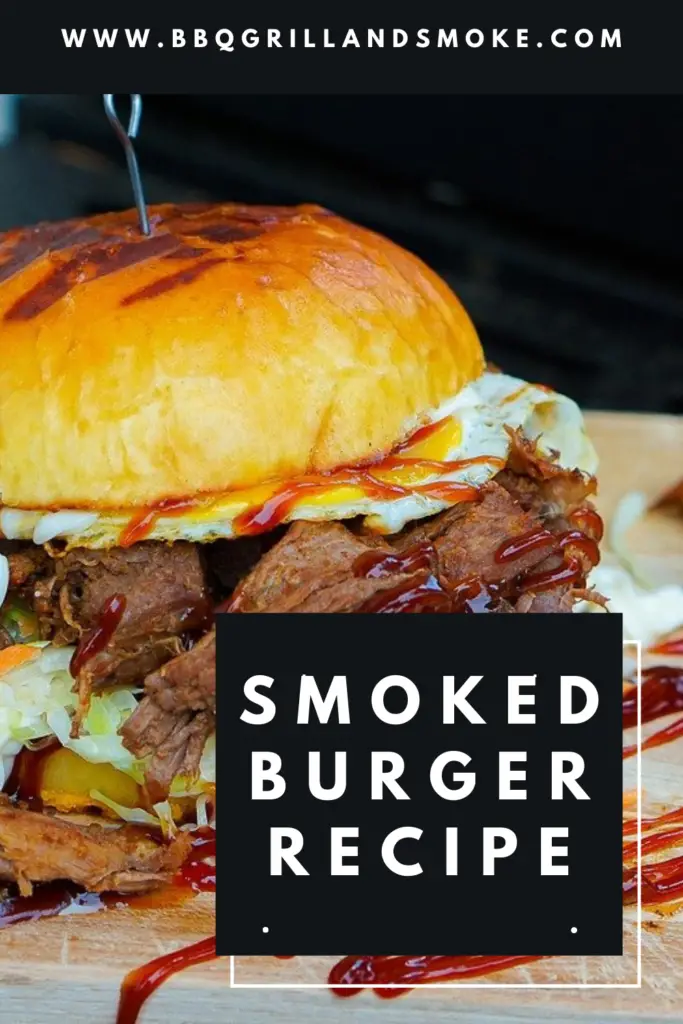 And, the usage of sauces is not so necessary and you can also try to smoke this burger of yours on a Green Mountain or probably a Traeger smoker.
This guide will be detailed with an easy smoked burger recipe; this includes in it laid-out instructions that will even be well understandable for beginners.
Burgers are a great choice of fare and are quite suitable for various events since they are affordable, not difficult to prepare, and it is also possible for you to pack them up with a good number of dressings.
As said, smoked burgers are quite a good choice of snacks for so many events which include birthday parties and so on.
Smoked Burgers
The recipe for smoked burgers that will be detailed in this guide will surely result in a masterpiece and the best you've ever had.
These smoked burgers are moist and luscious, also, in addition, they have an amazing dry rub which will sure make them top-notch.
I'm quite certain that you will be a great lover of grilled burgers, fortunately, you will find smoked burgers even more superior to grilled burgers which will sure explain your cravings for them after you have a bite of them.
This guide will make you understand why cooking burgers in a smoker makes it first-class, making your extra time and effort worthwhile.
The smoky flavor you get from smoked burgers is sure irresistible and you might choose to use a Traeger to make your smoked burgers which is not a bad choice.
Traeger is a very good choice for a smoker to be used to smoke burgers as it does so much of the work and gives you a masterpiece.
Best smoked burger recipe
Ingredients
2 Pounds of Ground Beef
1 Teaspoon of Paprika
1 Teaspoon of Coarse Sea Salt
1 Teaspoon of Coarse Ground Pepper
1 Teaspoon of Granulated Garlic
Notes on Smoked Burger
The temperature for a medium burger is 135 degrees Fahrenheit. So, if you prefer a medium rare, you should decrease the internal temperature by around 5 degrees Fahrenheit, and also another decrease of 5 degrees Fahrenheit for rare. And, to get your smoked burgers well-smoked, 140 degrees Fahrenheit will sure do.
It is likely for hamburgers to lessen or diminish in the course of cooking of any kind. And, which is why it is advisable to go for a half-pound patty because immediately after the shrinking end, you will have a good size patty that will still fit the bun ably.
Another important tip for you is to never season your burgers when you are not ready to place them on the smoker. Adding the seasonings like salt will dry out the burgers rapidly immediately after the addition.
You can use any flavor of your choice but, I will recommend cherry pellets. Also, make sure not to roll over your burgers. You should only roll them over once and that's if it is possible. This action makes your burgers lose their seasonings, their juices which is likely to result in a less pleasant burger.
Frequently Asked Questions
How long does it take to smoke burgers?
Some factors affect the duration of smoking of burgers such as the thickness of the burger patties. So, to answer the question, the timeframe or duration for the smoking of burgers should be around 1 hour 30 minutes to 2 hours.
And, it is advisable to make sure that the internal temperature should be around 125 degrees Fahrenheit to 160 degrees Fahrenheit
This is because it also affects the duration of the smoking of burgers, the internal temperature will be determined majorly by your choice of doneness.
Best wood pellets or chips to be used
There are varieties of wood pellets or chips that can be used to smoke burgers so, you have a lot of options.
But, about the best wood pellets or chips, you can use to smoke your burgers, I will strongly recommend you go for cherry pellets as they are the best choice of wood pellets or chips for smoking burgers.
Are smoked hamburgers good?
Smoking your burgers will give you a pleasant result. So, for the question "are smoked hamburgers good?" Yes, Hamburgers are good.
This is also because anything that is being cooked on a smoker will surely taste better which also goes the same with hamburgers. They also come with a natural hardwood smoky flavor which is satisfying.
Conclusion of Smoked Burger Recipe
To make your smoked burger more delicious and satisfying, you can just add some side dishes in the likes of Baked Mac and Cheese, Frog Eye Salad, Butterfly Smoked Corn on the Cob, Cowboy Caviar Dip, Creamy Homemade Coleslaw, Crockpot Cheesy Potatoes, Italian Pasta Salad, and Food truck Hawaiian Macaroni Salad.
Some more side dishes can be served alongside smoked burgers and they include Homemade Crispy Baked Oven Fries, Oven Roasted Broccoli, Panera's Mac and Cheese, Slow Cooker Boston Baked Beans, and Three Bean Salad.
So, with all the necessary details of the smoked burger recipe, this will be the wrap-up of the guide.