This Corned Beef and Cabbage in the Crock Pot Recipe is a first-rate recipe that is ideal for St. Patrick's Day.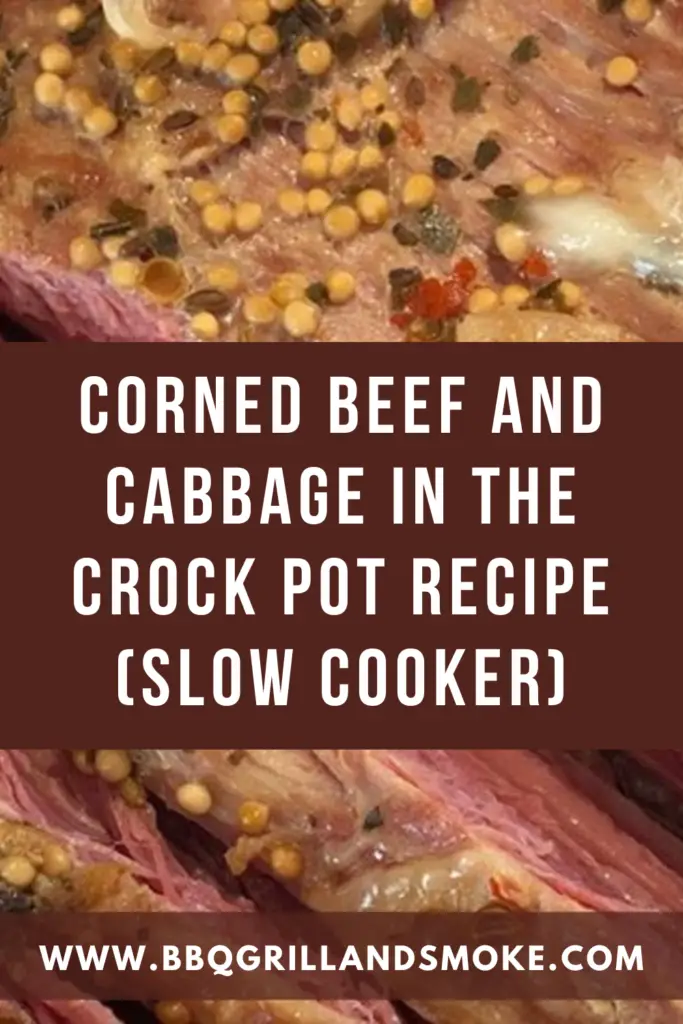 This also goes well for any other day of the year. The crockpot used makes the corned beef melt in your mouth, soft and juicy.
The slow cooker is the perfect and easiest way to make corned beef. As said, the easiest way to make Crock Pot Corned Beef and Cabbage is in the slow cooker.
The beef is made very soft, juicy, and mouth-watering by slow cooking. You won't need to cope with dry corned beef anymore.
You can cook this in your slow cooker all day and expect it to yield a great result. This is even guaranteed.
For a pleasant and refreshing meal, you can serve this slow-cooker corned beef and cabbage with soda bread.
Corned Beef and Cabbage in the Crock Pot Recipe
You will find that this slow cooker corned beef and cabbage is seasoned corned beef cooked with potatoes, cabbage, and carrots. A crock pot meal is just what's ideal for St. Patrick's Day.
Course: Main Course
Cuisine: Main Course
Preparation Time: 10 min.
Cook Time: 8 hours
Total Time: 8 hours and 10 minutes
Servings: 6
Ingredients
1 corned beef brisket (3 – 5 Ibs)
3 carrots (make sure they are peeled and sliced into large pieces).
¾ Ib of small yellow potatoes (halved)
½ head of green cabbage (sliced into wedges)
3 tablespoons of butter
1 clove of garlic (minced)
1 tablespoon parsley, chopped
Salt and pepper (to taste)
Grainy mustard for serving (this is actually optional).
Laid-Out Instructions
Get your corned beef and get it out of the package. Then, proceed to rinse it using cold water and dab dry using paper towels.
With all that being done, get your slow cooker and place the corned beef brisket, carrots, and potatoes in it.
However, you are to make sure that the fat side of the corned beef brisket is facing up. Afterward, you can proceed to add 3 cups of water to the slow cooker.
You are to also add the seasoning packet that you will find in the corned beef package to the slow cooker.
Afterward, proceed to cover it up, then cook it for 6 hours. Make sure it is on low heat. You can now add the cabbage on top of the corned beef and cook for an additional 2 hours. This should also be on low heat.
After that is done, you are to get the cabbage, corned beef, carrots, and potatoes from the slow cooker, then proceed to cut the corned beef against the grain.
Get a small bowl and then place the butter, parsley, garlic, and salt and pepper in it. Proceed to the microwave for an extra 30 seconds.
Or, this can go on until they've melted. Then, spray the garlic butter over the potatoes, carrots, and cabbage.
With that being done, you can now place the potatoes, meat, and vegetables on a platter and then proceed to serve them with mustard on the side. Although this is based on your taste and preference.
Notes on Corned Beef and Cabbage in the Crock Pot Recipe
After being cooked all day in the crock pot, you should expect the potatoes and carrots to be very soft. And, if you want denser vegetables, I recommend that you add them halfway through the cooking time.
Storage Information on Slow Cooked Corned Beef and Cabbage Recipe
Refrigerator
For the leftovers, you can decide to store your leftover corned beef in a sealed container in the refrigerator. This should allow it to last for up to 3 days.
Freezer
You can store and cool your corned beef in a freezer. Make sure it is placed in a sealed container and I'm sure it will last for up to 2 months.
This applies to corned beef and vegetables, but without cabbage. You can then defrost it overnight in the refrigerator.
With that being done, you are to warm it and make sure that it is covered tightly. You may add a little additional broth. This should be done in either an oven or a microwave.
You should also add your veggies about 2 hours into the cooking process if you are more interested in the denser ones.
What Is Corned Beef and What Cut Should I Buy?
A short answer to this question is that corned beef is salt-cured brisket. However, you should know that this is quite different from plain brisket that has not been cured.
When you get corned beef, you will normally find a seasoning packet with it. And, this seasoning packet usually includes peppercorns, bay leaves, dill seeds, and mustard seeds.
This flavor packet makes an amazingly flavorful roast. And when it comes to the cut, you should buy it.
You will find that there are 2 cuts of corned beef and they include point cut and flat cut. Compared to the point cut, the flat cut is much easier to cut evenly.
However, for the point cut, you can get away with having more marbling, but you need to be aware that their size is normally not uniform.
Ingredients for the Recipe
Corned Beef
As said, there are two cuts of corned beef: the flat cut and the point cut. However, no matter the type of corned beef you choose, just make sure that you save the spice packet that comes along with it.
Onions
Traditionally, you won't find onions added to the corned beef, unlike some other ingredients. However, you should make use of it as it adds a lot of flavor to your meal.
Potatoes
Although this is based on your taste and preference, you can make use of a mixture of baby red and gold potatoes.
Carrots
You are to make use of the whole carrots. However, make sure that they are peeled and sliced thick.
Garlic Cloves
Make sure you have them peeled before you add them.
Water
Water helps keep the whole dish moist, and this makes it quite useful. You can also make use of beef broth, but this is based on your taste and preference.
Cabbage
Around a ½ head, then proceed to slice into thin wedges. This will allow them all to fit in the slow cooker along with all the other ingredients.
Conclusion on Corned Beef and Cabbage in the Crock Pot Recipe (Slow Cooker)
Well, you can get to asking the question of how you can buy corned beef. For the recipe, the first thing you need to do is choose your meat.
Particularly in March, most stores sell pre-seasoned corned beef. Also, you have a few cuts of corned beef to choose from.
These different cuts of corned beef include flat cut brisket, point cut brisket, and corned beef round roast.
You should expect the round roast to have the least amount of fat. However, it is also very likely to dry out, thanks to its lower fat content.
Nevertheless, flat cut brisket and point cut brisket have been discussed above, so with all that being said, this will be the wrap-up on "Corned Beef and Cabbage in the Crock Pot Recipe (Slow Cooker)."