Making the best-grilled shrimp using this grilled shrimp recipe is extremely fast. So, in this guide on "Shrimp for the grill recipe", you will be learning how to make the best-grilled shrimp that has a lot of flavor in it and it is also super easy to make.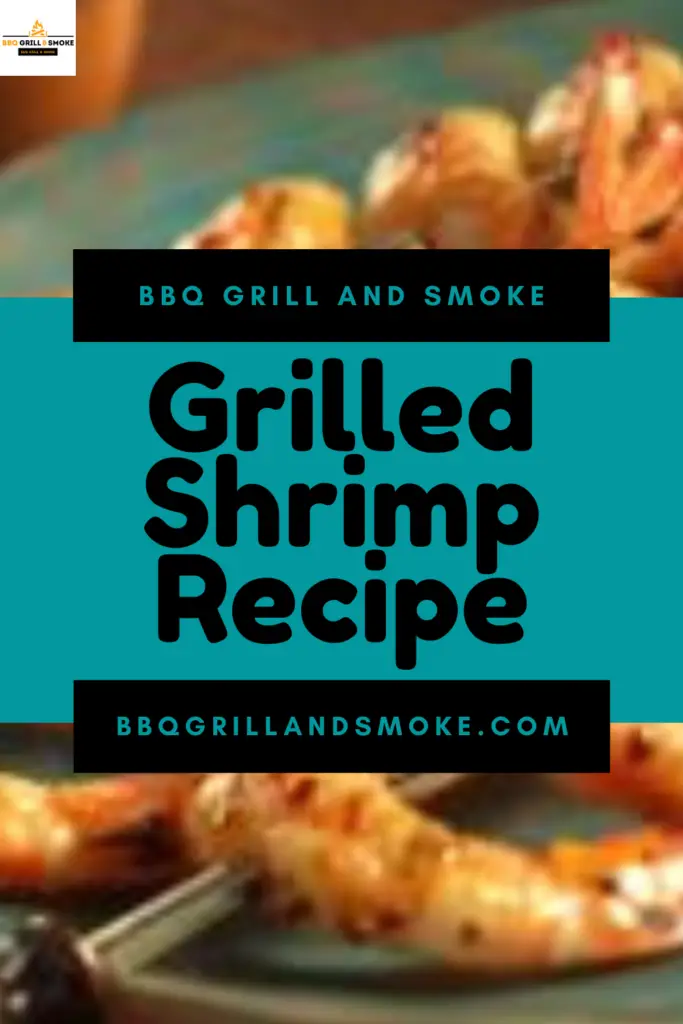 I can assure you that everyone will certainly love the grilled shrimp you will make using this recipe for grilled shrimp. They will also crave more.
Grilled Shrimp Recipe
In my opinion, I will say that the best way to cook shrimp, which is a popular seafood, is by grilling them.
There are reasons why grilling is an excellent way of cooking shrimp. One of these reasons includes that it will give shrimp an impressive smoky flavor, coupled with the flawless tangy spices of the marinade.
To prevent the shrimp from falling through the grate, you will have to put them on skewers. This is because of their size.
For size, I will suggest you go for the jumbo shrimp, but not to worry, even if you want to go for shrimp of a smaller size, this recipe will still work for them.
The best part of this grilled shrimp recipe is the marinade. It practically takes shrimp to the next level.
And, as for what this grilled shrimp recipe is perfect for, I will say it is quite ideal for a fast meal during the week or as a side dish coupled with lobster or steak.
The trick to getting a delicious, soft, and juicy result here is to marinate the shrimp. I can assure you that this will be the best-grilled shrimp you have had in a long time, and it will also be the best go-to meal you will have for a long time to come.
Shrimp For The Grill Recipe
As mentioned above, this shrimp on the grill recipe is super quick and also not difficult to prepare. And, it is also bound to be a success for any barbeque.
And, in any case, if the weather does not allow you to grill these shrimp, you should also know that they cook well and excellently under the broiler.
Preparation Time: 15 min.
Cooking Time: 5 min.
Total Time: 20 min.
Servings: 6
Ingredients
1 large clove of garlic
1 teaspoon of coarse salt
1 teaspoon of paprika
½ teaspoon of cayenne pepper
2 tablespoons of olive oil.
2 teaspoons of lemon juice.
2 pounds of large shrimp (peeled and deveined).
8 chunks of lemon (for garnish)
Laid-Out Instructions
Firstly, you will have to get the grill and then warm it up to medium heat. Afterward, you are to get a small bowl and add the garlic and salt.
Pour the garlic and salt into the small bowl and squash them together with a fork. Then, you are to get the paprika and cayenne and blend them.
Also, get the olive oil and lemon juice and mix them together to make a paste. After that, you can now get a large bowl and also the shrimp and garlic paste.
In this large bowl, add the shrimp and the garlic paste together and roll them until all the shrimp are even and well coated.
After that, you can then proceed to oil the grill grate, but make sure you do this lightly. You are to grill the shrimp till it gets smeared.
And, I will suggest you take about 2 to 3 minutes for each side of the shrimp. After this, you can take the grilled shrimp to a serving dish and relish it with lemon chunks.
Then, you should be sure that your grilled shrimp is ready to be served. So, enjoy the best-grilled shrimp.
Frequently Asked Questions about Grilled Shrimp Recipe
Should You Peel Shrimp Before Grilling?
This is one of the many questions people frequently ask about grilling shrimp. Well, I will be answering this in this guide.
So, the truth is it works both ways, which means you can grill shrimp either with the shell on or with the shell peeled.
People have different tastes and preferences. Some people prefer grilling their shrimp with the shell on, while some prefer peeling off the shell before grilling them, but the thing is, one is just as good as the other.
Although grilling the shrimp with the shell on makes them extremely moist, using the tail on the shrimp also makes them appear the most tantalizing and palatable.
All you just need to be sure of is that you do not cook the shrimp for too long, because cooking it for too long, even if it is just 60 seconds, can make the shrimp dry and dense.
Should Grilled Shrimp Be On Skewers?
The grilled shrimp can be on skewers, but only if you'd like it to be so. To make your shrimp easier to flip over, you can pile them on skewers before you proceed to grill them.
If you are making use of wooden skewers, I would strongly suggest you soak them first to prevent them from burning.
Conclusion on Shrimp For The Grill Recipe (Grilled Shrimp Recipe)
The cooking time for this recipe for grilled shrimp is extremely fast. So, it will just take around 3 to 5 minutes to grill the shrimp.
And, you are to also make use of a medium-high direct heat of around 375 to 400 degrees.
How long you will use to grill the shrimp will be determined by the exact temperature you will be using to grill it.
This means whether you are grilling the shrimp with the shell on or not, does not affect the timing of the grilling. The same goes for the size of the shrimp.
And, you can also serve the following with shrimp: rice or quinoa; scalloped potatoes; pasta; baked potatoes; salads; and steamed vegetables or vegetable skewers.
So, this will be the conclusion of the guide on "Shrimp For The Grill Recipe (Grilled Shrimp Recipe). Happy making the best-grilled shrimp using this grilled shrimp recipe.