This grilled tilapia in foil is a simple way to make grilled tilapia without the worry of sticking to the grates or overcooking.
For a delectable summer dinner, you can serve it with a fresh salad, and it will also be ready in less than half an hour.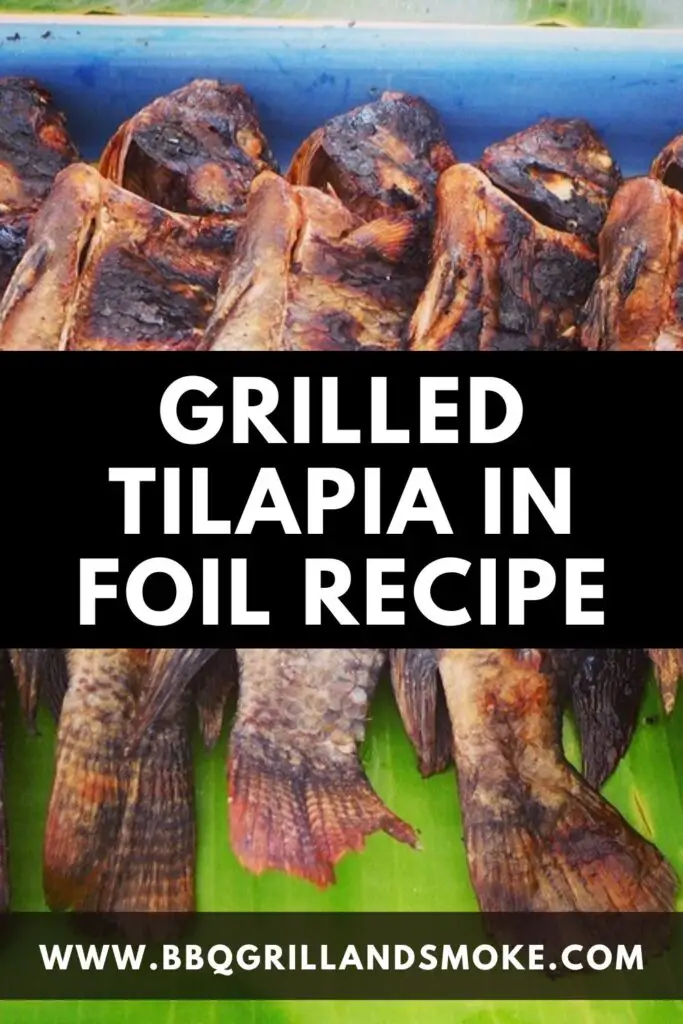 There's always room for some tasty seafood on the barbecue table, particularly when it comes to grilling recipes.
This grilled tilapia in foil makes for a simple dinner that everyone can easily personalize to their liking and also use their favorite add-ons. Well, now is the time to make it!
Grilled Tilapia in Foil
Grilling fish in a foil pack makes it easier to clean up.
I suggest you also make some side dishes on the grill in foil packs as you are preparing meals in foil.
You prevent your tilapia from overcooking and keep it from drying out when you make it in foil.
In no time, this grilled tilapia recipe will become one of your family's favorite seafood dishes.
What is Tilapia?
Tilapia is a white, flaky fish that is a family favorite. It comes with a mild flavor and provides you with several health benefits.
It is high in protein and low in calories. Normally, I buy tilapia that is in the frozen section at the grocery store; however, there's also the option of buying it fresh.
Recipe for Grilled Tilapia in Foil
You are definitely going to love this best-grilled tilapia in foil recipe if you love tilapia. Let's get right into it!
Delicious Serving Suggestions
This tilapia is incredible, particularly with a healthy side or two. Below are a few of my favorite ideas for serving grilled tilapia in foil.
Potato Wedges
You can go for grilled potato wedges that are crunchy to the max with a finger-licking blend of spices.
Biscuits
You also have the option of Red Lobster's iconic biscuits.
They are the perfect choice for seafood, and they are extremely simple to make. Make sure you do not miss these.
Veggie Skewers
Why not opt for some grilled summer squash kebabs?
They are hearty, colorful, and tempting. They are also easy to make and extremely delicious.
What to Serve with Grilled Fish
You will be making yourself a built-in side dish when you add vegetables to your foil packet of fish.
But, you can always try pairing this recipe with a pasta side, such as lemon orzo pasta salad, Greek pasta salad with feta, or parmesan lemon linguine, if you want to add something more nutritious.
There's also the option of pairing it with a creamy Caesar salad, homemade air fryer croutons, or just air fryer potatoes.
Storage Instructions
Just remove your tilapia from the foil if you have any leftovers, then transfer the tilapia and veggies into glass storage containers and place them in the refrigerator. This will allow it to last for up to 2 to 3 days.
Can You Freeze Grilled Fish?
The short and straight answer to the above question is yes.
All you need to do is place the grilled fish in a tightly sealed container, stasher bag, or glass storage container, then freeze for 2 to 3 months.
How to Reheat
In the case of reheating, you can reheat it in a 350-degree Fahrenheit oven or on a hot skillet.
You can also do this for a few minutes in an air fryer until it is heated all through.
In addition, I strongly suggest against using the microwave, but it can actually be done in a pinch.
Recipe FAQs
Can I Use Other Fish for this Recipe?
Well, absolutely, you can use other fish for this recipe. You can go for mahi mahi or cold.
That being said, you need to remember that the cooking time might actually be longer, given that the fillets are thicker.
How Long Should I Cook the Tilapia on the Grill?
Normally, it takes 12 to 15 minutes for tilapia to cook on a medium-high grill.
However, as previously mentioned, you can easily flake it, and then you will know that it is cooked.
Should You Cook Fish in Aluminum Foil on the Grill?
If you were unaware before, using aluminum foil to grill fish is actually a good way to lock in moisture, and you can also ensure that the fish does not stick to the grate or dry out.
Is Grilled Tilapia Healthy?
Well, yes, grilled tilapia is healthy, unless you are not the type that eats fish.
This recipe for tilapia is hearty and filled with vegetables and protein.
You have the option of serving it with a carb to finish off the meal, and it is certainly a filling combination.
Can You Grill Tilapia in Foil?
Actually, yes, grilling tilapia in foil is known to be an excellent way of making sure that your fish does not fall through the grill grates.
Additionally, it is simple and helps keep the tilapia nice and flaky without drying it out.
How do you Season a Tilapia for Grilling?
In this grilled tilapia recipe, the seasoning remains pretty simple: kosher salt, black pepper, garlic powder, and olive oil.
In addition, the fish also gets a lot of flavor from the corn, pepper, onion, and tomatoes.
That being said, you also have the option of using the old bay seasoning and grilling the tilapia.
What To Put On Grilled Tilapia?
As you know, tilapia is a blank canvas. You can just season it with basic seasonings and fresh vegetables.
You can also grill them together in foil packets, and it makes for a tasty and hearty dish.
How Do You Grill Tilapia Without It Falling Apart?
You can't just set it right on the grill, or it will fall apart due to the fact that tilapia is a flaky fish.
This is also why I'm cooking the grilled tilapia in foil packets. However, there are a few other options for grilling flaky white fish.
Final Notes on Grilling Tilapia
You can use other spices, including sumac, paprika, turmeric, or chili pepper flakes.
There's also the option of using either fresh or frozen tilapia. But ensure that it is fully thawed if you use frozen tilapia.
And if you are planning to feed a crowd, then you can easily double and triple this recipe.
As previously mentioned, for this recipe, it is quite possible to use other white fish like cod or mahi mahi.
This concludes this guide, as you now have the best recipe for grilled tilapia in foil.