You are not alone if you have ever found yourself wondering how long to boil turkey wings.
This is to say that this is a common question, particularly around the holidays when people are cooking turkeys for the first time.
The good news here is that boiling turkey wings is a fast and simple process.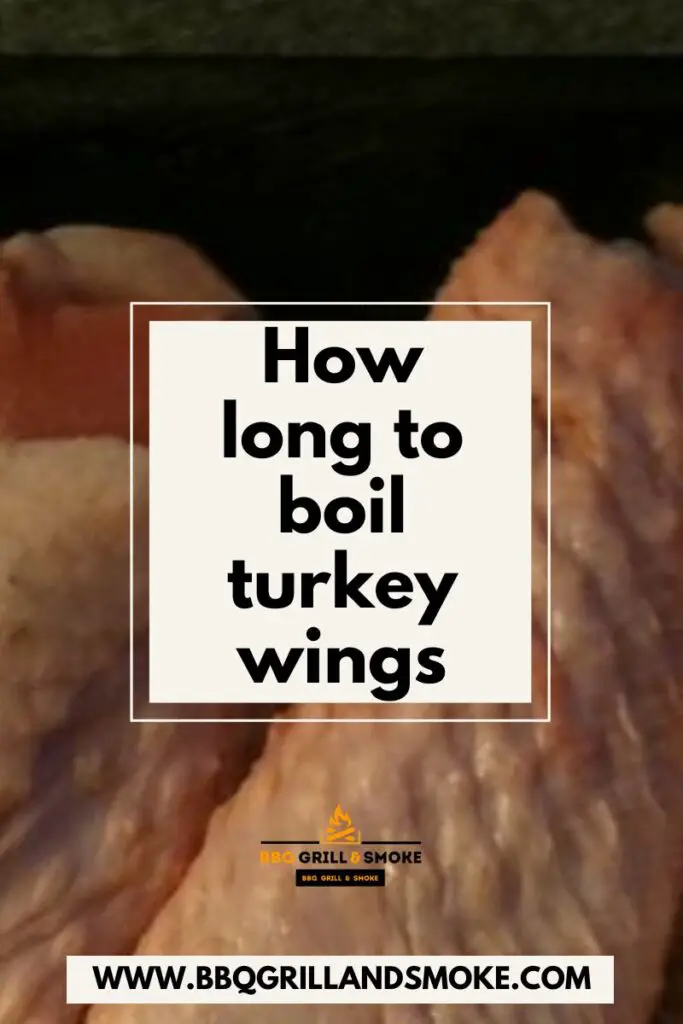 Generally, the normal timeframe for you to boil your turkey wings is around 30 minutes.
That being said, I strongly suggest that you check the instructions that came with your turkey wings.
This is so, given that every brand and type of turkey wing is a bit different, which means it is essential to follow the specific instructions.
It is quite important that you use a pot that is large enough when you are boiling turkey wings, as you don't want the wings to be crowded inside the pot or they won't cook evenly.
In addition, make sure that you use a lot of water. The water has to cover the wings completely.
This will help the wings cook evenly and also make sure that they remain moist.
You have two options when your wings are done boiling: either you eat them plain or use them in a recipe.
Boiled turkey wings are an excellent addition to salads, casseroles, and soups.
So, the answer is around 30 minutes if you are wondering how long to boil turkey wings.
As previously mentioned, simply ensure that you follow the specific instructions that come with your wings.
How Long to Boil or Cook Turkey Wings Until Tender?
Normally, it will take around 45 to 60 minutes to boil or cook turkey wings until they become tender.
Below is a basic technique for boiling turkey wings:
Ingredients:
Turkey wings
Salt (optional, for seasoning)
Water
Laid-Out Instructions
First, you are to rinse the turkey wings under cold water, then proceed to pat them dry with paper towels.
After that, get a large pot and place the turkey wings in it.
Cover the wings with water, and make sure that the water is enough to completely submerge the wings.
That being done, you can now add salt or any other desired seasonings to the water for added flavor, but remember that this is optional, which means it is based on your preference.
Now, bring the water to a boil and ensure that this is done over high heat.
Reduce the heat to low immediately after it boils, as this will help maintain a gentle simmer.
And, for around 45 minutes to 1 hour, allow the turkey wings to simmer.
Begin checking the wings for tenderness after around 45 minutes, and then they should be completely cooked and tender.
Keep in mind that cooking times can differ depending on factors such as the exact temperature of your simmer and the size of the turkey wings.
That being said, it is always a good idea to check for doneness instead of strictly depending on a specific time.
In addition, you should consider the extra cooking steps you will take after boiling them if you are planning to use the turkey wings in a recipe.
This might include grilling, roasting, or adding them to a dish such as stew or soup, which will further enhance their flavor and tenderness.
Can You Boil or Cook Smoked Turkey Wings?
The short answer to the above question is yes. You can definitely boil or cook smoked turkey wings.
There's no need to cook your smoked turkey wings as long as you would with raw turkey wings, given that they are already cooked through the smoking process.
The key here is to reheat them and, if possible, infuse them with extra flavors.
Remember that your primary focus is to reheat them since the smoked turkey wings are already cooked.
Simply consider using a broth or seasoning in the water if you want to imbue them with extra flavors.
Plus, if you are adding them to a larger dish, I suggest that you consider any further cooking steps that you might take.
How Long to Boil or Cook Smoked Turkey Wings on the Stove?
It will take around 10–15 minutes to heat them through when you simmer smoked turkey wings on the stove.
This short duration is mainly for reheating purposes, given that they are already smoked and cooked.
How Long to Boil or Cook Smoked Turkey Wings?
There's no need to boil or cook smoked turkey wings for an additional period of time since they are already fully cooked. Rather, your primary focus is to reheat them.
Laid-Out Instructions
First, get a pot and place the smoked turkey wings in it, and then bring them to a gentle simmer over low to medium heat.
After that, for around 10–15 minutes, let the smoked turkey wings simmer, as this will help make sure that they are heated through.
Check the wings after 10–15 minutes to ensure that they are heated to your desired temp. They should be hot all over.
Remember that the specific time might differ a bit based on the thickness and size of the turkey wings, just as with your exact stove's heat settings.
I strongly suggest that you always use a food thermometer to check that they have reached a safe internal temp of at least 165 degrees Fahrenheit or 74 degrees Celsius.
How Long to Cook Turkey Wings in an Oven?
It is going to take around 60 minutes to cover, along with a few more minutes at the end to broil until they become crisp for around 3–4 minutes.
Below are the things you are going to need before you get started:
You will be able to cook as many wings as you like on your baking sheet, and this will be done without overlapping them.
In the beginning, you will need some olive oil to brush on later in order to achieve crunchy turkey skin.
Normally, you will pick to use one of the following ways to relish these or simply spray with salt and pepper: (i) sweet and tasty turkey dry rub (ii) or, just soak for a few hours to overnight in an easy turkey brine.
Serving and Storing Boiled Turkey Wings
As you know, turkey wings are a well-known dish for the holidays; however, there are some controversies about how long to boil them.
As you are aware now, there are several factors to consider when boiling turkey wings, including the amount of water, the desired doneness, and the size of the wings.
The size of the wings is also a determinant of how long it will take to boil turkey wings.
In comparison with smaller wings, larger wings will take longer to cook.
It is essential that you ensure that the wings are completely cooked before you proceed to serve them.
And using a meat thermometer is the best way to determine if the wings are done.
Ensure that the wings are cooked to an internal temperature of 165 degrees F.
The wings can be served immediately after they are cooked, and you also have the option of storing them in the refrigerator for later use.
Make sure that they are cooled to room temp before you place them in the refrigerator; this is if they are going to be stored.
Storing them in the refrigerator will make them last for up to three days.
Final Notes on: "How Long to Boil Turkey Wings?"
Meat is more or less the most common food found in kitchens around the world; however, turkey can be overlooked while meat like beef or chicken takes the crown.
It is a fine protein source and a delectable one if prepared in the right way.
It is rich in several minerals and key vitamins for our nervous system, like B12.
For any meat, boiling is surely one of the best techniques, given that it greatly preserves the nutritional value of the food.
This concludes this guide, as you now know for sure how long to boil turkey wings.