You should try the 321 Ribs Traeger Recipe, which will turn out right every time you try it. It is an easy formula for the time and method that result in the best ribs.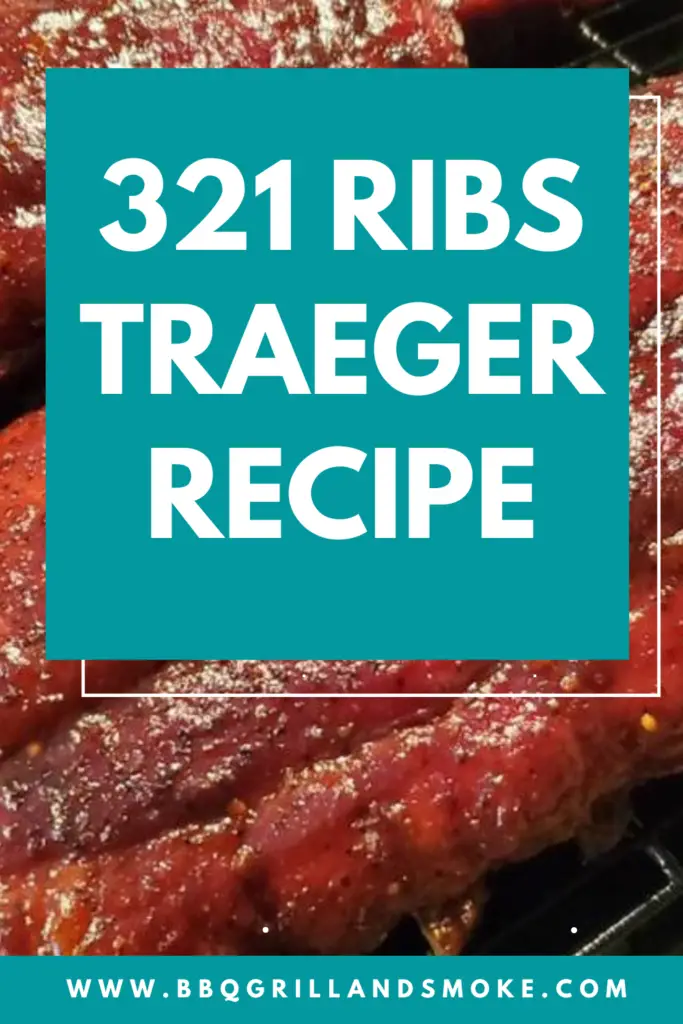 All you need is just 3 hours on heat, 2 hours wrapped, and the last 1 hour basted in sauce and finished.
Traeger 3-2-1 Ribs
Meaty, tasty, and fall-off-the-bone soft and juicy, Traeger 3-2-1 Ribs are the way to go when you are using your pellet smoker to cook your ribs.
You should give your racks of ribs the finest treatment with the smoker recipe that always turns out perfectly all the time.
This 321 Ribs Traeger recipe is more or less as easy as smoked ribs get, you will be able to slice into these meaty and mouth-watering soft and juicy ribs with an appealing smoky flavor.
I will suggest you use a Traeger pellet smoker for smoking ribs if you have one.
Precise temperature control and the perfect amount of smoke will make you love these pork ribs. There's no way you can go wrong with this recipe.
321 Ribs Traeger Recipe – Smoked Baby Back Ribs
Smoking baby back ribs in the pellet grill with the 321 ribs recipe is a simple way to make Traeger ribs.
Course: Main Dish, Dinner
Cuisine: BBQ
Prep Time: 15 minutes
Cook Time: 6 hours, 15 minutes
Total Time: 6 hours and 30 minutes
Servings: 6 people
Equipment
Traeger Pellet Grill Ironwood 650
Traeger Apple Pellets
Foil
Spray Bottle
Ingredients
2 racks of baby back ribs
3 tablespoons of mustard (optional), for a binder.
3 tablespoons of BBQ rub (or you can use any pork dry seasoning)
¾ cup of water
¼ cup of apple cider vinegar (you can also make use of apple juice instead)
½ cup of beer (this is a substitute for apple juice)
For the BBQ Honey Sauce
¼ cup of BBQ sauce
2 tablespoons of honey
Laid-Out Instructions
Warm Up Traeger Grill
Whatever pellet grill you are using, either Masterbuilt or Pitt Boss, just warm up your grill, in this case, a Traeger grill, to 225 degrees Fahrenheit.
Prep Baby Back Ribs
You are to prepare the baby back ribs for smoking, and this can be done by getting rid of the membrane if it has not been done by your butcher.
All you need to get this done is to pull off the extra white part on top of the rack of ribs and remove as much as possible, as this will help reveal more surface on the actual pork meat.
It will allow the seasonings to be absorbed much better. And, with that being done, you are to pat them dry using paper towels.
Pre-Seasoning (Optional)
You can add a binder to the ribs before you go ahead with adding your seasonings. As said, this is absolutely optional.
However, this will help add more of a vinegar taste to the mustard. And, to get this done, you will have to rub the mustard all over the ribs before you proceed with seasoning them.
Season Baby Back Ribs
You are to season the baby back ribs all over using the BBQ seasoning.
Make a Water and Apple Cider Vinegar Mixture
Get a spritzing bottle and combine the two ingredients in it.
For 3 Hours: Smoke the Baby Back Ribs
You are to place the baby back ribs directly on the grill grate and make sure the lid is closed. Every 30 to 60 minutes, you are to spray with water and apple cider vinegar.
Wrap Baby Back Ribs in Foil
You must wrap the baby back ribs in foil before placing them in the smoker for a second cook.
You are to wrap the partially smoked baby back ribs individually in foil after you remove them from the smoker.
And, with that being done, you can now transfer them to the smoker to continue smoking.
For 2 Hours: Smoke Foil Wrapped Baby Back Ribs
After that, you are to place the meaty side of the baby back ribs face down and also make sure the lid is closed.
Create a BBQ Honey Sauce
You can make the BBQ honey sauce by getting a small bowl and mixing the BBQ sauce and honey in it.
Pour in the BBQ Sauce
Turn the baby back ribs over after you unwrap the foil; this is to ensure that the meaty side is facing up.
Using the BBQ honey sauce, you are to brush the top of the ribs with it. And, after that, transfer them back to smoking, and then rest them on top of the foil. The foil is to remain open during the final hour of smoking.
For 1 Hour: Smoke Baby Back Ribs
You are to smoke the baby back ribs with BBQ sauce on top for the final hour. Make sure the foil packet is open.
Remove and Serve
Now, you can proceed to remove the baby back ribs from the smoker. This should be done when the internal temperature gets to 200 degrees Fahrenheit. You are to take the measurement using an internal read thermometer.
With that being done, you can now allow the smoked baby back ribs to cool off for about 15 to 20 minutes and proceed to enjoy your treat.
Storage of 321 Ribs Traeger Recipe
You are to pack your leftover ribs in a sealed container and place them in the fridge. This is if you have any leftover ribs.
Doing this will allow it to last for up to 3 to 4 days. You can warm them in the microwave or probably heat them in the oven when you are ready to eat them, or you can eat them immediately after you get them out of the fridge.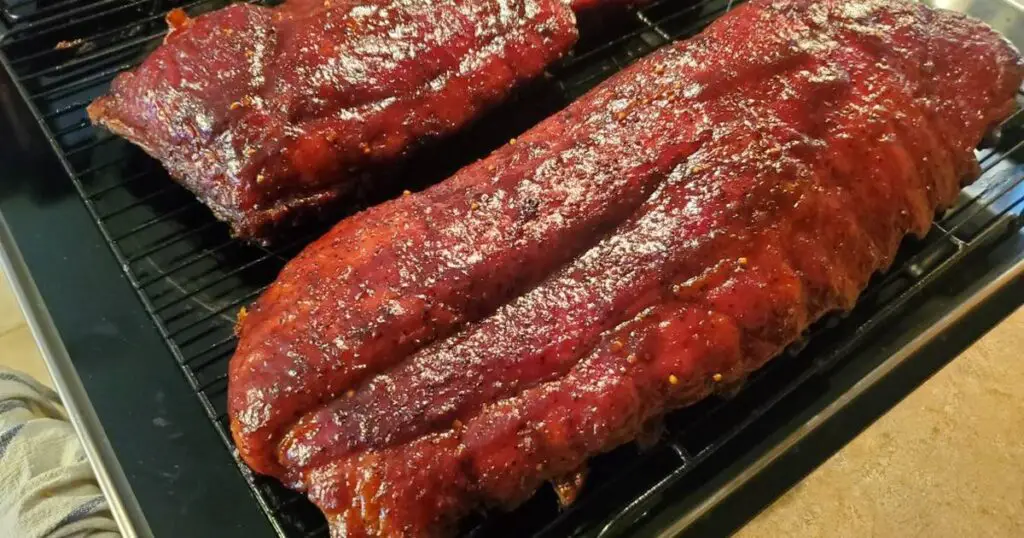 Final Thoughts: 321 Ribs Traeger Recipe
You might also be wondering what you can serve with these 321 Traeger ribs.
Well, they go well with bacon ranch pasta salad, broccoli salad with bacon and cheese, smoked mac and cheese, southern baked beans, and southern coleslaw.
You can also serve them with southern potato salad, southern soul food baked mac and cheese, easy spaghetti salad, southern macaroni salad, instant pot corn on the cob, and air fryer corn on the cob.
And, you should know that any temperature from 225 to 275 degrees Fahrenheit is usually fine. To achieve the right texture, ribs are required to be cooked slowly.
Also, talk about what type of wood pellets to use. You can actually use any type of wood you like.
I will suggest you use either mesquite, apple, hickory, cherry, pecan, or maple to smoke your ribs.
And, with all that being said, this will be the conclusion of this guide on the "321 Ribs Traeger Recipe."