This extremely simple London broil on Traeger recipe is ideal for a fast dinner, in a sandwich, or sliced up on top of a salad.
You can even make batches and save them for easy lunches.
A London broil is your best bet when you need a quick, delectable, beefy recipe to serve, and it is also inexpensive.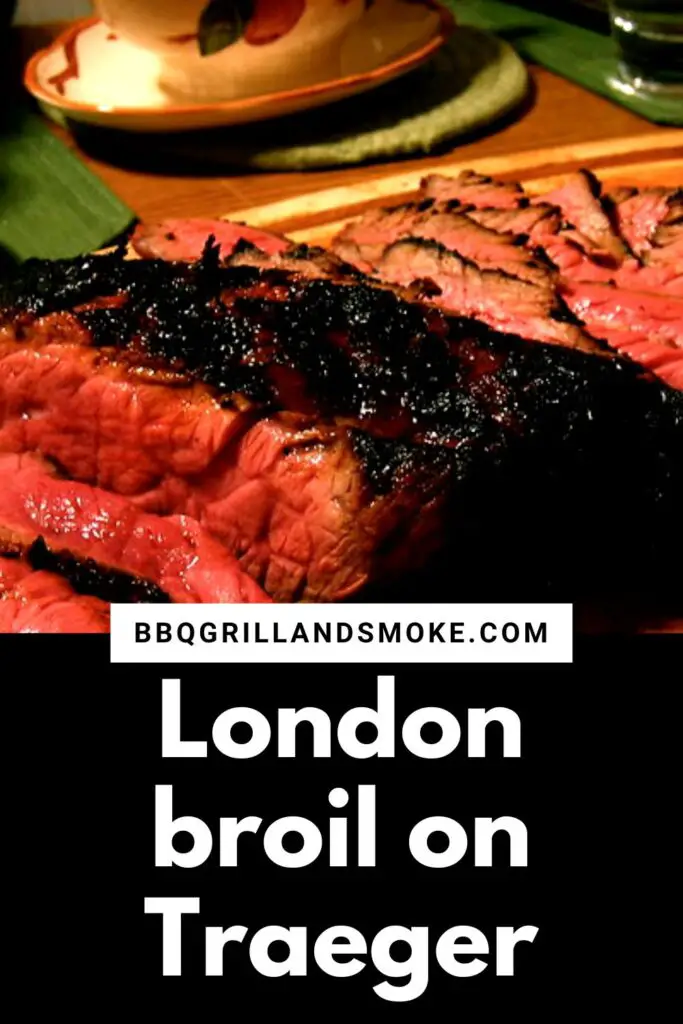 You can marinate this well-rounded, economical cut of meat overnight in a tangy, Korean-inspired marinade heavy on the gochujang and then grill it over high heat in your pellet grill until it reaches a perfect medium-rare.
After that, allow your London broil on Traeger to rest and slice it across the grain to create an extremely soft beef roast that can be served along with a number of meals.
What is a London Broil?
If you are in the US, you might be surprised to learn that London broil is actually a cooking technique and not an actual cut of meat.
This is actually surprising, given that you've walked into your local grocery store chain and might have seen some roast in there labeled "London Broil."
That being said, a London broil (the cooking method) is a steak or roast that has been marinated overnight and then broiled in the oven until it reaches your desired finished temperature.
I suggest that you make it medium-rare, but this is solely based on your preference.
Normally, a London broil is obtained from the flank or top round portion of the beef.
However, keep in mind that you can use other cuts of steak with this technique, so you are free to try.
In addition, this marinade is also great for pork and chicken chops.
Grilled London Broil with Blue Cheese Butter
Everything you need to break down this extremely tough cut of beef into a tender and smoky masterpiece.
When that is done, just go ahead and top your London broil with a creamy blue cheese compound butter.
What to Serve with Grilled London Broil
A grilled London broil tastes great with sides such as:
Glazed carrots
Blanched broccoli
Roasted or mashed potatoes
Roasted asparagus
A fresh garden salad
You can also try it with some of the following:
Grilled potato wedges
Grilled cauliflower
Smoked green bean casserole
Grilled Brussels sprouts
Grilled spinach
Grilled broccoli
How to Store Leftovers
You probably won't have leftovers of this delicious London broil, but if you do, you can always store them.
All you need to do is start by allowing the steak to cool to room temperature.
Wrap it tightly in some plastic wrap or aluminum foil immediately after it is cooled.
And, if you like, you can always place it in a tightly sealed container. Place it in the fridge; this will allow it to remain fresh for around 3 to 4 days.
Recipe FAQs
What Is the Best Way to Reheat Leftovers?
In my opinion, the best way to reheat steak is determined by what sort of dish you have been using it in.
Simply allow the heat of that to warm the steak again if you are mixing it into something.
You also have the option of pan-frying, and there's sous vide, if you have one.
Why Is My London Broil So Tough?
If your London broil became tough, that is most likely because it was overcooked.
Keep in mind that reducing the cooking time instead of the temperature will help a lean cut of beef become succulent and juicy on the grill.
Final Notes on London Broil on Traeger
Marinating your London broil is actually one way to prevent your meat from drying out.
I will even say that it is the best way to make sure that your London broil does not dry out.
The vinegar helps soften your meat, while the job of the marinade is to help add moisture and flavor.
With the best recipe for London broil on Traeger given, this brings us to the end of this guide.