You will be learning how to make Tri-Tip on the Traeger grill. This Traeger Tri-Tip is soft, juicy, and an excellent "fast" barbecue meal.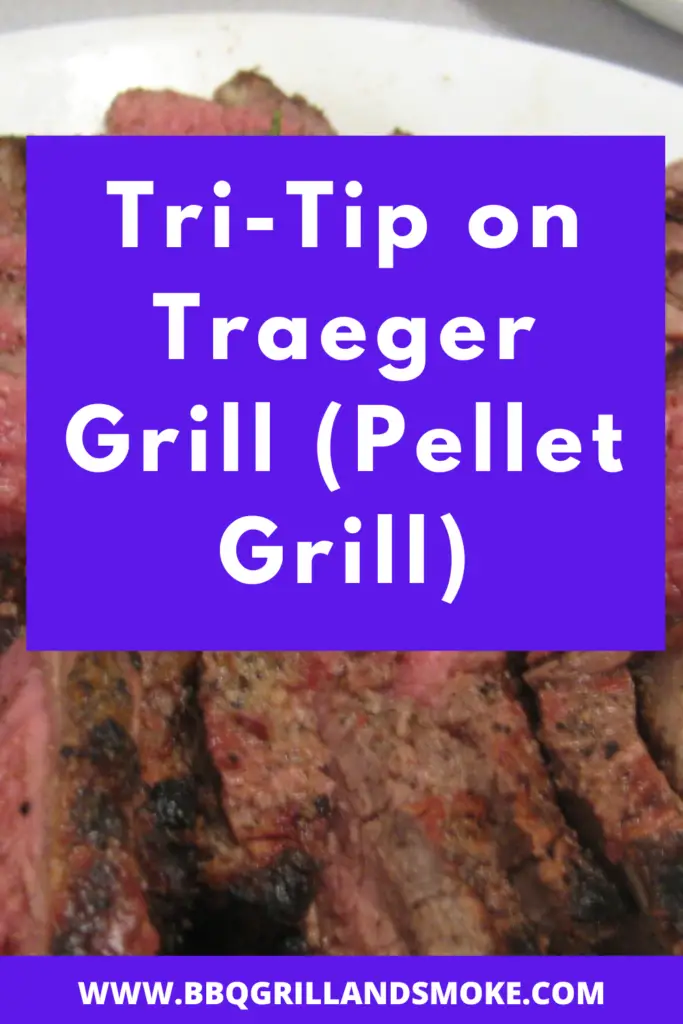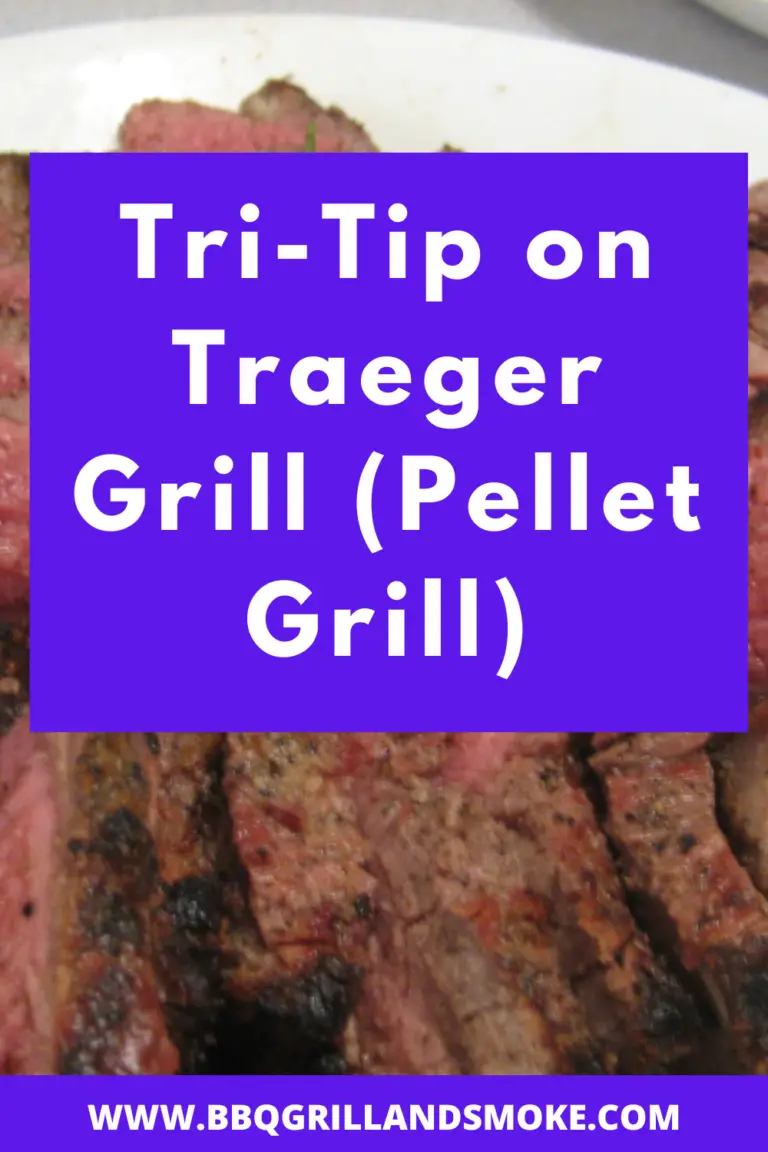 You will be sure to have your smoked Traeger Tri-Tip done in under two hours, which is considered to be quick as a flash in barbecue land.
Traeger Tri-Tip
This Traeger smoked tri-tip is an infallible way to make a yummy, soft, and mouth-watering meal.
You can smoke this Traeger Tri-Tip over hickory pellets, and it will give you excellent beef and also a wood-smoked flavor that always accompanies mouth-watering BBQ.
Completely covering it with sweet rubs or BBQ sauce is unnecessary; in this recipe, I will take an easy approach to make this excellent cut of beef the favorite of the plate.
To complement the smoky flavor, a creamy peppercorn sauce can be used to add a little knick to this dish.
Why Is This Smoked Tri Tip Recipe So Good?
First, it is very delicious and a perfect option for entertaining. You can also decide to make smoked tri-tip sandwiches.
All you need to make this smoked tri-tip are just a few ingredients. And, compared to most recipes, this is the fastest way to smoke Traeger tri-tip.
And, lastly, you also don't need butcher paper to wrap your smoked Traeger Tri Tip. By the way, smoking a tri-tip is extremely easy, and you can also use it to make excellent sandwiches and tacos.
Traeger Smoked Tri-Tip
Make this perfectly smoked, soft, and juicy tri-tip in under 3 hours.
Course: Main Course, Main Dish
Cuisine: American
Preparation Time: 5 min.
Cook Time: 3 hours and 30 minutes
Marinating Time: 2 hours
Total Time: 4 hours and 35 minutes
Servings: 6 servings
Equipment
Ingredients
3 – 5 Ib tri-tip
Santa Maria Dry Rub Seasoning
Laid-Out Instructions
You are to season your tri-tip generously with the Santa Maria Tri-Tip Rub. You can also use your favorite rub instead.
And, based on your desire, you can double the cayenne pepper. With that being done, you are to get a ziplock bag and place the roast inside it.
You can also wrap it in plastic, then proceed to refrigerate overnight, or probably for just a few hours.
You are to bring the tri-tip to room temperature. Afterward, warm up your Traeger grill to 225 degrees Fahrenheit.
And, if you have the option to make use of extreme smoke, then make use of it. After that, place the seasoned tri-tip roast directly on the grill.
Then, you are to insert a probe into the thickest part of your tri-tip. You are to set the temperature of the probe to 135 degrees Fahrenheit.
And, you are to remove the tri-tip from the grill when the internal temperature gets to 135 degrees Fahrenheit. Then, you can also proceed to wrap the tri-tip in foil.
Afterward, you are to increase the temperature of the Traegers to 450 degrees Fahrenheit. Place the Tri-Tip back on the grill when the grill is ready.
With that being done, all the tri-tip should be seared for around 3 to 5 minutes, and make sure this is done on each side.
This will also be determined by how well you want your Tri-Tip to be cooked. Let the smoked tri-tip cool off, covered, for about 10 to 15 minutes.
This will allow the juices to redistribute all over the meat. You can then proceed to slice the meat thinly; this should be done against the grain. And, after that is done, you can proceed to serve your smoked tri-tip.
Notes
I will suggest that you do not trim the excess fat off the tri-tip. However, you can decide to either trim the excess fat off it immediately after it is smoked or before it is smoked.
You can also decide to first brush the tri-tip with a light coating of olive oil as this will help the seasoning stick to the roast much better instead of just adding the dry rub directly on the tri-tip.
You are to roll the meat over without touching it, as this will help avoid cross-contamination. This should be done when you season the meat.
Make use of a meat thermometer to check the temperature of your tri-tip, and you are to ensure that you do not smoke it more than 145 degrees Fahrenheit in order to make the roast remain soft, juicy, and moist.
The estimated time to smoke the tri-tip is around 2 hours to 2 hours and 30 minutes.
And, you can also make use of the leftovers from your Tri-Tip by making sandwiches, adding them to breakfast burritos, mincing them on nachos, or adding them to quesadillas.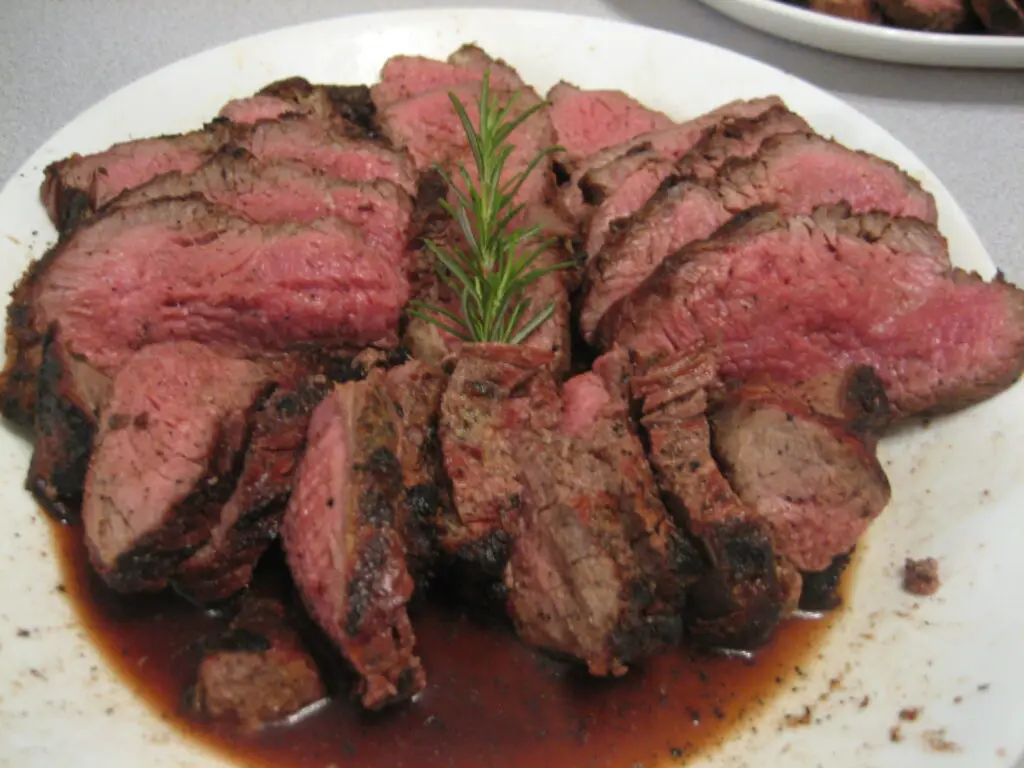 FAQs (Frequently Asked Questions) about Smoked Tri Tip
Do You Need To Marinade Tri Tip Before Smoking It?
The short answer is no, you do not have to marinate tri-tip before smoking it.
However, you can do it if you want. This smoked tri tip roast has a lot of flavors, thanks to the BBQ dry rub and pellet smoker chips.
How Do You Use Leftover Smoked Tri Tip?
The meat will remain soft and juicy when smoked and refrigerated and won't get chewy for 1 to 2 days, based on my personal experience.
You can enjoy any leftover smoked trip tip steak the next day on Philly cheesesteak pizza along with caramelized onions, this is if you have any leftovers.
You can also make smoked tri-tip sandwiches on your star brioche buns along with BBQ sauce and smashed avocado.
Favorite Dishes to Serve With Traeger Smoked Tri Tip Roast
After learning about tri-tip on Traeger grill, I'm sure it will be interesting to learn about the favorite dishes you can serve with it.
Well, when it comes to favorite side dishes you can serve with your Traeger smoked tri-tip, they include smoked onions, smoked scalloped potatoes, easy smoked mac and cheese, and grilled broccoli.
And, in the case of desserts to serve with this tri-tip on Traeger grill, they include apple mug cake, smoked bananas, and Dulce de Leche Mousse.
Final Thoughts: Tri-Tip on Traeger Grill
If you are looking for other options for what to serve with Traeger smoked tri-tip.
Well, you can try topping your smoked tri-tip with a gourmet butter mix, caramelized mushrooms, and onions.
You can also top it with even more barbecue sauce. And, if you are looking for more options of side dishes, you can go for Traeger grilled vegetables, grilled herb roasted potatoes, and grilled corn on the cob.
And, with all that being said, this will conclude this guide on "Tri-Tip on Traeger Grill," as you now have everything you need to make a perfect smoked tri-tip.