This Sous Vide Pork Ribs are soft, juicy, and beefy pork ribs with a crunchy bark or rich glaze of sauce. There is no need for a smoker here.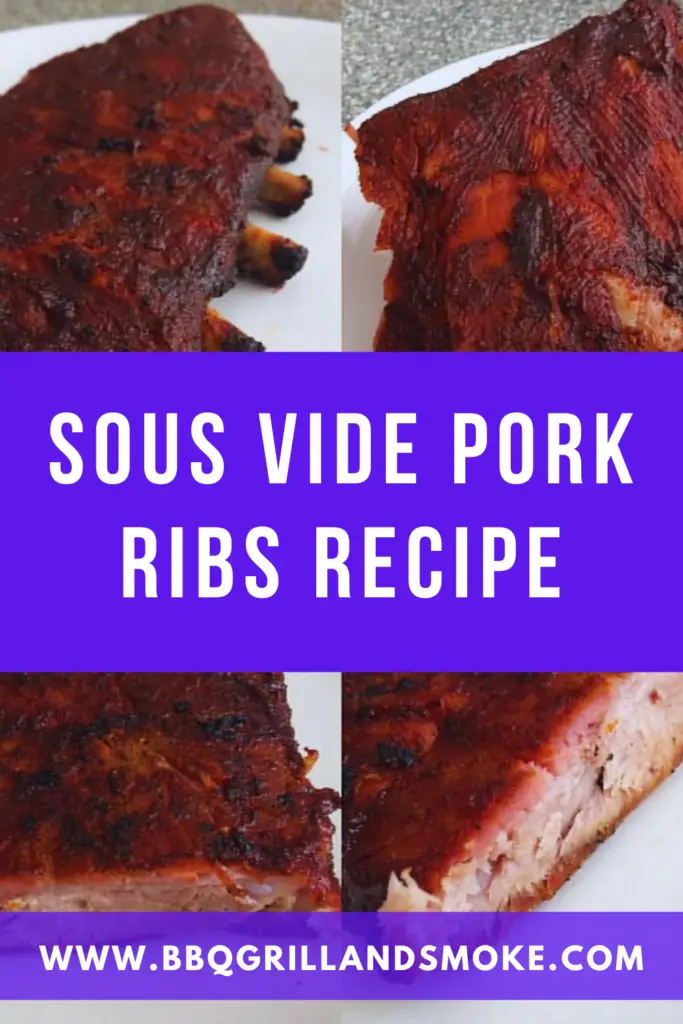 You might think you can barbecue them or not, but these sous vide pork ribs are smoky, soft, juicy, and mouth-watering.
So, in this guide, you will be given the Sous Vide Pork Ribs recipe. Sous vide methods produce ideal control for absorbed flavor and texture.
As mentioned, a smoker will not be needed here. A balanced spice rub with a hint of liquid smoke brings out a lot of smoke flavor in the meat and this can be achieved without a real smoker being required.
Going for Prague Powder as it brings out a pleasant pink "smoke" ring. You should also know that this is optional.
Sous Vide Ribs
In comparison with traditional techniques of cooking ribs, sous vide ribs take plenty of time. They are appetizing, soft, juicy, and melt-in-your-mouth.
Well, you might also have the question of whether they are worth all the time and whether there is a discernable difference in texture and taste.
You can get the answer to that by experimenting with it yourself. But be assured that these ribs are mouth-watering, extremely succulent, and delectable.
The Basic Process for These Sous Vide Pork Ribs
First, you are to get a rub and relish the pork ribs with it. Then, proceed to also get an immersion circulator and heat a water bath with it.
Afterward, sous vide the ribs. You can proceed to dab the ribs dry using paper towels and also apply a BBQ sauce.
With that being done, you are to grill or broil them to finish off.
You should know that this process is not so different from other culinary techniques for ribs if you make ribs on a regular basis.
Time is the big dissimilarity here, as also the immersing of the bag of ribs in water. As mentioned above, sous vide ribs will take plenty of time.
There are quicker cooking techniques, some of which include boiling, baking, or the instant pot. However, the ribs will make a mouth-watering all-season meal that will be craved and enjoyed, notwithstanding the cooking technique.
The flavors of the pork will be improved by the seasoning and sweet, spicy BBQ sauce in this recipe without overwhelming it.
The meat's flavor also glimmers through. Based on your taste and preference, you can also make use of your favorite sauce and rub instead.
Sous Vide Ribs
Preparation Time: 10 min.
Cook Time: 24 hours and 20 minutes
Total Time: 24 hours and 30 minutes
Servings: 2 servings
Yield: 1 rack
Before cooking and finishing in the oven or probably on the grill quickly to yield a pleasant crust, flavor, and color, the pork ribs are covered in a dry rub of garlic and spices in this recipe.
After you are done cooking these pork ribs, you can proceed to serve them as they are, or based on your taste and preference, serve them with your favorite barbecue sauce.
Ingredients
1 rack of pork ribs
1 teaspoon of paprika
½ teaspoon of garlic powder
¼ cup of packed brown sugar
1 teaspoon of chili powder.
½ teaspoon of cumin
1 teaspoon of salt
½ teaspoon of freshly ground black pepper
1 teaspoon of liquid smoke.
1 cup of barbecue sauce.
Laid-Out Instructions
First, you are to gather the above ingredients. Then, proceed with the preparation of the pork ribs. You can accomplish this by removing the white membrane from the back.
You are to also cut off the flap meat using a sharp knife. When that is done, proceed to slice the ribs in half. Doing this will provide you with 2 half racks.
Now, get a small bowl and in it, you are to mix together the garlic powder, paprika, chili powder, cumin, salt, pepper, and brown sugar.
Afterward, you are to divide the mixture in half. Then, proceed to rub the ribs using one-half of the spice mixture.
You are to get a freezer plastic bag and put the ribs inside it. And, if they do not fit side by side in one, you are to make use of two.
Get rid of most of the air from the freezer plastic bag. And, you are to leave a corner open and drop the liquid smoke through this small opening.
This is to be done before you proceed to completely seal the freezer plastic bag. After that, get the immersion circulator and place it in a large pot of water.
Then, heat it to 150 to 155 degrees Fahrenheit. And, until the pressure of the water gets rid of the rest of the air in the bag, you are to immerse the bag in the water.
With that being done, you are to seal the unsealed corner, but you need to make sure this is done carefully.
Afterward, you are to immerse the bag in the water completely and then proceed to cook it for 24 to 36 hours.
Warm up the oven to 350 degrees Fahrenheit, then get rid of the bag from the water and bring out the pork ribs from the bag.
Get paper towels and use them to completely dry the pork ribs by dabbing them. When that is done, you are to get the remaining spice mixture and massage the ribs with it.
Afterward, bake the pork ribs in the oven for 20 minutes. Or, probably until they are dry to the touch and have also formed a pleasant crust.
And, if it is to your taste and desire, you can also decide to brush the pork ribs with barbecue sauce.
With that being done, you can proceed to cut the ribs between the bones. You can now enjoy your treat.
Conclusion: Sous Vide Pork Ribs Recipe
You can also ask the question as to why this sous vide pork ribs recipe works. Well, it will cook the ribs at an exact temperature and also for a prolonged period of time.
You will also find moisture in the sous vide bag. Its purpose is to help keep the meat soft and juicy.
Without drying out the ribs, it also helps get the back and smoke of traditional smoked ribs.
This will give you the most succulent ribs as it is mainly a hands-off culinary method.
You can also cook sous vide pork ribs ahead and then proceed to complete the cooking when you are ready to eat.
And finally, for this sous vide pork ribs recipe, you can add a rub to your pork ribs before you proceed to sous vide them.