Do you crave dark meat? Or is it your favorite part of the turkey? Then, you can try these smoked turkey wings in air fryer.
It is a fast and nutritious dinner that you can enjoy throughout the year.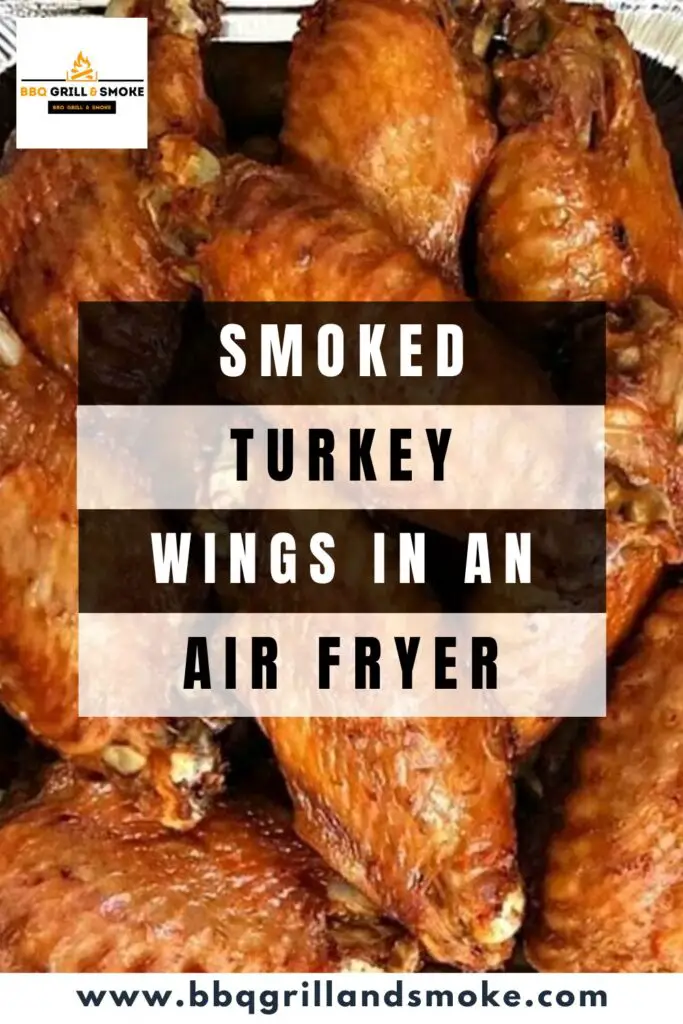 Nothing beats that succulent, tasty dark meat that you get from the wings and the drumsticks when it comes to turkey.
You can now enjoy juicy, tender dark meat throughout the year thanks to these smoked air fryer turkey wings.
This easy recipe can be ready in around 30 minutes and results in crispy-on-the-exterior, succulent-on-the-interior all the time.
This healthy recipe is much easier compared to making oven-baked or deep-fried wings.
What Are Turkey Wings?
The turkey wings are gotten from where the wing bone is attached to the breast, which is just like a chicken.
However, you will get a larger, darker meat piece that weighs around 6 to 8 ounces per serving, given the fact that turkeys are bigger.
You will find more calories and fat in turkey wings compared to chicken wings.
They are more filling, so you can expect to eat fewer compared to when you would eat smaller chicken wings.
Air Fryer Turkey Wings Recipe
This easy air fryer turkey wings recipe is mouth-watering: crunchy, juicy turkey wings seasoned to perfection with black pepper, onion powder, smoked paprika, and cayenne pepper.
These wings are extremely easy and simple to make. So go ahead and give them a try.
Equipment
What To Serve With Turkey Wings
These wings are extremely versatile. For a quick and delectable dinner, you can pair them so simply with just skillet potatoes and greens.
They also make an excellent addition to a Thanksgiving or Christmas meal, particularly when you love something that is a bit different from roasting an entire turkey and savor the idea of not sweating over a hot oven throughout the day.
You can also try them with:
Homemade bread rolls
Skillet green beans and bacon
Mashed sweet potatoes
Garlic roasted potatoes with rosemary
You can add the turkey gravy and cranberry sauce as the finishing touches for a festive feast, and watch how your guests will keep asking for more.
Storing and Reheating Turkey Wings
To store, get an airtight container, place any leftover turkey wings in it, and store it in the fridge.
This will make it last for up to 4 days. You can also freeze the turkey wings in a freezer plastic bag, as this will make them last longer.
Before you reheat them again, make sure that you allow the wings to defrost for a few hours or overnight.
You can reheat the turkey wing pieces in the basket of your air fryer oven at 350 degrees F and cook for 5 minutes.
After that, you are to increase the heat to 400 degrees Fahrenheit and cook for an additional 5 minutes to crisp up the skin.
However, you can also reheat these delicious turkey wings in the oven.
All you need to do is wrap them in aluminum foil and place them on a rimmed baking sheet with a wire rack.
After that is done, you are to set the oven to 275 degrees F for around 20 minutes.
Smoked Turkey Wings In Air Fryer FAQs
How Long To Cook Turkey Wings In An Air Fryer?
Just set the temp to 380 degrees F or 180 degrees C. Then turn the wings over with tongs after 13 minutes. Set it for another 13 minutes after the time is up.
What Do Turkey Wings Taste Like?
There are people who say turkey wings are a bit dry and bland, while others say they are juicy and tasty.
So, I will say they are somewhat in the middle; they are not as good as breasts or drumsticks, but still, they are quite delectable.
You should try wings if you want a different way to enjoy turkey breast this Thanksgiving. They are an excellent alternative.
They are surely worth checking out, even though they might not be the most popular option.
What Is The Internal Temperature Of The Turkey Wings?
Immediately after the internal temp of the turkey wings gets to 165 degrees Fahrenheit, you can safely remove them.
However, make sure that you check it frequently with your meat thermometer before you remove them.
How to Cook Frozen Turkey Wings in the Air Fryer
All you need to do is place the frozen wings directly into the air fryer basket, place them in, and use the same temperature.
However, you need to increase the cooking time to 30 to 40 minutes. Keep in mind that you are to baste them as they cook.
Final Thoughts on Turkey Wings in Air Fryer
The likelihood of you having leftover turkey wings is very small, but if you do, as previously mentioned, you can store them well in the fridge.
Make sure they are covered, and they will last for up to 4 days. Although the skin will lose some of its crispness in the fridge.
But you can always place them back in the air fryer or oven for around 5 minutes until they crisp back up.
Now, go enjoy your mouth-watering treat, as you now have everything you need to make the best-smoked turkey wings in an air fryer.