In this guide, you will learn how to smoke a turkey on a pellet grill perfectly. Other related topics will also be discussed.
Immediately after you own a pellet grill, you look forward to smoking meat throughout the year and displaying all that juicy and delectable meat candy to all your family and friends. The stakes couldn't be higher during the holiday season.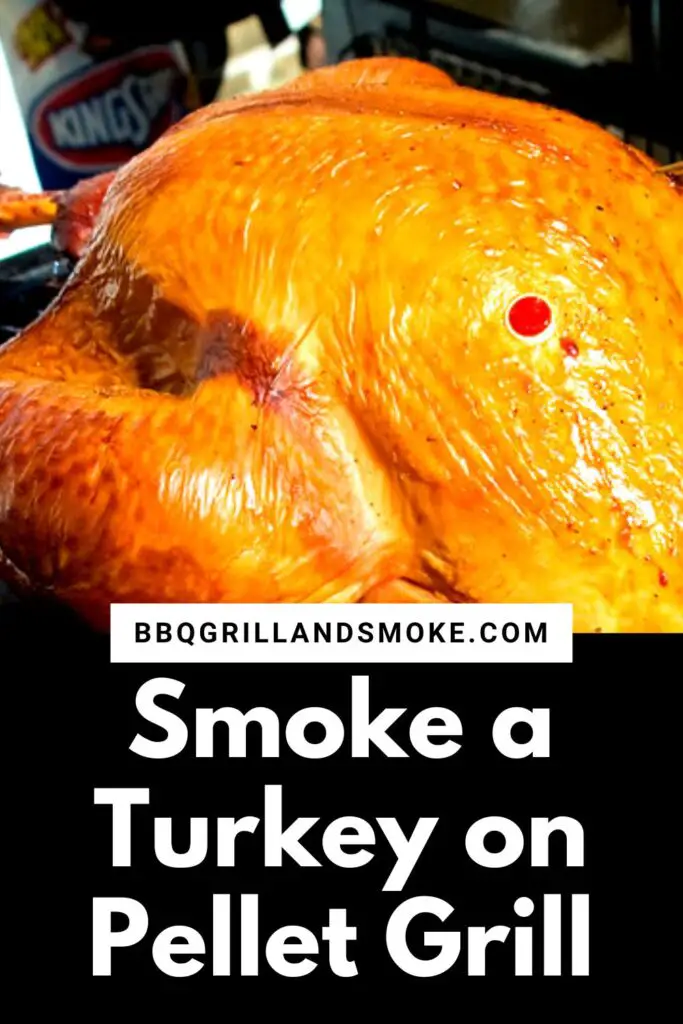 Anxiety can set in, particularly for beginners, with everyone counting on you to create a perfectly seasoned and smoked turkey.
That being said, this guide is written to walk you through the step-by-step process of how to smoke a turkey on a pellet grill and also answer any related questions.
How Do You Pick the Right Turkey?
It is wise for you to first pick the right bird before you get into the specifics of smoking a turkey.
This is to say that determining how much turkey meat you will need to feed your guests or whether you are to use a brine or marinade.
In addition, there are other things to consider, such as picking between a fresh or frozen turkey.
Well, that should be easy, but I strongly suggest you know which one fits your cooking needs.
Is it Better to Get a Fresh vs. a Frozen Turkey?
Fresh Turkey
The truth is that buying a fresh, unfrozen turkey will simplify the preparation and cooking process.
However, you need access to a farmer or a butcher who accesses its turkeys directly from a local farm to source a fresh turkey.
It is highly recommended that you buy a fresh turkey if this option is accessible to you.
Frozen Turkey
This option is the more widely available one where you can pick between natural, free-range, self-basted, commercial, organic, and heritage turkeys.
That being said, there's one problem with frozen turkeys, and that is the fact that you will need to start the thawing process several days ahead.
Keep in mind that you need to check to make sure that the turkey is not already pre-brined if you are planning to dry or wet-brine it.
Pellet Grill-Smoked Whole Turkey
Course: Recipes
Cuisine: American
Prep Time: 15 minutes
Cook Time: 6 hours
Total Time: 6 hours and 15 minutes
Servings: 15
With this easy recipe, you will be able to make a simple pellet grill-smoked whole turkey, seasoned to perfection.
Ingredients
13 lbs. of whole turkey
Chicken broth (for basting)
1 lemon
Fresh basil
No-salt added lemon pepper seasoning
1 sweet onion
1 stick of butter
Laid-Out Instructions
First, you are to warm the pellet grill up to 225 degrees Fahrenheit. You are free to use any pellets, and you can also use a variety of flavors.
That being done, stuff the cavity of the turkey with chunks of onion, lemon, basil, and a stick of butter, all while the grill is warming.
After that, rub the outside with lemon pepper. Now, place the turkey on the smoker and smoke for 6 hours, or around 30 minutes per pound, until the internal temperature reaches at least 165 degrees Fahrenheit. You can go for 180 degrees F, but it is done at 165 degrees F.
You can baste it with chicken broth every hour during the smoking time if you prefer, as this will help keep it moist.
However, keep in mind that if you plan to baste it, make sure that you place the turkey in an aluminum roasting pan and then on the smoker, not directly on the grates.
Then serve as desired after it is completely cooked.
Notes
Make sure that the turkey is smoked for around 30 minutes per pound. And you can use a Green Mountain Pellet Grill.
As previously mentioned, remember that if you plan to baste the turkey, you are to put it on an aluminum roasting pan and then on the smoker. However, make sure that it is not directly on the grates.
You also don't have to baste it, as it is optional. It helps keep it nice and juicy. I do not baste mine, and they always come out well.
Serving Suggestions
Smoking a turkey on a pellet grill can yield a delectable dish that is perfect for special occasions or holiday feasts.
Below are some serving suggestions to complement the smoky goodness:
Garnishes and Accompaniments
Fresh Herbs
For a burst of color and added flavor, you can spray some chopped fresh herbs, such as thyme, parsley, or rosemary, over the turkey.
Citrus
For a bright and zesty touch, thinly slice lemons, limes, or oranges and arrange them around the turkey.
Cranberry Sauce
Homemade cranberry sauce is a classic accompaniment to turkey, as it helps provide a tart contrast to the smoky flavors.
Gravy
You can tie everything together with a rich, tasty gravy made from the turkey drippings. I recommend you use some of the smoked herbs for extra depth of flavor.
Stuffing or Dressing
A flavorful stuffing made from herbs, vegetables, bread, and perhaps some sausage can be a nutritious addition, whether baked separately or stuffed inside the turkey.
Vegetables
Roasted Root Vegetables
To create a satisfying side dish, parsnips, carrots, and potatoes can be seasoned and roasted alongside the turkey.
Green Beans
Green beans can add a fresh and crispy element to it when sautéed with garlic and almonds or just steamed.
Potatoes
Mashes Potatoes
Creamy mashed potatoes are a perfect accompaniment to turkey. I suggest you add roasted garlic for additional flavor.
Sweet Potatoes
For a delightful twist, roast or mash sweet potatoes.
Cranberry and Pecan Salad
A salad with mixed greens, candied pecans, dried cranberries, and a spicy vinaigrette can provide a refreshing contrast to the rich flavors of the turkey.
Storage
Fridge
You can keep the leftover smoked turkey in the refrigerator in a tightly sealed container, and it will last for up to 3 days.
Freezer
You can freeze your leftover smoked turkey in a tightly sealed container or Ziploc bag, and it will last for up to 3 months.
I suggest you use a Foodsaver to freeze your leftovers; everything gets to keep properly much longer.
Just slice up the turkey and wrap it in individual serving sizes in plastic wrap if you have a lot of leftovers.
Afterward, place the individual servings in a Ziploc bag and then pop them in the freezer for meal prep for work lunches or school.
Frequently Asked Questions
What Temperature Do You Smoke a Turkey at on a Pellet Grill?
For smoking a turkey on a pellet grill, the cooking temperature is 225 degrees Fahrenheit at 30 minutes for each pound or 250 degrees Fahrenheit at 25 minutes for each pound of turkey.
How Does the Food Cooked on a Pellet Grill Compare to Other Methods of Grilling and Smoking When It Comes To Taste?
Food cooked on a pellet grill comes with a unique flavor that you get from everything that is smoked.
Make sure the food is cooked at a lower temperature; that way, it won't dry out.
And, thanks to this, food is always yummy, moist, and delicious. You will fall in love with a pellet grill and never use a barbecue again.
Final Thoughts
When it comes to serving this flavorful turkey, my favorite side dishes include smoked baked beans, peas and carrots, mustard beans, oven-roasted potatoes, twice-baked mashed potatoes, creamy coleslaw, carrot salad, and a fresh green salad with homemade dinner buns.
This is practically the best way to cook a Thanksgiving turkey. Your guests will be pleased by the flavor and presentation of your smoked bird.
This recipe frees up your oven to cook other dishes, and it is also perfect whether you are a first-timer or a seasoned pro.
This concludes this guide, as you now have the perfect recipe for how to smoke a turkey on a pellet grill.