Have you ever tried Grilled Sweet Potato before? You should know that this is something simple, fast, and easy. Get your slices of sweet potatoes on the grill and also get the slices of the sweet potatoes grilled and coated with probably a cilantro-lime sauce.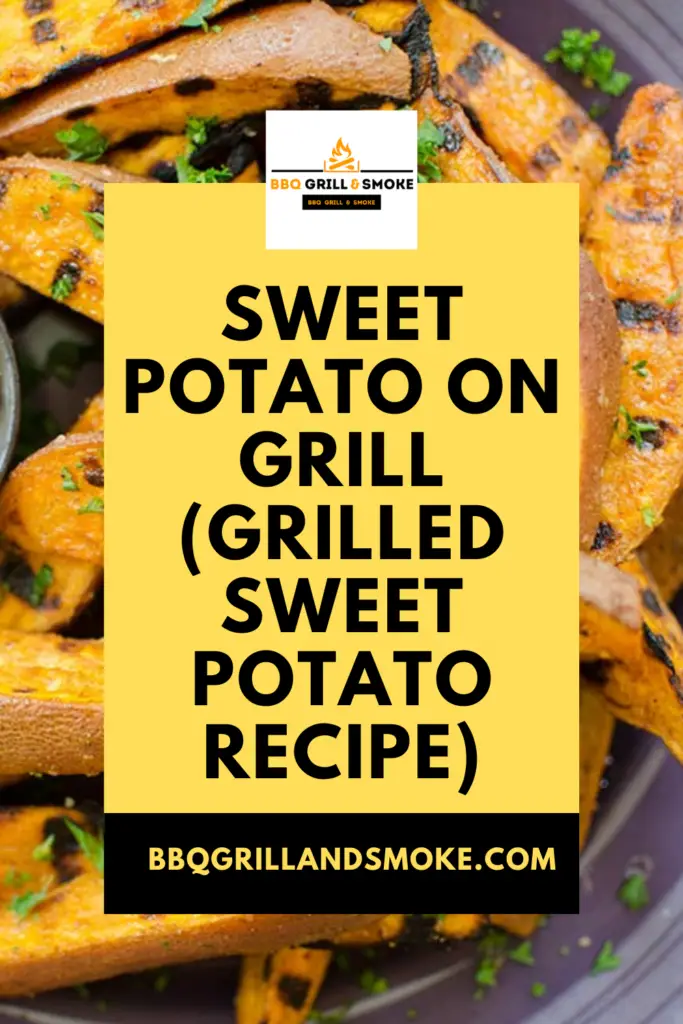 The grilled sweet potato recipe is easy and fast, as said. All you need to do is get your sweet potatoes peeled and cut them all into 1/4-inch slices.
And then, smother them with olive oil, whisk them with some salt, and proceed to place them on a hot prepared grill.
And, to prevent your grilled sweet potatoes from tasting too dry, especially when you are prepared to serve them, I will advise you to coat them with some sort of vinaigrette-olive oil.
Furthermore, to balance the sweetness of your sweet potatoes, I would strongly suggest you add an acid such as lemon juice or probably lime juice.
This recipe is quite flexible as it also serves as an excellent combination of cilantro, sweet potatoes, and lime, although this is not the end of how flexible this recipe can be.
Although in my opinion, I will go for lime juice as it is better than lemon juice. The best part is that you can still make use of lemon juice in place of lime juice. This is to say that lemon juice will still work for this recipe.
Some people are not lovers of cilantro, as they say, it tastes like soap to them, so in that case, or based on your preference and likes, you can use parsley in place of cilantro.
However, if you don't have a problem with how cilantro tastes, I will suggest you make use of it since it works better in comparison to parsley.
You can also add some ground garlic to the dressing, but this is if you prefer it that way. But, if not, I will suggest you go on without it.
Recipe for Grilled Sweet Potatoes
To get these grilled sweet potatoes to become smoky, soft, and juicy, you have to first cut them into chunks, then proceed to cook them on the grill.
And, to finish up the cooking, you will have to add the homemade cilantro lime dressing, which works to add a whole lot of flavor to your grilled sweet potatoes.
The homemade cilantro lime dressing will also turn your grilled sweet potatoes, which are just a simple side dish, into a sophisticated treat.
Course: Side Dish
Cuisine: American
Preparation Time: 15 minutes
Cooking Time: 20 minutes
Total Time: 35 minutes
Servings: 6
Calories: 253kcal
Ingredients
2 ½ pounds of sweet potatoes (peeled and sliced into 8 chunks each)
2 tablespoons of olive oil
Salt
Pepper
For The Dressing
¼ cup of olive oil
3 tablespoons of lime juice
2 teaspoons of honey
½ teaspoon of chili powder
¼ teaspoon of cumin
¼ cup of cilantro leaves (roughly minced, and more of it for garnish)
Salt
Pepper
Laid-Out Instructions
For The Sweet Potatoes
Firstly, get a pot and put in some salted water, and proceed to boil it. Then, get the sweet potatoes and add them to the pot with the salted water.
And, you are to allow it to cook for around 7 to 10 minutes, or probably until the sweet potatoes get soft.
Afterward, get either an outdoor grill or an indoor grill pan and warm it up to medium-high heat. Then, get the potatoes and drain them.
Also, get the olive oil, spray the potatoes with 2 tablespoons of olive oil, and spice them up with pepper and salt to make them taste more delicious.
After that, you are to toss them gently and proceed to coat them. Get your prepared grill and place the sweet potatoes on it.
And, proceed to cook them for about 3 to 4 minutes on each side, or probably till they get browned enough.
To Make the Dressing
Get a medium-sized bowl and place all the dressing ingredients in it. Then, you begin to mix them all together till they are well blended.
When the potatoes become warm, you are to spray the dressing all over them. Then, you can serve them immediately and also garnish them with some more cilantro, but this is based on your taste, desire, and preference.
What To Serve With Grilled Sweet Potatoes
This recipe is versatile, and the truth is that you can serve these grilled sweet potatoes with some other dishes. So, below are a few dishes you can serve with grilled sweet potatoes:
Grilled Scallops
You can top these grilled scallops with just smoky paprika and lemon, and they will surely be a great choice of dish to be served alongside grilled sweet potatoes. And, this goes perfectly well when all you want is just a light supper.
And, if you are making the meal for a larger group, you can add a green salad, or if it is probably just for a quiet, minimal preparation, completely grilled summer dinner, then the best thing for you is to simply go for the scallops and potatoes.
Grilled Halloumi Salad
This delectable healthy salad, the grilled halloumi salad, will go quite well with the grilled sweet potatoes for a completely grilled, completely vegetarian treat.
Grilled Rib Eye Steak with Italian Salsa Verde
The grilled rib-eye steak with Italian Salsa Verde is a great choice of dish to be served with these grilled sweet potatoes. It is also considered and regarded as an original show-stopper.
Spatchcocked Grilled Chicken
If you want to go big, or especially when you want to go bigger, then the spatchcocked grilled chicken is the ideal dish to partner with the grilled sweet potatoes.
Conclusion on Sweet Potato On Grill
Some people are worried about whether it is compulsory for them to slice their sweet potatoes or not. The truth is that nothing changes whether you slice your sweet potatoes or not.
And, if you choose to slice the sweet potatoes, you can make them in whatever style you like, either round or lengthwise as a plank.
All that matters is the compactness of the slice because the thickness of all the slices has to be uniform to ensure that the potatoes finish cooking more or less at once.
And, there's this saying that goes like this: "the thicker the slice of potato, the longer it will take to cook," which means the thickness of the slices determines how long the potatoes will take to cook up.
You can also serve Honey Bourbon Steak, Easy Smoked Pork Butt, Chipotle Chicken Skewers, Grilled Pineapple Teriyaki Chicken Burger, Italian Grilled Chicken Breasts, and Grilled Pineapple Pork Chops with grilled sweet potatoes.
So, this will be the conclusion of this guide which has been all about the topic "Sweet Potato On Grill (Grilled Sweet Potato Recipe)", this guide is detailed with the grilled sweet potato recipe, you will need to make delicious grilled sweet potatoes.