This vegetables on a grill recipe will help guide you to making the best-grilled vegetables.
They will be perfect as a side dish at your next cookout or dinner. And you can also top them with a flavorful sauce and have them as a whole meal.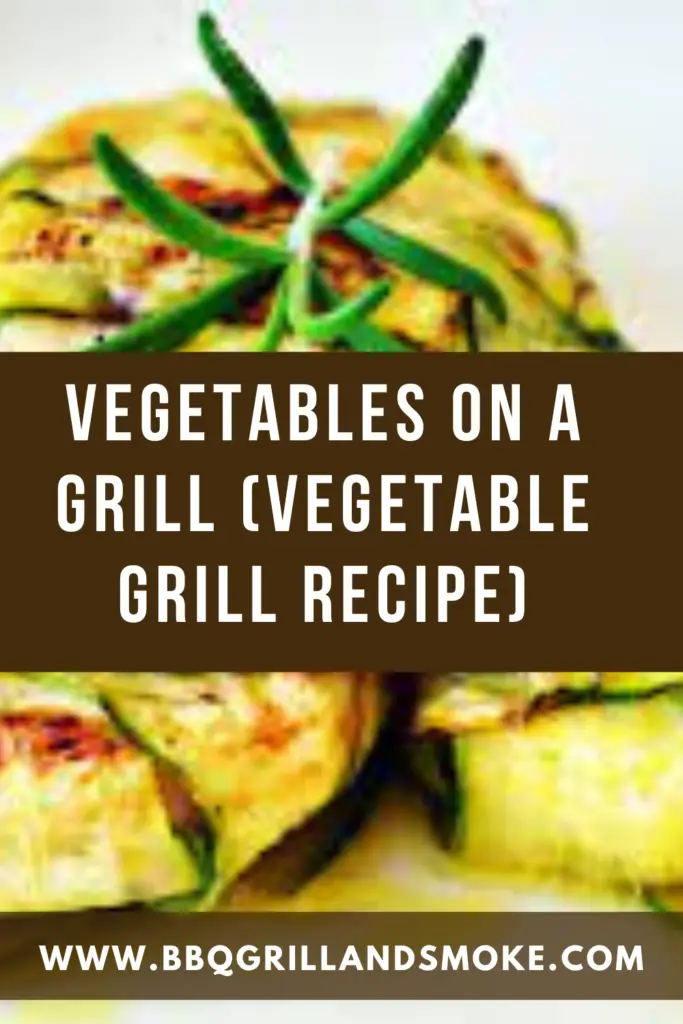 With this guide on "Vegetables on a Grill", you will have all the tips to make the best easy grilled vegetables, which will boost the naturally sweet taste of your favorite summer vegetables with every smoky bite you take.
Well, light up the grill and be ready to make the best-grilled vegetables, which will also be the best summer side dish that can be served with any meal.
The best part about this mix of veggies is that they all cook at more or less the same rate, and they are also very tasty and colorful.
And, if you want your consumers to crave your grilled vegetables and not stop wanting more bites, you can just add a quick mix of olive oil, balsamic, and a tip of rosemary to them.
Grilled Vegetable Recipe
The grilled vegetables you will be making from this vegetable grill recipe will be a combination of colorful veggies that have been doused in delectable garlic and herb marinade.
After that, it will be taken to the grill where it will be cooked to flawlessness. This recipe is easy and fast to make.
A very interesting part about this is that these grilled vegetables can be served alongside more or less any protein, like chicken, fish, or beef.
Grilled vegetables are soft, juicy, very delicious, and smoky from the grill. For an extremely colorful side dish that is filled with nutrients, you can also make use of any vegetables you prefer and desire.
Vegetable Grill Recipe
Preparation time: 15 min.
Cooking Time: 25 min.
Total Time: 40 min.
Level: Easy
Yield: 6 servings
Ingredients
3 red bell peppers (seeded and halved).
3 yellow squash (of about 1 pound in total), sliced lengthwise into ½-inch-thick rectangles.
3 zucchini (of about 12 ounces in total), sliced lengthwise into ½-inch-thick rectangles.
3 Japanese eggplants, sliced lengthwise into ½-inch-thick rectangles, (12 ounces in total),
Twelve cremini mushrooms
1 bunch (1 pound) of asparagus (trimmed)
12 green onions (make sure the roots are cut off)
¼ cup of olive oil plus 2 tablespoons
Salt
Freshly ground black pepper.
3 tablespoons of balsamic vinegar.
2 garlic cloves (minced).
1 teaspoon fresh Italian parsley leaves, chopped
1 teaspoon of chopped fresh basil leaves.
½ teaspoon of fresh rosemary leaves, finely chopped
Laid-Out Instructions
The first step you will need to take is to get a grill pan and place it over medium-high heat. Or, better still, you can prepare the barbecue, which should also be on medium-high heat.
Then, you get the olive oil and the vegetables and proceed to rub the vegetables with ¼ cup of the oil, but you should make sure that this coating is done lightly.
Afterward, you can now get the salt and pepper and spray the vegetables with them. I will also suggest you work in batches.
So, you can proceed to grill the vegetables till they become soft, juicy, and faintly seared all over. And then, for about 8 to 10 minutes, you are to grill the bell peppers.
And, while for the yellow squash, zucchini, eggplant, and mushrooms, 7 minutes. For the green onions and asparagus, I will say 4 minutes.
After this, get a platter and lay out the vegetables on it. And, to quickly give you a quick fact, if you want to get those very nice grill marks, you should avoid shifting the vegetables too often after you have placed them on the hot grill.
Well, the process of cooking is not done yet. So, you still need to mix the remaining ingredients, which include oil, parsley, garlic, balsamic vinegar, basil, and rosemary.
You can then get a small bowl and blend only 2 tablespoons of the above ingredients in it. And, to make it tastier, add salt and pepper.
Next, you are to spray the vegetables with the herb mixture. After which, you can now serve the grilled vegetables. You can make them either at room temperature or warm.
Grilled Vegetable Serving Suggestions
The truth is, as you know, grilled vegetables are a yummy, easy-to-make side dish.
So, to complete some meals that you have on the grill already, like mushroom burgers, veggie burgers, or black bean burgers, you can just simply put on a few grilled veggie kabobs.
They will also be the best option for a side with Cauliflower Po's Boys, BBQ Jackfruit Sandwiches, or a healthy salad such as pasta, couscous, potato, or orzo salad.
On the other hand, you can also make grilled veggies the main meal. Furthermore, you can spray your well-prepared grilled vegetables with spicy Greek salad dressing, chimichurri, or cilantro lime dressing, and then proceed to serve them over faro or quinoa with so many pits and tzatziki sauce.
And, if you want something else apart from tzatziki, you can simply go for hummus, pesto, or chipotle sauce as they are also nice options.
You can also make sandwiches from leftover grilled veggies and sauce and enjoy them throughout the week.
Tips for Vegetables On A Grill
You are to cut each kind of vegetable into an evenly sized piece. This is to help them all cook at the same rate.
You should know that some vegetables will take a longer time to grill compared to others.
And, some of the vegetables that will need more time to grill include carrots, potatoes, and so on. They are denser vegetables.
There are a few ways you can grill your vegetables. You can either grill them directly on the grates or make use of a grilling basket. You can also skewer them to make kabobs.
You can use a sprinkling of parsley as a finishing touch to your vegetables. And, if you don't have parsley on hand or you don't like it, you can also make use of dill, thyme, green onions, or basil, as they are nice options.
Conclusion on Vegetables on a Grill (Grilled Vegetable Recipe)
Antioxidant-rich vegetables are healthy and good for your consumption. However, you might also be wondering whether these grilled vegetables are good for you.
Well, to answer that, yes, grilled vegetables are good for you. They are even the best, and the best and healthiest way to have your vegetables is to grill them.
I will strongly suggest that you briefly boil your vegetables before you proceed to grill them because this enhances their performance on the grill.
But, you should also know that you don't need to soak your vegetables before you grill them, so this will be a wrap-up of the guide on "Vegetables on a Grill (Vegetable Grill Recipe)."
Now, just enjoy what this vegetable grill recipe has to offer as this is the only way for you to make the best-grilled veggies.