This recipe makes Crispy Roasted Potatoes in Oven with a crisp outside and a delicious, tender, fluffy center.
This tasty recipe goes well with anything from a holiday dinner to chicken thighs that are served along with roasted broccoli.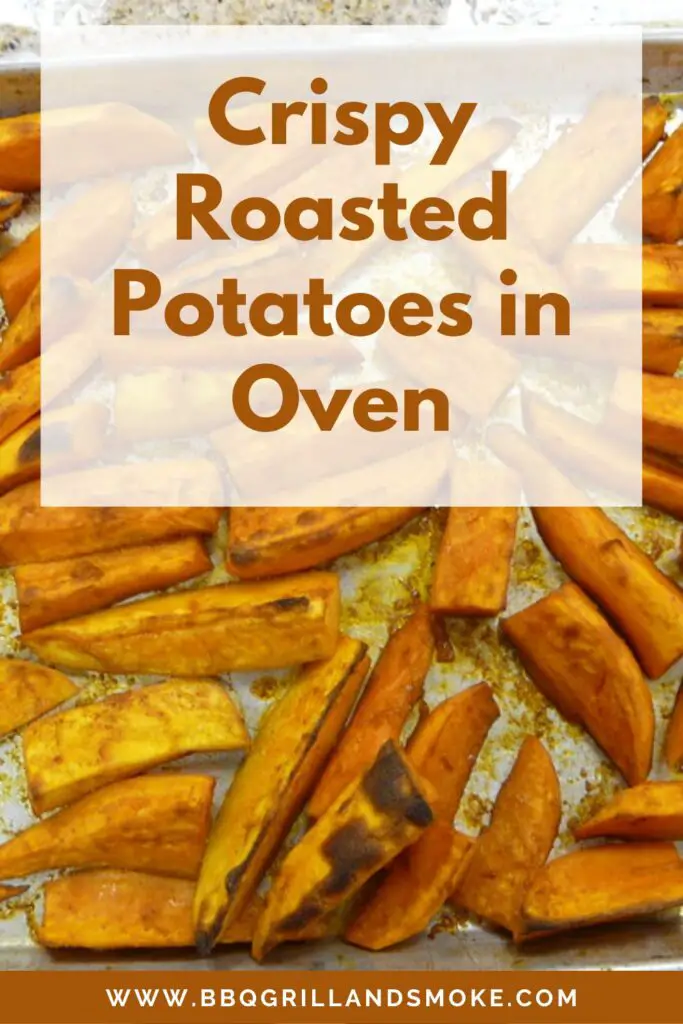 I consider roasted potatoes to be a first-rate side dish that everyone loves.
As previously stated, they have a crispy exterior and a tender and fluffy interior.
You can pair them with almost anything. However, it can be quite a task to get them to be perfectly crisp.
With this easy guide, you will learn how to make the best crispy roasted potatoes in the oven every time, and all you need are just a few simple ingredients and some pro tips.
It is the perfect option for a side dish for a busy weeknight dinner or a grand holiday spread.
Crispy Roasted Potatoes
Roast potatoes are a staple at almost every restaurant or hotel buffet offering and for good reason.
They are easy to cook, are always loved, and have a delectable starchy counterpoint to cooked meats and greens.
However, they are at their ultimate best served piping hot straight out of the oven. You can also make them ahead of time.
How to Make the Best Crispy Roasted Potatoes
These simple, Crispy Oven-Baked Roasted Potatoes are the ideal side that everyone will love. They are roasted to perfection.
Prep Time: 10 minutes
Cook Time: 1 hour
Total Time: 1 hour and 10 minutes
Course: Wedge
Cuisine: Vegan
Servings: 5
Ingredients
6 medium-sized russet potatoes (peeled and quartered)
3 tablespoons of olive oil
1 tablespoon of vegan butter
2 L of water (depending on the size of your pot)
½ cracked pepper
2 tablespoons of sea salt
1 tablespoon of baking soda
3 garlic cloves (pressed, grated, or finely chopped)
1 teaspoon of onion powder
1 teaspoon of sea salt
3 tablespoons of fresh thyme (smashed to release the scent)
Laid-Out Instructions
First, you are to get a large pot and bring it to a boil, then add the salt and baking soda to it.
After that, proceed to add the potatoes and parboil them for 10 minutes.
That being done, preheat the oven to 425 degrees Fahrenheit, get parchment paper, and line 1-2 baking sheets with it.
Now, you are to remove it from the water, strain it, and then transfer it to a large bowl.
And to this large bowl, you are to add the pepper, onion powder, salt, garlic, oil, and butter.
Also, stir gently. It's time to transfer the potatoes to a baking sheet. So, you need to ensure that each potato has room to breathe and is cut side down.
However, this is based on how many potatoes you cook, as you might need to use two baking sheets.
When that is done, proceed to place it in the oven and bake for 30 minutes.
After that, remove from the oven, turn over each potato, and then evenly sprinkle with fresh thyme.
So, afterward, you can cook it for an extra 20 minutes or just until it becomes perfectly crispy and golden.
You are to serve with fresh lemon, although this is optional. But I strongly suggest that you enjoy it with a fresh salad or greens.
And, as previously mentioned, you can actually enjoy it with almost everything.
Storage Tips for Crispy Roasted Potatoes in Oven
To Store
You can store the leftover potatoes if you have them in a tightly sealed storage container. This way, it will last up to 4 days in the refrigerator.
To Reheat
When you want to reheat, just rewarm the potatoes on a baking sheet in the oven at 350 degrees F.
To Freeze
Well, I suggest you avoid freezing roasted potatoes, given the fact that they will become mealy immediately after they are defrosted.
What to Serve with Oven-Roasted Potatoes
Meat
I consider meat and potatoes to be classic and beautiful. So, go for Air Fryer Steak, Baked Pork Tenderloin, or Turkey Meatloaf.
Chicken and Turkey
You have excellent pairing options, from grilled chicken thighs to roast turkey and poultry.
Nutritious, Saucy Dishes
I recommend you pair your delicious potatoes with gravy-like beef dishes such as beef bourguignon and braised short ribs.
Sandwiches and Burgers
Serve your next BLT, Shrimp Burger, Vegan Burger, or Air Fryer Grilled Cheese with roasted potatoes.
Fish
Nutritious, meaty fish such as Grilled Swordfish and Baked Salmon taste delectable with crunchy, creamy potatoes.
Recipe FAQs
How to Store Peeled Potatoes Overnight?
Covering your peeled potatoes with cold water is the best way to keep them from turning brown.
But storing them this way should not take any longer than overnight, as they will begin to lose their structure.
Can You Parboil Potatoes The Day Before Roasting?
The short and straightforward answer to this is yes. You can parboil potatoes the day before roasting.
However, to parboil the day before roasting, you are to parboil, drain, rough the exterior, and coat them with oil the day before.
After that, proceed to cover them with plastic wrap and store them in the fridge until they are needed.
Can You Freeze Roasted Potatoes To Make Ahead?
You are to parboil, drain, rough the exterior, and transfer the roasted potatoes to a baking sheet or dish in a single layer if you plan to make them ahead and freeze them.
Get plastic wrap and loosely cover them with it, and also freeze them.
Then, you are to transfer them to a freezer bag immediately after they are frozen and return them to the freezer.
And, for five minutes, you are to heat the olive oil in a large roasting pan to roast from frozen in the oven.
After that, carefully add the frozen potatoes to the hot oil and flip to coat.
Then, proceed to cook for 45–50 minutes and turn in the oil halfway through until they become golden and crisp.
Why Are the Potatoes Salted Before They're Put In Roast?
They are done this way because a light dusting of salt helps draw moisture from the surface of your potato pieces, making it easier to achieve the perfectly crisp outside you want.
Final Thoughts on Crispy Roasted Potatoes in Oven
Ensure that you cut the potatoes into evenly-sized pieces, given the fact that potatoes with an even surface area will roast at the same rate.
This will help you avoid over-done or under-done slices. And, for best results, you should cut larger potatoes into 1-inch cubes.
Also, make sure you do not overcrowd the pan. The potatoes will steam rather than roast if pieces are on top of or touching each other, which in turn reduces the amount of surface area that can get crispy.
So, that being said, this concludes this guide on the best recipe for Crispy Roasted Potatoes in Oven.