With this easy recipe, you will get to enjoy tasty baked crispy turkey wings right from the oven with just olive oil and seasonings of your choice.
These turkey wings are similar to chicken wings; however, they come with a unique turkey flavor and a larger shape with lots of savory, delectable turkey meat.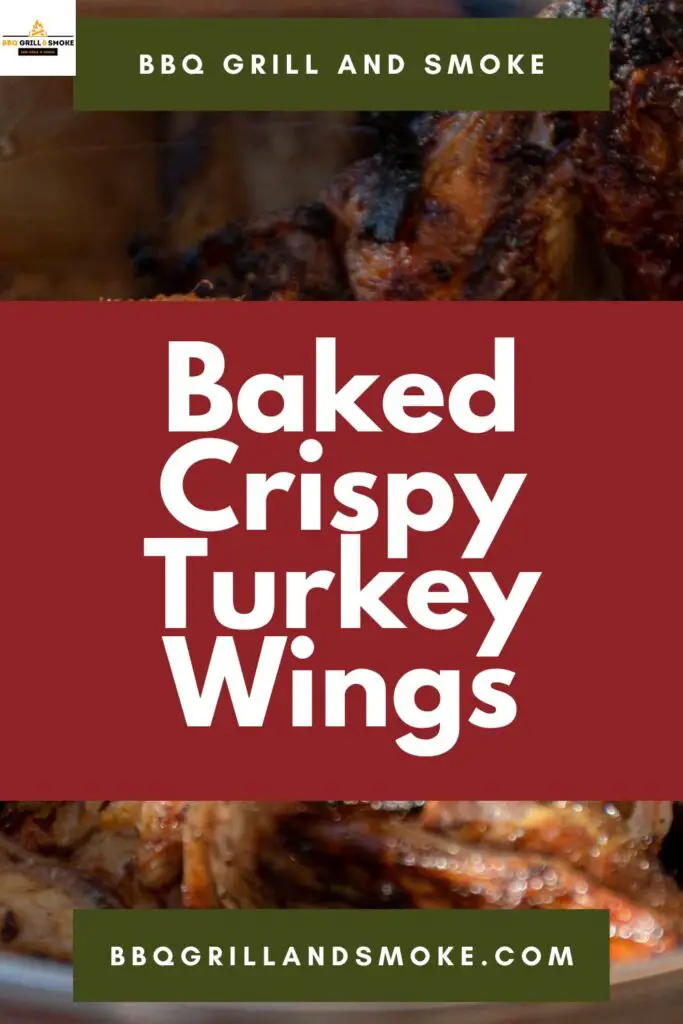 The thing is, if you love chicken wings, you will love turkey wings. They are meatier, bigger, juicier, and filled with flavor.
What Are Baked Turkey Wings?
Baked turkey wings are a comfort food staple that contains split turkey wings seasoned with a few pantry staples.
It is an excellent substitute for cooking an entire turkey. Just a couple of hours, and you are done cooking wings.
And they are always ready to eat immediately after being cooked. Carving isn't necessary, either.
Although wings are often fried, a guaranteed way to yield juicy, succulent wings without the additional oil or babysitting that frying requires is by baking them.
But if you want to fry them, I strongly suggest you go for appetizer-size chicken wings, given the fact that they are smaller and cook in no time.
However, turkey wings that are main dish-worthy are large, so they will require more time to get tender.
This is also to say that roasting turkey wings is the better option. You can start this recipe low and slow in the oven.
Then, you can finish up at a higher temp to crisp up the exterior and yield the classic combo of juicy meat and shiny, golden skin.
The Best Baked Turkey Wings
These delectably succulent baked turkey wings are relished to perfection.
This is the ideal holiday dish that is simple to prepare and is a crowd-pleaser.
Course: Main Dish
Cuisine: American
Prep Time: 10 minutes
Cook Time: 2 hours
Total Time: 2 hours and 10 minutes
Servings: 4 servings
Ingredients
2.5 Ibs of turkey wings (slice into sections if bought whole)
2 ½ cups of turkey or chicken broth (or even water)
1 large lemon (slice into 4 wedges)
2 tablespoons of olive oil (you can substitute it with vegetable oil)
Turkey Wing Seasoning
1 tablespoon of onion powder
1 teaspoon of minced onions
1 teaspoon of minced garlic
1 tablespoon of garlic powder
2 teaspoons of poultry seasoning
1 ½ tablespoons of paprika
2 teaspoons of parsley flakes
2 teaspoons of seasoning salt or salt-free seasoning
Laid-Out Instructions
First, you are to clean the turkey wings, then get the lemon wedges and use them to rub all the surfaces of the wings.
After that, you are to get a large bowl or dish, place the wings into it, and use olive oil to spray the wings.
Get all of the seasonings and spray them onto the wings. Afterward, you can rub the seasonings all over the wings.
With that being done, you are to remove the wings from the bowl and place them in an oiled baking dish.
There will surely be leftover seasonings in the bowl that the wings were in. So, you are to pour 2 ½ cups of broth or water into the bowl.
Then, you are to stir and pour the broth or water into the baking dish.
Now, cook the wings in the oven at 350 degrees Fahrenheit for around 1 & ½ hours to 2 hours.
However, make sure that you cover the baking dish. After that, you are to remove the wings from the oven in turns and baste.
You will know your turkey wings are done when they are cooked to an internal temp of 165 degrees F.
If you intend to achieve crispy skin, just remove the wings and place them under the broiler for the last 5–10 minutes of cooking time. Also, make sure that you uncover the baking dish.
Storage and Reheating
I strongly suggest that you serve them fresh, as they certainly taste best then. Their taste happens to disappear quite quickly.
However, if you do have some leftovers, you can always store them in the fridge for 3 to 4 days.
And just place the wings on a baking sheet lined with parchment paper when you are ready to serve them.
After that, you are to preheat the oven to 400 degrees F or 200 degrees C, and then you can pop the wings in for a few minutes on each side. Do this until they become hot.
Best Ways To Serve Baked Crispy Turkey Wings
These delicious baked crispy turkey wings are extremely versatile and can be served in several ways:
Serve as a Main Course
You can make it a meal by serving it with your favorite sides, such as potatoes, garlic butter green beans, rice, or salads.
Serve as Part of a Small Thanksgiving or Holiday Dinner
Well, for a small Thanksgiving or holiday meal, you can always skip the entire turkey and just go with turkey wings instead.
Compared to roasting and carving a whole turkey, it is much easier and more affordable. And you can serve it with your favorite turkey dinner sides.
Serve as an Appetizer
These savory turkey wings are the perfect party food. Ideal for a family game night, a game day party, or when you have a casual get-together with your friends.
Make sure you dress them up like chicken wings, and you can do this by tossing or dipping them in your favorite wing sauce.
Ensure it is with some carrot and celery sticks and also with some blue cheese or ranch dip.
FAQs About These Best-Baked Crispy Turkey Wings
Why Are My Baked Turkey Wings Tough?
Not rubbing your baked turkey wings with oil before baking them will make them tough, as will baking the wings uncovered for too long in the oven.
Do You Bake Turkey Covered or Uncovered?
This has already been answered above. First, you are to bake the turkey covered with aluminum foil.
This will allow the meat to become nice, tender, and delicious. Then, for a crispy skin, you can now bake them uncovered.
Final Thoughts on Baked Crispy Turkey Wings
Well, this is how to make baked, crispy turkey wings. This easy-baked turkey wings recipe will make you lick your fingers and get addicted, particularly if you've only ever had the usual Thanksgiving turkey.
This will make you crave turkey throughout the year. It will also be the best turkey wing recipe you can make.
It is such a delicious and healthy change from the usual chicken wings and is amazingly simple to prepare.
Well, with all that being said, I hope you enjoy this healthy baked crispy turkey wings recipe.