Come and have a taste of heaven with the captivating flavors of sausage burnt ends in an oven.
These smoked sausage burnt ends are mouth-watering and irresistible.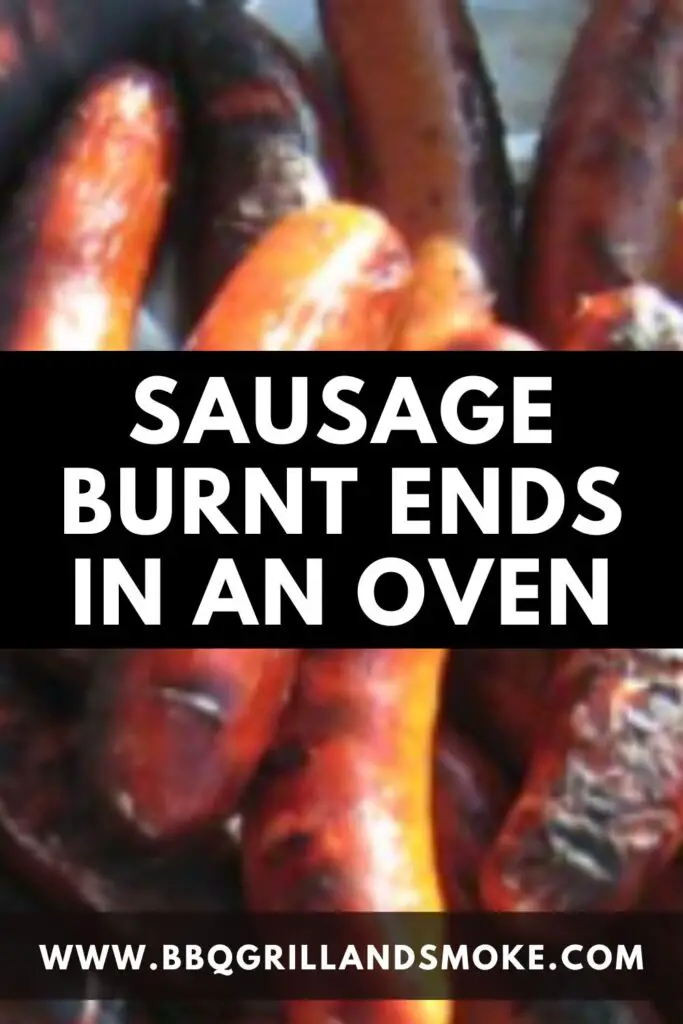 Succulent and juicy smoked sausage chunks are lavishly coated in a yummy and spicy barbecue glaze and slow-cooked to achieve a crunchy caramelized exterior.
I will say that for barbecue lovers, these bite-sized treats are a must-have as they provide a beautiful combination of smoky, tasty, and a bit of charred delectableness.
What Are Smoked Sausage Burnt Ends?
As you might be aware, traditional burnt ends are obtained from the pointed end of a beef brisket.
Even though you might love smoking an entire beef brisket, these delicious smoked sausage burnt ends are much easier to make and still so savory.
They are an interesting way to make a flavor-filled appetizer using your oven.
You can also personalize them by using your own favorite BBQ sauces and rubs.
Oven Baked Sausage Burnt Ends
With this recipe for oven-baked sausage burnt ends, you will experience the tempting flavors of smoked sausage burnt ends.
Soft and delicious smoked sausage chunks are lavishly covered in a sweet and tangy barbecue glaze.
Also, slow-cooked to achieve a crunchy seared exterior. These finger-licking treats are a must for barbecue lovers, as they provide an incredible combination of smoky, flavorful, and slightly seared delectability.
Course: Appetizer, BBQ
Cuisine: American, BBQ
Prep Time: 10 minutes
Cook Time: 2 hours and 30 minutes
Total Time: 2 hours and 40 minutes
Servings: 24
Ingredients
1 Ib. of smoked sausage
BBQ dry rub (as needed)
BBQ sauce (as needed)
2 tablespoons of mustard
4 tablespoons of butter
1/3 cup of brown sugar
Laid-Out Instructions
First, preheat the oven to 250 degrees Fahrenheit and then set it for indirect heat.
After that, prepare the smoked sausage links, and you can do that by slicing into the sausage link every 1 to 1.5 inches without cutting all the way through the link.
Doing this will help expose more of the sausage to the smoke and add more flavor and texture to the burnt end.
Just coat the smoked sausage completely in a thin mustard binder immediately after it is sliced, including in the sliced spaces.
After that, cover it with a thin layer of the BBQ dry rub. That being done, place the smoked sausage into the oven and allow it to bake for 1 hour, 30 minutes to 2 hours.
Then, the sausage should be heated through, slightly plumped up, and lightly browned.
Now, remove the smoked sausage from the oven and slice it into the burnt end pieces, you can do that by using the precut grooves.
Afterward, get an aluminum foil or cast iron pan and place them in it.
Also, get some BBQ sauce and coat them in enough of it that they are completely covered. Add the butter over the top and drizzle on the brown sugar.
You can now place the pan back into the oven for 30 to 45 minutes. In order for them to caramelize and coat in the mixture evenly, stir a few times as needed.
Remove them from the oven and serve as desired when they are set up and the sauce is tacky and shiny.
Serving Suggestions
Make sure you serve your delicious oven-baked sausage with your favorite side dishes.
For an interesting meal, just go for grilled trash can nachos or a big pile of loaded cheese fries.
They are also the best when they serve as an appetizer before a great peanut butter jelly Smashburger for the first-rate sausage and hamburger combination.
Sausage Burnt-Ends in an Oven Storage
I actually doubt that you will have any leftovers, but if you do, you can always store them, and I will teach you how to.
Just get an airtight container and place them in it, then store them in the fridge, which will make them last for up to 3 to 5 days.
They are the perfect snack when you are on the go, so they are treats you will want to have around.
Reheating Leftovers of Sausage Burnt-Ends
When it comes to reheating your leftovers, if you have any, just get a baking sheet and place them on it, or you can place them in the air fryer, as this will help them maintain their crispiness.
After that, you can just reheat them at medium-high heat until they are warm.
Recipe FAQs
What Are Burnt Ends?
Classic burnt ends are just chunks of smoked beef brisket that are cooked in a smoky sauce until they become dark and browned.
The results are highly flavored and amazingly succulent chunks of meat that can be served as a main course or an appetizer.
In this recipe, beef sausage will be used instead of beef brisket, which is quite expensive.
What Meat Is Best for Burnt Ends?
As you know, traditional burnt ends are made using brisket. However, as hinted at, a good cut of brisket is costly.
So, for this simple recipe, I used sausage chunks. I suggest that you use the beef sausage, but this is based on your preference. They are more affordable, faster, and a bit more kid-friendly.
What Kind of Meat Makes the Best Burnt Ends?
It is well known that smoked brisket makes the best-burnt ends.
And that is perhaps due to the fact that burnt ends naturally occur when smoking a brisket.
That being said, sausage is another safe selection. This oven-baked sausage burnt ends recipe is amazing and quite easy to cook compared to the classic brisket burnt ends recipes.
Why Use Butter for Burnt Ends?
I'm sure you'd agree that the combo of butter and sugar adds a sweet kick of flavor.
Additionally, it also helps create that gummy glaze that will give a delectable browned coating.
Final Thoughts on Sausage Burnt Ends in an Oven Recipe
These sausage burnt ends are so easy to make; all you will need are a few ingredients and a few simple steps to follow that will yield a delectable BBQ-smothered baked sausage.
You will cook them low and slow in the oven to infuse as much flavor as possible. In this case, the oven will do most of the work.
These sausage bites will result in tender and juicy treats with a slight sear, and all you need is a little patience.
These oven-baked sausage burnt ends provide you with all of the delectableness of traditional burnt ends.
And, with all that being said, you can now enjoy your delicious sausage burnt ends in an oven, which is perfect to bring to special events, BBQ get-togethers, or game-day parties.