This healthy and tasty recipe for Hillshire Farm Smoked Sausage is easy to prepare and enjoy with nutritious veggies.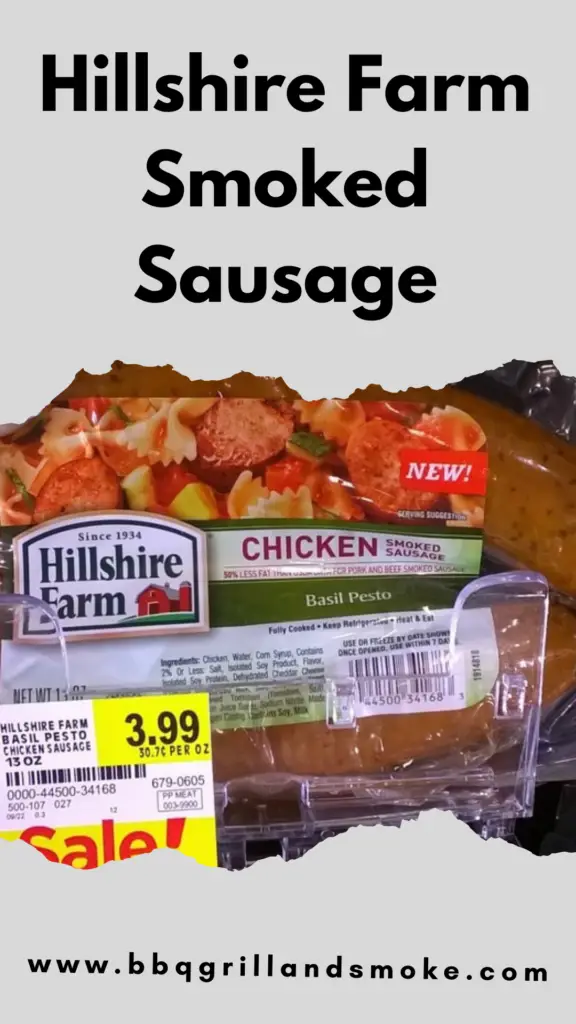 With just any variety of raw sausage in casings, you can actually make delicious smoked sausages at home. You can use the smoky meat in nutritious stews or BBQ sandwiches.
So, in this guide, I will be giving you the recipe for Hillshire Farm Smoked Sausage. It is a simple smoked sausage recipe made simpler.
What Exactly Is Smoked Sausage?
Smoked sausage is a smoked meat dish that contains sausage cooked under the indirect heat of wood smoke.
Sausages are meat products made from ground or minced meat and spices that are wrapped in a casing.
By the means of smoking and curing, you can preserve some sausages, such as French andouille, Spanish chorizo, and Polish kielbasa.
And if you intend to smoke your sausages at home, just go for uncooked or uncured sausages.
Thanks to the fact that sausages are small and not difficult to handle, smoking sausages over time will help you get comfortable with hot smoking.
This will prepare you before you proceed to smoke bigger cuts such as brisket. Smoked sausages are also ideal for a weeknight BBQ.
Hillshire Farm Smoked Sausage
This simple smoked sausage dinner is a fast and simple one-dish dinner. It is the best for a busy weeknight. You will also be using only one pan. The cleaning is very easy.
Easy Hillshire Farm Smoked Sausage Recipe
Preparation Time: 10 minutes
Cooking Time: 30 minutes
Total Time: 40 minutes
Course: Main
Cuisine: Western
Servings: 4
Ingredients
1 package of Hillshire Farm smoked sausage
2 cups of instant rice
2 cloves of garlic (crushed)
½ cup of tomato sauce
¼ cup of olive oil
1 small yellow onion, thinly sliced
1 large red bell pepper, thinly sliced
½ cup of mozzarella cheese (shredded)
1 package of thawed frozen broccoli
½ cup of tomato sauce
Laid-Out Instructions
First, you are to slice the sausage into ¼-inch diagonal slices. Then, proceed to heat the olive oil and crushed garlic.
With that being done, you are to mix in smoked sausage slices, then proceed to cook until the smoked sausage is browned.
Now, you are to add in the onion, chicken broth, broccoli, pepper, and tomato sauce. After that, simmer for about 10 minutes.
Allow this to go on until the vegetables become soft and the liquid is absorbed. And, for the time being, you are to cook the rice following the package instructions.
When that is done, you are to get the skillet and stir the rice into it, then proceed to sprinkle with cheese, serve, and enjoy.
Notes
Smoked Sausages
You can actually make use of any smoked sausage for this recipe. Just make sure they are well relished so that they leech a great amount of flavor into the oil, which in turn savors the entire platter.
Rice
I recommend making this simple recipe for Hillshire Farm smoked sausage with long grain rice because they are the best option because they are the least tacky. Although that does not mean other rice won't work.
Jasmine Rice: Just reduce the water by ¼ cup.
Basmati Rice: It gives the same soft texture, but you will get the basmati aroma, which is pleasant.
Medium and Short Grain White Rice: It works great with this healthy recipe, but the rice is a little bit tackier. With that being said, you shouldn't be expecting the same rice texture.
However, there is also some rice that this recipe won't work with, including paella or risotto rice, quinoa, brown rice, wild rice, or other specialty rice.
No Need to Rinse Rice
You actually don't need to rinse the rice, unless you have some concerns about the cleanliness of the rice.
If you get your rice in packets from grocery stores, you don't really need to rinse those.
Raw Sausages
The interesting part of this is that you can also use raw sausages for this simple recipe. And they will also leave a great deal of flavor in the pot.
However, due to the fact that the meat is raw and mushy, you can't actually cut through them, so you can only cut them into small slices. They will turn out to look like mini meatballs.
How Long Can You Smoke Hillshire Farm Smoked Sausage?
The smoking time for these simply smoked sausages is determined by the type of meat used.
The size and thickness of the meat also determine it. For instance, for Italian sausages to be adequately smoked, they will require around three hours.
While chicken and turkey sausages will require a little less smoking time. The smoking time for these sausages will typically be between 1 ½ and 3 hours.
However, it would help if you were sure that you flip them over more or less every 45 minutes.
Smoking Temperature for Hillshire Farm Smoked Sausage
I'm sure you will want to know about the smoking temperature for your sausages.
Well, the perfect temperature to smoke sausages is around 200 to 250 degrees Fahrenheit, which is about 93 to 121 degrees Celsius.
That being the case, I will recommend you go for the standard smoking temperature, which is 255 degrees Fahrenheit. This goes for most smoked meats.
However, you can jack up the temperature to about 300 degrees Fahrenheit (149 degrees Celsius) if you intend to smoke it in less time.
The key to this is the internal temperature of the sausage; you just need to keep checking it.
So, this is to say that the internal temperature is the most important factor here.
You also need to monitor the progress of your sausage, and to do that efficiently, you will need a smoker's temperature.
You won't need to cut the sausage open. Smoke your sausage until its internal temperature gets to 160 to 165 degrees Fahrenheit, which is around 71 to 74 degrees Celsius.
At this internal temperature, your sausages will be done and good for consumption, so you can proceed to remove them from the smoker, then serve and enjoy them.
Final Thoughts: Recipe for Hillshire Farm Smoked Sausage
Before I wrap up this guide, let's quickly look at how you can store your leftover smoked sausages.
It is very possible that you will have a lot of leftovers. Fortunately, you can store your leftovers safely and still be able to remain fresh and consumable for some time.
Well, the best way to store your leftovers is to vacuum seal them. So, to do this, you will need a vacuum sealer.
All you need to do is just allow the meat to cool completely after smoking it, then proceed to seal it in the vacuum.
After that, place the vacuum sealer containing the leftovers in the refrigerator.
However, you need to make sure that it is completely sealed and that no moisture can get into it.
And, with all that being said, I will conclude this guide on the "Recipe for Hillshire Farm Smoked Sausage," as you now have everything you need to make the perfect Hillshire Farm Smoked Sausage.