Have you ever had grilled catfish? It's incredibly delectable! Grilled catfish is a popular meal in the southern United States, as well as Nigeria and other African countries. It is often served with hushpuppies or French fries, which are deep-fried balls of cornmeal batter.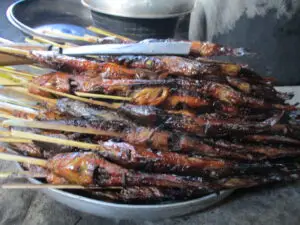 Catfish can be grilled in many different ways, but it's usually seasoned with salt and pepper before being cooked over an open flame.
This delicious meal goes so well with a lot of food, such as chocolate cake, fried shrimp, rice and cheese, barbecue chicken, and spicy chicken wings. It's good for an appetiser or for lunch. It's so simple and easy to cook, I'll show you how to make grilled catfish in this short post.
What does grilled catfish taste like?
Catfish has a peculiar flavour that is hard to describe. It has firm meat with less flake than some other whitefish and a sweet, mild, and juicy flavour that complements its sweet flesh.
Ingredients to make grilled catfish
Grilled Catfish is simple but tasteful food. As anyone who cooks knows, it can sometimes be difficult to make a dish turn out just right. But as with most kinds of fish, sometimes the best way to make something so tasty is to grill it.
If you don't know how to make grilled catfish, you are missing out and I'm here to help you. I love catfish. It's one of those fish that can be quite versatile on the grill. Today, I want to share with you the ingredients that make for a tasty, juicy grilled catfish dish.
Here are the ingredients you need to make grilled catfish:
Whole catfish or Catfish fillet
½ Tablespoon Ground black pepper
1 Tablespoon Ground, dried red pepper or ½ cup fresh pepper
1 Onion
1 tsp garlic and ginger paste
2 bell pepper
Salt to taste
2 seasoning cubes
1 tsp olive oil (optional)
How to prepare grilled catfish
Preparing grilled fish is a quick-step process. If you know those steps, finding your way around preparing grilled fish becomes a lot easier than you think. That's what I'm going to show you today: how to prepare grilled fish in easy steps with just one look at my recipe.
What can you serve with grilled catfish?
What do you serve with catfish? You might be wondering what side dishes or desserts you can serve with catfish. After reading this article, you should have plenty of ideas on what to serve with grilled catfish.
Hushpuppies
French fries
Fried rice
Jollof rice
Fried green tomatoes
Mac and cheese
Corn bread
Vegetable salad
Salt and vinegar chips
Mashed cauliflower
A cheesy broccoli corn casserole
Common questions about grilled catfish recipes
If you've eaten grilled catfish before, then you know how delicious it can be. Maybe you're just interested in cooking it for the first time or wondering about how to increase its flavour. Whatever your catfish curiosity is, I know you already have many questions about grilling catfish. Here are some of the few questions I see a lot:
Can I grill catfish in foil?
Absolutely! You can grill a catfish in foil. You can always follow the steps above and wrap the fish up in foil and put it on the grill.
What temperature should I grill catfish?
Preheat a gas or coal grill over medium heat until hot but not smoking. Check to see that the inside temperature of the grill reaches 375 to 400 degrees Fahrenheit before using it.
How do you keep catfish from sticking to the grill?
If you don't want your catfish to stick to the grill, rub the fish with olive oil or marinade, then clean the grill with an oil-soaked paper towel after it has finished cooking. There are also grill-specific non-stick cooking sprays available, however, to be honest, a paper towel works just as well in this situation. Create a fire that is appropriate for the food you're preparing.
Do you flip fish on the grill?
While cooking, only flip your piece of fish once or twice. It should not be turned and flipped repeatedly. This will increase the likelihood of it falling apart when being roasted on the grill. Keep your piece of fish from being forced off the grill when it comes time to turn it over.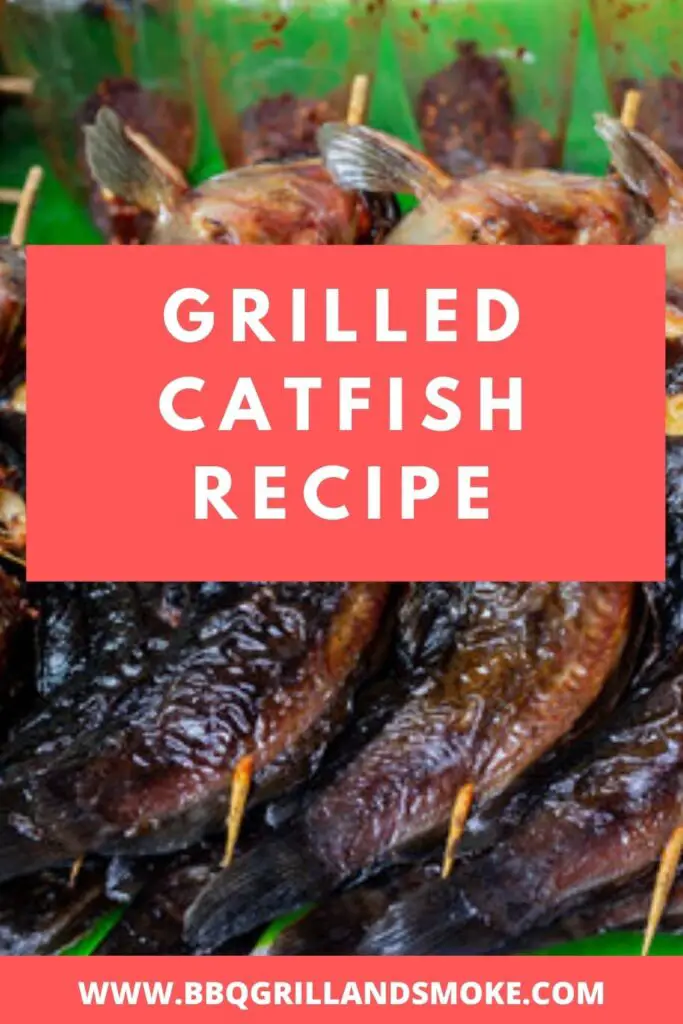 Final Thoughts on Grilled Catfish Recipe
In conclusion, it's easy to prepare catfish recipes when you're armed with some easy catfish recipes ideas and tips. All you have to do is get prepared, including gathering the necessary ingredients and making sure that the recipe is finished at the right time.
I do hope this recipe guide will make a delicious grilled catfish meal. When you prepare yours, make sure you post a comment! I would love to know how yours turned out.