Let's talk about this simple Beer Can Smoked Chicken recipe that is so delicious with a homemade rub.
Soft, luscious whole chicken on the smoker, perfectly relished.
The entire chicken is made so luscious by the light steam from the beer marinade.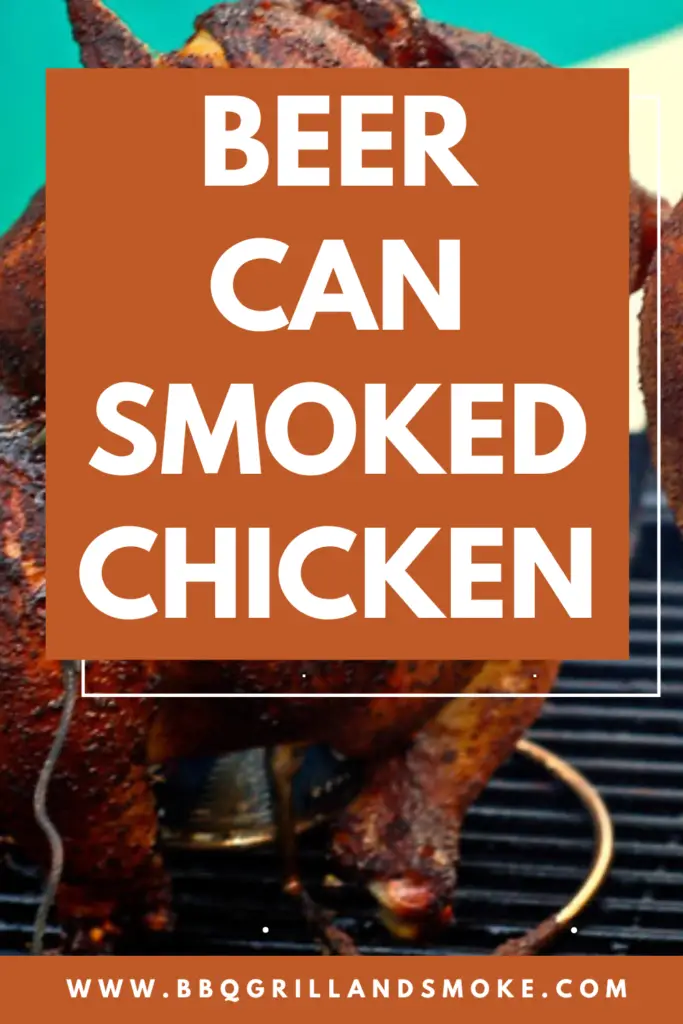 It is then incorporated with the smoky flavor, which makes it the ideal dinner recipe.
I'm sure that it feels so incredible to have a bite from a luscious, succulent chicken bursting with smoke flavor.
And, the best part of all this is that it requires little effort to make. All you need to do is just mix the seasoning, proceed to massage the chicken with it, and then allow it to smoke.
This easy beer-can smoked chicken recipe also gives you more time to do whatever you want to do instead of using all your time and hours to make dinner.
How Much Chicken Do I Need to Cook?
You can serve 4 to 6 people with one 4- to 5-pound roast chicken.
Although I recommend that you go for two chickens and smoke them both at the same time, especially if you are going to light up the smoker.
Both chickens will certainly be eaten, or you can just share one of the chickens with your neighbors and those you love.
Beer Can Smoked Chicken Recipe
Prep Time: 20 minutes
Cook Time: 4 hours
Total Time: 4 hours and 20 minutes
Servings: 4 servings
Yield: 1 chicken
This smoker recipe makes a savory bird with extremely moist meat in the easiest way possible. All you need to do is set it, check it, and then be done.
However, removing the whole beer cap can be quite a difficult task, although, for me, I would rather open the can and add a few extra holes, as this makes it much easier and equally efficient.
Ingredients
1 whole chicken, around 4 pounds, with giblets removed
1 can beer (I prefer lagers or German-style beers).
2 teaspoons of mild chili powder
3 cloves of garlic, minced
2 tablespoons of chopped onion
1 ½ teaspoons of salt
1 teaspoon of onion powder
2 tablespoons of apple cider vinegar
Laid-Out Instructions
You are to start by gathering the ingredients, then proceed to warm up the smoker to 225 to 250 degrees Fahrenheit.
With that being done, you are to then combine the salt, chili powder, and onion powder together.
After that, proceed to rub them all over the chicken. You can now open the can and pour out half of the beer.
But I will say you should drink half of it, although that is your choice. You can cut off the top of the beer can by using a can opener.
When that is done, proceed to add the vinegar, garlic, and chopped onion to the beer can. Now, working over a tray, you are to place the chicken cavity over the beer can.
Make sure this is done carefully, and that it almost completely covers the can.
After that, you can now move it to the middle of the smoker rack. However, you must ensure that it stands properly.
Now, smoke for around 3 to 4 hours, or you can just keep going until the internal temperature of the thigh gets between 165 and 170 degrees Fahrenheit. You can check this using an instant-read thermometer.
You are to remove it from the heat immediately after it's cooked. After which, you are to place it on a cutting board.
With that being done, you are to cover the chicken with aluminum foil; make sure that this is done loosely.
After that, you are to allow it to cool for 7 to 10 minutes before you proceed to remove the can and slice the chicken.
Frequently Asked Questions
How Long to Smoke Beer Can Chicken?
Both the size of the chicken and the temperature at which you smoke it determines the cooking time.
In this beer-can smoked chicken recipe, I smoked the 4 pounds of chicken at 225 to 250 degrees Fahrenheit for 3 to 4 hours, until the internal temperature of the thickest part of the chicken's thigh reached 165 to 170 degrees Fahrenheit.
And the temp can be checked using an instant-read thermometer. As previously mentioned, do ensure that the cooked chicken is covered with aluminum foil during the resting period.
Doing this will help keep the chicken warm, and at the same time, it will raise its temperature.
Can You Smoke Beer Can Chicken?
The short answer to this question is yes. You can surely smoke beer can chicken. And all this can be done in the smoker.
The best part of doing this is that it is easy and simple. All you need to do is simply place the chicken on top of a beer can, and then place it on the smoker until it's cooked.
Why Use Beer to Cook Chicken?
I also asked this question. Well, using beer or any liquid helps maintain the moisture level of the bird's interior during the cooking process.
On the other hand, you can use stock or even water. As you know, this is totally your choice.
What Kind of Beer Is Best for Beer Can Chicken?
I will suggest you go for a lager or pale ale beer for this easy beer can chicken recipe. This is so because they are quite plain-tasting beers.
You don't have to go all out and get an overly flavorful beer for this smoke.
What Kind of Wood Pellets or Wood Chips Should You Use For Smoked Beer Can Chicken?
I recommend you go with a rich smoky flavor such as hickory or mesquite pellets for the best beer can chicken.
Well, you can be assured that hickory will really flatter your chicken graciously, and the chicken will be imbued with the smoky flavor of hickory.
You can also go with lighter fruity substitutes such as the signature Traeger Blend of Pellets, pecan, or Traeger applewood pellets.
Conclusion: Beer Can Smoked Chicken Recipe
It's time to serve the best beer-can smoked chicken you've ever had.
You need to make sure that you serve them with some impressive sides. Sides that can gracefully sit next to this juicy chicken on the dinner plate.
Some of these sides include Smoked Baked Beans, Oven Roasted Potatoes, Smoked Mac N' Cheese, and Creamy Cole Slaw.
You can also store the leftover chicken in a sealed container and place it in the refrigerator, which will allow it to last for up to 3 days.
And, in order to prevent the skin of your chicken from becoming rubbery, avoid smoking at a low temperature the whole time.
Also, go for a beer can chicken stand, as this makes cooking much easier. It is perfect for presentations, and they also come in different cool designs.
So, with all that being said and the best beer can smoked chicken recipe, this will be the wrap-up of this guide.