There are a lot of reasons why you might want to bake a cake at home without an oven. This recipe will guide you right.
Whatever the case, this guide will provide several alternatives for making cakes without an oven.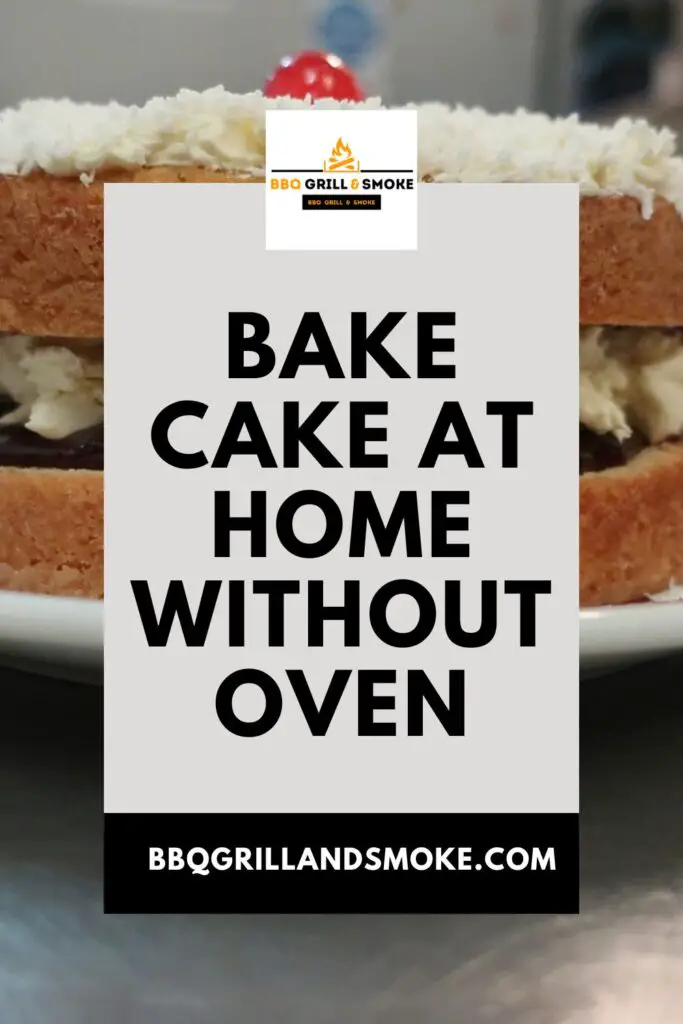 These are ways in which you can bake a normal cake using other methods, and they will result in a cake that is worth eating.
So, as said, there are several ways to make a cake if you don't have an oven or are not interested in using one.
You can make a cake without an oven by using a slow cooker or a microwave, steaming it, or even baking it in a solar oven.
Well, with that being said, let me give you a step-by-step guide on how to bake a cake at home without an oven.
Homemade Cake Recipe
Have you ever wondered if you can bake a homemade cake without an oven? Well, this is your chance.
It is simple to bake a cake without an oven and with your daily equipment, and in this case, it will be the pressure cooker.
With this simple recipe, it is quite easy to bake a basic cake in a pressure cooker without stress.
Course: Dessert
Cuisine: American
Prep Time: 30 minutes
Cook Time: 1 hour
Total Time: 1 hour and 30 minutes
Ingredients
1 cup of plain flour (Maida), approximately 150 g
Pinch of salt
2 eggs
1 cup of sugar (powdered)
1.5 cups of crystal salt or sand for the base
½ cup of butter (softened)
2 tablespoons of vanilla essence
1 tablespoon of baking soda
½ cup of milk (120 ml)
How to Make Cake At Home
First, you are to allow the butter to soften until it is mashable with a spoon, then proceed to mix the sugar and butter together using a hand or electric whisk or beater.
Make sure you mix it well until it becomes light and fluffy. Also, add the eggs and beat well after each addition.
The addition of the eggs should be one at a time. Whisk the maida, salt, and baking soda together and make sure that there are no lumps.
With time, add this to the egg mixture, alternating with milk.
Stop mixing, and using a spatula, fold this mixture gently until all the batter is completely incorporated and smooth.
Avoid over-beating. After that, add vanilla essence and blend well.
With that being done, get a cake tin and grease it with some oil or butter. Spray some maida on a greased baking tin.
Afterward, proceed by pouring the prepared mixture into the tin and placing it in the prepared pressure cooker over the pot holder or ring.
When that is done, cover the cooker with the lid. This should be without the gasket and weight.
Now, for 50 to 60 minutes, you are to bake on a low flame. And, when it is time to test, put in a knife; you will know your cake is fully baked if it comes out clean.
So, after that, remove it and allow it to cool completely. Just invert the cake on a wire rack immediately after it's cooled, and then allow it to cool completely before you proceed to slice it.
Notes
Preparing the Cooker
I suggest that you use a pressure pan or a heavy-bottom aluminum cooker.
Take out the gasket and weight from the lid.
Get a ring or vessel holder and place it over this.
Also, make sure that you cover the base completely with sand or salt.
And, lastly, you are to place a plate over the salt or sand.
Tips on Making the Best Cake at Home without an Oven
Although this is based on your preference, you can garnish this with whipped cream or icing sugar.
If what you want is a chocolate cake, just add 2 tablespoons of cocoa to the flour mix and whisk well, as this will help get rid of all the lumps.
You can also add an extra 2 tablespoons of sugar, but this is optional.
In addition, you can add chocolate chips, dry fruits, and nuts to the cake batter while baking it.
Make sure that you cover the pan with a lid while the cake is baking. Doing this will help to hold in the heat and cook the cake more evenly.
Frequently Asked Questions
How Do I Bake Without A Pan?
You can actually bake a cake without a pan. All you need for this is a clean can.
However, you need to have adequate structure to make your cupcake liners stiff enough to hold the batter.
It should also be tall enough to hold the cupcake as it rises in the oven. Aluminum foil is pretty useful for baking and cooking.
Can You Mix Cake Batter By Hand?
Well, if you spend enough time in the kitchen regularly, hand blending is highly possible.
But I'm sure you'd agree that an electric blender could make so much sense for you.
Although I will suggest that you start small and work your way up.
So, this way, you can start with hand blending and, with time, switch to an electric blender when it makes sense.
How Long Does It Take For Cake To Bake Without Oven?
Just place the cake tin in the center of the preheated steam rack, then proceed to cover the steamer.
After that, you can bake the cake for 30 to 45 minutes, or just until you can insert a toothpick in the center of the cake and it comes out clean.
Just ensure that you keep the steamer on medium-high and do not lift the lid while the cake is cooking.
Can I Use A Blender Instead Of A Mixer For Cake?
If you don't have a hand mixer on hand, using a blender to mix cake batter can save the day.
However, you can't just go ahead and toss all the ingredients in the blender and hit.
Doing it that way is just risking mixing the dough too much and activating too much gluten.
Conclusion on How to Bake a Cake At Home Without an Oven
Well, you might want to know what good and natural substitutes can be used in baking instead of sugar.
You can also go for maple syrup, agave, and honey, as these are some of the substitutes you can use instead of sugar.
There are also people who are allergic to gluten; if you are one of them, you can always use almond flour or oat flour as substitute ingredients.
And, the result will surely taste excellent. That being said, now you can bake a cake at home without an oven.