Some of the other piquant pumpkin soup recipes you can find out there, this easy pumpkin and sweet potato soup recipe is a creamy and sparkling twist.
It is gluten-free and dairy-free. I consider this to be a delectable way to warm yourself through, particularly when the days get short and the temperatures start to drop.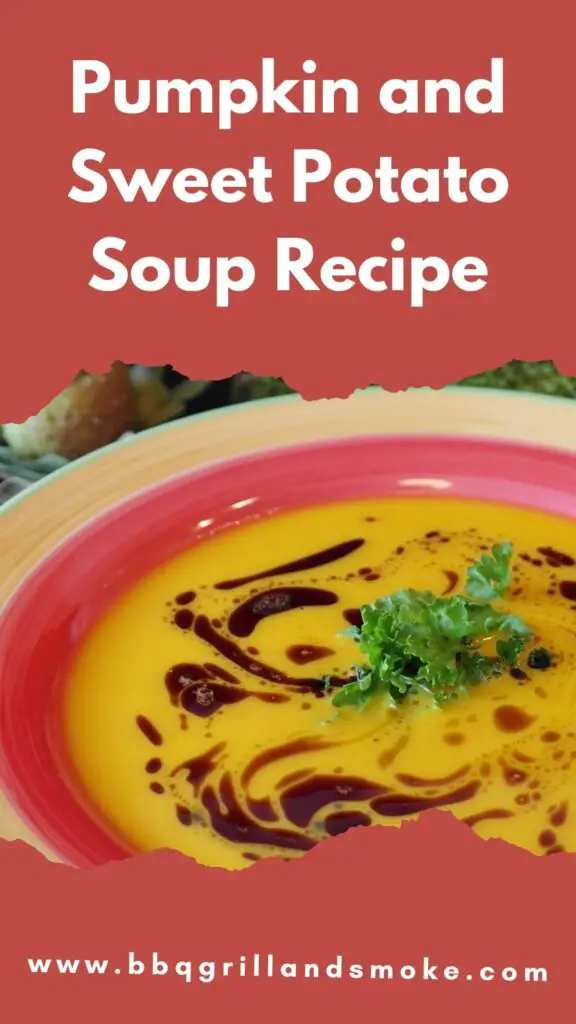 It has a savory mixture of ginger, garlic, coconut milk, chili, lime, and coriander.
This is a nice balance between healthy comfort food and food that sets your taste buds ablaze.
Is Pumpkin Soup Healthy?
Pumpkins are filled with hearty nutrients that include beta-carotene. This is something that helps enhance the immune system.
The sweet potatoes in this simple recipe also have a high content of beta-carotene, so you will be getting double the good stuff.
It also indeed has a quite high content of fat, although the full-fat coconut milk will in turn create a creamy final soup.
I suggest you use reduced-fat coconut milk or just substitute it with extra stock if what you want is a low-calorie version.
Pumpkin and Sweet Potato Soup
This piquant Pumpkin and Sweet Potato Soup is a golden bowl of grace that is certainly a thrill. It is hearty, flavorful, and easy to make.
It is quite certain that it will brighten your day at any time. The gentle spices help add warmth and another layer of flavor.
The soup has a smooth, soft texture, but keep in mind that the soup does not contain cream.
Course: Dinner, Soup
Cuisine: International
Prep Time: 10 minutes
Cook Time: 30 minutes
Total Time: 40 minutes
Servings: 8 cups
Ingredients
550 grams of pumpkin
550 grams of sweet potato
2 brown or yellow onions
1 tablespoon of olive oil
4 cups (1 liter) of vegetable stock
1 teaspoon of ground cinnamon
1 teaspoon of ground cumin
Salt and pepper
Optional Garnishes
Fresh herbs
Toasted pumpkin seeds
Coconut cream
Laid-Out Instructions
The first step is to peel the onions and then finely slice them. Also, proceed to peel and slice the pumpkin and sweet potato into small cubes.
Get a large saucepan and cook the onions in the oil over medium heat. Allow this to go on for a few minutes.
After that, you can now add the pumpkin, sweet potato, and spices. That being done, you can proceed to stir until it is well cooked.
You are to cook this for 1 minute. Add the vegetable stock and simmer for around 20 to 25 minutes.
Or, just go about it until the vegetables become tender. You can blend the soup using a food processor or blender, or an immersion blender, until it becomes smooth.
The consistency here is based on your taste. And, if you want, you can also add a little additional stock or water, as this will help thin the soup out.
Note
You can spray the soup with coconut cream or garnish it based on your preference. There are some excellent options, which include pumpkin seeds and fresh herbs. You can choose any of them.
What to Serve with Pumpkin and Sweet Potato Soup
This pumpkin sweet potato soup can be served as either an entrée or a side dish. You can serve it with garlic bread or homemade sourdough croutons.
Then, garnish it with pumpkin seeds (pepitas), black pepper, extra coconut milk, and fried sage.
This creamy pumpkin soup pairs well with a simple green salad and crusty bread.
You can also serve your delicious pumpkin and sweet potato soup with chopped kale salad, an easy fall harvest salad, or any greens tossed with this easy apple cider vinaigrette.
Freshly baked muffins such as one-bowl cornbread muffins, one-bowl apple cornmeal muffins, or one-bowl triple apple cider muffins go well with this creamy soup.
You can also pair this soup with a vegetable or salad side. The following are my favorites; Broccolini Salad, Air Fryer Broccoli and Cauliflower, Air Fryer Green Beans, Kale Crunch Salad, Greek Spinach Salad, and Honey Sriracha Brussel Sprouts.
How to Store and Reheat Leftover Pumpkin and Sweet Potato Soup
Storing
You can store the leftovers in tightly sealed containers, then proceed to place them in the refrigerator. This will allow it to last for up to 4 days.
Reheating
If what you want is the best result, then you can reheat it on the stovetop over medium heat until it becomes warm.
You can also reheat it in the microwave, particularly if you are in a rush.
And, I suggest that you get a damp paper towel and use it to cover your bowl, then proceed to heat it in 30-second increments.
Pumpkin and Sweet Potato Soup Recipe FAQs
Below are some frequently asked questions about potato soup recipes.
Is Pumpkin and Sweet Potato Soup Gluten-Free?
This recipe requires a stock cube, so make sure what you pick is a gluten-free stock cube.
That is if you would like to leave out the gluten. On the other hand, with the safe knowledge that no pesky gluten will have gotten in, you can make your own vegetable stock.
To make sure that all of your ingredients are gluten-free, I suggest you double-check them.
Also, do remember to check anything extra that you want to serve this best recipe with.
I Haven't Got Pumpkin, Can I Use Butternut Squash?
The short and straightforward answer to this is yes, you can. Butternut squash, or even any type of squash, is a great alternative to pumpkin.
Butternut squash has sweetness and similar color, texture, and taste.
How Long Does Pumpkin and Sweet Potato Soup Keep?
As previously stated, this healthy pumpkin soup will last for up to four days in a tightly sealed container.
However, it must be kept in the refrigerator. You can also always freeze it if you intend to keep it for a longer period of time.
But, you have to make sure that it is entirely smooth beforehand, or else the chunks will have an odd, mushy texture.
Can You Freeze Pumpkin and Sweet Potato Soup?
Definitely. You can freeze your delicious pumpkin sweet potato soup for up to 3 months.
All you need to do is ensure that it is stored in freezer-safe containers.
You can thaw the soup overnight in the refrigerator, then proceed to reheat it on the stovetop over medium heat when you are ready to eat it.
Final Thoughts on Pumpkin and Sweet Potato Soup
Just add less stock if you are not using sweet potatoes. This is so because you will lose the additional starch the potato offers.
You can also use either Kent or Butternut Pumpkin in this recipe. Other types of pumpkin are also good options.
You can use the classic, orange, fresh sweet potatoes that are the Garnet or Jewel variety. And you can also go for a Japanese purple or white-fleshed one.
Well, that being said, this will be the conclusion of this guide, as you now have the best pumpkin and sweet potato soup recipe.