You will notice that these best oven roasted potatoes and carrots are coated in garlic, butter, and herbs.
After that, they are cooked until they become golden brown and tender.
This is a simple and affordable side dish that goes great with beef, chicken, and seafood.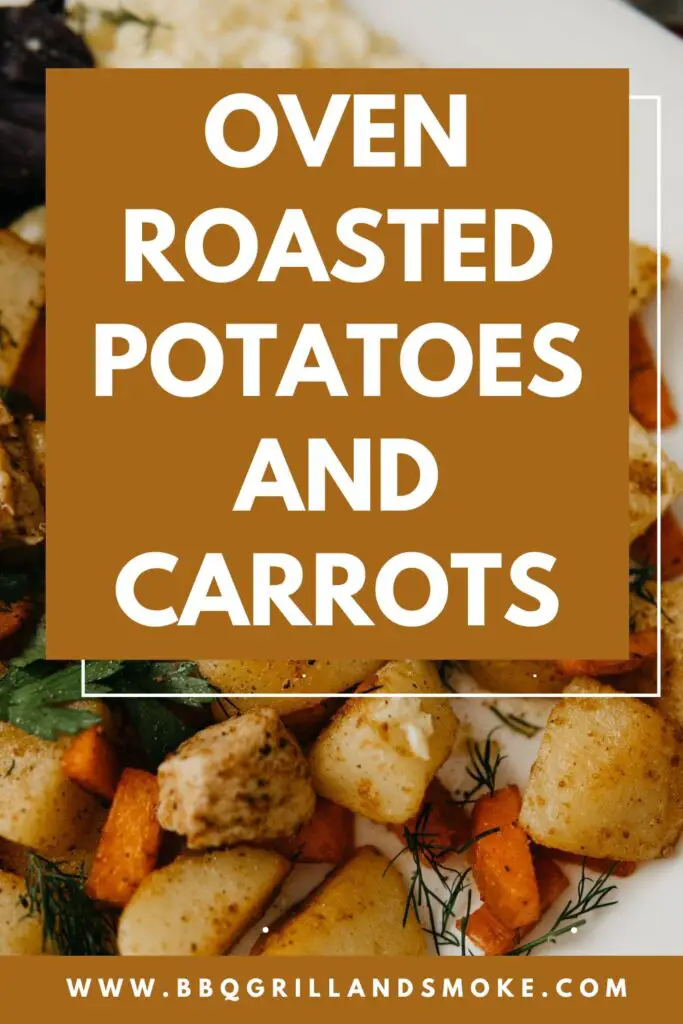 You will actually love these simple roasted potatoes and carrots, particularly during the festive periods when there can be a little too much to do at times.
They are also a hands-off, oven-baked side dish that can be served with almost anything.
And this ranges everything from a busy weeknight dinner on the fly to your Christmas main dish.
Potatoes and Carrots
I consider potatoes and carrots to be humble and affordable vegetables. However, when oven roasted, they are transformed and upgraded.
This brings out the natural sweetness that will perfectly offset the tasty, herby Italian seasoning that will be used.
It is also difficult to resist the golden, crunchy exterior and soft interior of these veggies.
The best thing about this oven roasted potatoes and carrots recipe is that it results in two side dishes in one.
This way, you don't need to worry about preparing a separate vegetable. You are cooking a dish that can be practically served with everything.
And that ranges from a weeknight meal to a Thanksgiving side dish. It is easy to make and inexpensive.
It is also a rather hands-off recipe. All you need to do is chop, relish, and place it in the oven.
Roasted Potatoes and Carrots
This is a perfect roasted potato and carrot recipe with rosemary, honey, and spices.
This simple side goes well with any recipe. It is tender, broiled, and certainly delectable.
Cuisine: American
Course: Side Dish
Prep Time: 15 minutes
Cook Time: 30 minutes
Total Time: 45 minutes
Servings: 6 servings
Ingredients
For the Roasted Potatoes and Carrots
1 pound of carrots (peeled, halved lengthwise if thick)
1 pound of baby red or yellow potatoes (halved)
1 teaspoon of smoked paprika
¾ teaspoon of kosher salt
1 tablespoon of honey or pure maple syrup
1 tablespoon of chopped fresh rosemary
2 tablespoons of extra-virgin olive oil
1 teaspoon of ground cumin
¼ teaspoon of cayenne pepper (skip if you are sensitive to spice)
For the Honey Yogurt Sauce
1 ½ tablespoons of honey
1 cup of nonfat plain Greek yogurt
Laid-Out Instructions
First, you are to place a rack in the lower third of your oven, then proceed to preheat the oven to 400 degrees Fahrenheit.
After that, you are to get a large, rimmed baking sheet, line it with foil, and then coat the foil with nonstick spray.
When that is done, you are to place the carrots and potatoes in the center of the baking sheet.
Now spray with olive oil and honey, then proceed to drizzle with smoked paprika, cumin, cayenne, and salt.
Then, you are to toss the coat. After that, spread into a single layer. That being done, you are to bake in the lower third of the oven until the vegetables become browned in spots and succulent when pierced with a small, sharp knife.
This should take around 25 to 30 minutes; then toss halfway, spray with rosemary, and then toss to coat.
Well, you are to prepare the honey yogurt sauce while the vegetables bake.
Also, you are to get a small bowl and mix together the Greek yogurt and honey in it.
When that is done, you can transfer the vegetables to a serving plate.
Then, proceed to serve it warm, along with big dollops of yogurt on top and additional yogurt on the side.
What to Serve with Roasted Potatoes and Carrots
These delicious roasted veggies are so yummy that you will want to eat the entire pan as is.
So, I suggest that you serve an extra dish or two. Below are a few favorites of what you can serve with these savory roasted potatoes and carrots:
If you are looking for the ideal combination for Sunday dinner, then you should go for the Instant Pot Whole Chicken Recipe.
Another option is to skip the veggies in the pressure cooker and serve these Roasted Potatoes and Carrots with Instant Pot Pot Roast Recipe.
And, for a small gathering, you should opt for Crockpot Turkey Breast.
You can also serve Easy Roasted Pork Tenderloin with these Roasted Potatoes and Carrots.
Just toss the pork tenderloin right on the same pan, as this will result in a simple sheet pan meal.
How to Store and Reheat Leftovers
To Refrigerate
If you have some leftover vegetables, just pack them after they've cooled in tightly sealed containers.
Keeping them this way will make them last for up to 5 days.
To Reheat
When you are ready to reheat, just place the veggies on a parchment-lined baking sheet.
Make sure it is on a single layer, and proceed to bake at 400 degrees F until it becomes crunchy.
Frequently Asked Questions
Can You Freeze Cooked Potatoes and Carrots?
The short and straightforward answer to this question is yes. You can freeze cooked potatoes and carrots.
All you need to do is place them in a zip-lock bag and proceed to store them in the freezer. This will allow them to last for up to six months.
Should You Boil The Potatoes Before Roasting?
Well, you can, but it is pretty optional to parboil the potatoes before you roast them.
It is simply an additional step that you can take to make sure that roasted potatoes are tender inside but crunchy on the exterior.
Do Carrots and Potatoes Cook At The Same Time?
Compared to carrots, potatoes can take longer to cook. Just cut the carrots into larger pieces if you are cooking the potatoes and carrots together.
This way, they will be sure that they will cook at the same time.
Can I Make These In The Air Fryer?
The short answer to this is yes, you can make these in the air fryer, which means they also work well in the air fryer.
Conclusion on Oven Roasted Potatoes and Carrots Recipe
I suggest you opt for a full-size baking sheet if the potatoes and carrots seem to be a little bit crowded together.
This way, they can crisp up better. You can also use a half sheet, but how big you cut them is a major determinant.
Caramelize them for a few minutes immediately after they are cooked through if you want some additional browning and you are in a hurry.
However, be sure to watch them carefully so that they don't burn.
Although you should avoid broiling if you've lined the baking sheet with parchment paper.
That being said, this is the conclusion of this guide on the best recipe for oven-roasted potatoes and carrots.