Learn how to make Microwave Oven Baked Potato. You can actually use both the microwave and a regular oven to bake a potato.
Some people regard this as a simple side dish, whereas there are some that see it as a meal in itself, particularly when it is covered with nutritious toppings.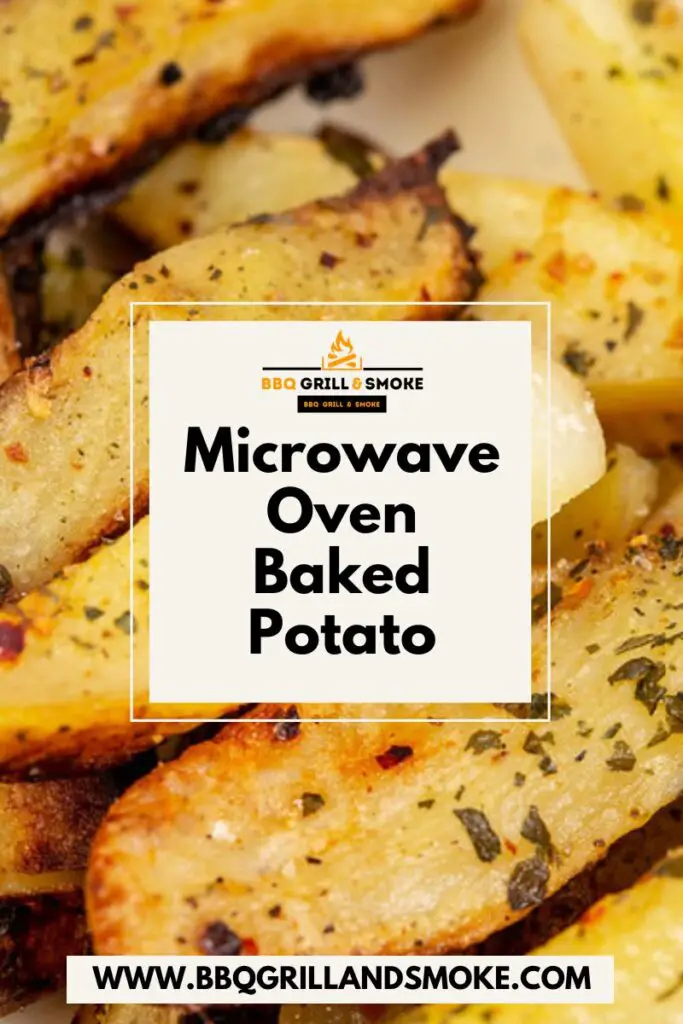 Well, whichever way you see it, these baked potatoes are affordable and a healthy way to add bulk to the plate.
Baked potatoes are sumptuous, whether you intend to create a baked potato bar for a fun meal or you intend to stretch your food dollar.
Microwave Baked Potato Recipe
Potatoes are doubtless one of the most cherished vegetables in all of the land.
These microwave-baked potatoes are also just as delicious as crock pot baked potatoes or baked potatoes in foil, and the only difference is that this will be done in less time.
You can also rub these baked potatoes with any dry rub of your choice. And, it is also a simple way to prepare baked potatoes for other recipes.
And, lastly, I consider it to be an excellent way to prepare food for your family.
How to Make Microwave Baked Potato
This easy recipe for microwave-baked potatoes is for you, particularly if what you want is the delectable taste of a slowly baked potato, but you don't have the patience or are not familiar with how to bake it in an oven.
This should take around 12 minutes, and it will result in a finger-licking, taste-bud-tingling treat.
Course: Side Dish
Cuisine: American
Prep Time: 1 minute
Cook Time: 11 minutes
Total Time: 12 minutes
Servings: 1
Yield: 1 serving
Waiting an hour or more for an oven-baked potato appears to be a tall order, especially when you are short on time or patience.
This is the major reason why this recipe is the best. In just 12 minutes, you can have a perfectly microwaved baked potato.
Well, let's get into it without wasting any more time.
Ingredients
1 large russet potato
1 tablespoon of sour cream
1 tablespoon of butter
Salt and ground black pepper to taste
2 tablespoons of shredded Cheddar cheese
Laid-Out Instructions
The first step is to gather all the ingredients, then scrub the potato and prick it with a fork.
After that, you are to place it on a microwave-safe plate. That being done, proceed to put the microwave on full power.
And allow this to go on for 5 minutes. When that is done, flip the potato over and microwave it until it becomes soft.
This should take around 5 minutes. Now, you can remove the potato from the microwave. After that, cut it in half lengthwise.
Proceed to season it with salt and pepper, and then mash up the inside a bit with a fork.
With that being done, you can now add butter and Cheddar cheese, then proceed to microwave it until it becomes melted.
This should take around an extra minute. Now, it's time to top it with sour cream and proceed to serve it.
What to Serve with Baked Potatoes
A loaded baked potato, such as a broccoli and cheese potato or a chili baked potato, can be a main dish all on its own.
However, baked potatoes are also first-rate sides for meaty main dishes.
So, the following are my suggestions: marinated steak, top sirloin steak, tri-tip, and roasted chicken.
How to Store and Reheat
If you happen to have any leftover baked potatoes, although I doubt it, just store them in a tightly sealed container and place them in your refrigerator.
This will make the leftovers last for up to 3 to 4 days. And when you are ready to eat, just reheat them in your microwave.
This should take around 1 to 2 minutes, or until it is heated through.
Frequently Asked Questions about Microwaved-Potatoes
Do You Need To Poke Holes In Potatoes Before Microwaving?
Well, the short and straightforward answer to this is yes. This is a step that you need to ensure that you do not skip.
Doing this will allow the steam to escape, which in turn will prevent the potatoes from exploding in the microwave.
Can You Overcook a Potato In The Microwave?
Well, yes, it is very possible for you to overcook a potato in the microwave. To avoid overcooking, you need to only cook for a few minutes on each side.
And then proceed to turn the potatoes over during the cooking process, as this will help prevent hard spots.
It is very important that you keep in mind that the cooking time differs based on the size of the potato, the size of the microwave, and the number of potatoes being cooked.
How do I Cut a Baked Potato Like a Restaurant?
You are to slice the potato lengthwise across the top and cut it around halfway down. This is if you want to cut a baked potato like a restaurant.
After that, you are to protect your hands from the hot potato using a thick towel, then squeeze the sides of the potato inward until the slice splits open, using the thumb and index finger of each hand.
And, before you add your toppings, just use a fork to beat the insides of the potato.
Why Do Potatoes Get Hard In The Microwave?
When potatoes are overcooked in the microwave, they become hard.
And the overcooked parts of the potatoes lose a lot of moisture and become dry and hard.
I strongly suggest that you try rotating your potato, and this means not just flipping it; do this a couple of times during the cooking process, as this will allow it to cook evenly all over.
This is if you are using an older microwave that has no revolving plate and you notice that your potato is developing hard spots before it's cooked all the way through.
Can I Freeze Baked Potatoes?
Well, if you want to freeze your delicious baked potato, allow it to cool completely, then proceed to wrap it tightly in tin foil.
After that, you are to place it in a freezer-safe gallon-size bag. This will allow it to last for up to 3 months.
Conclusion on Microwave-Baked Potatoes
As previously mentioned, ensure that you poke holes deep enough into the potato.
This will allow the potato to cook a bit faster and also prevent any accidental potato eruptions in the microwave.
And keep in mind that the size of your potato is what will determine its duration in the microwave.
Well, that being said, this will conclude this guide on "Microwave Oven Baked Potato," as you now know everything you need to make the best microwaved baked potato.