Nobody actually wants to wait around; you'd want your pan-fried potatoes slices fast, particularly when the craving for perfectly crisp fried potatoes sets in.
Many skillet breakfast potatoes take way longer than they should, which requires you to boil your potatoes, slice them, and then proceed to fry them.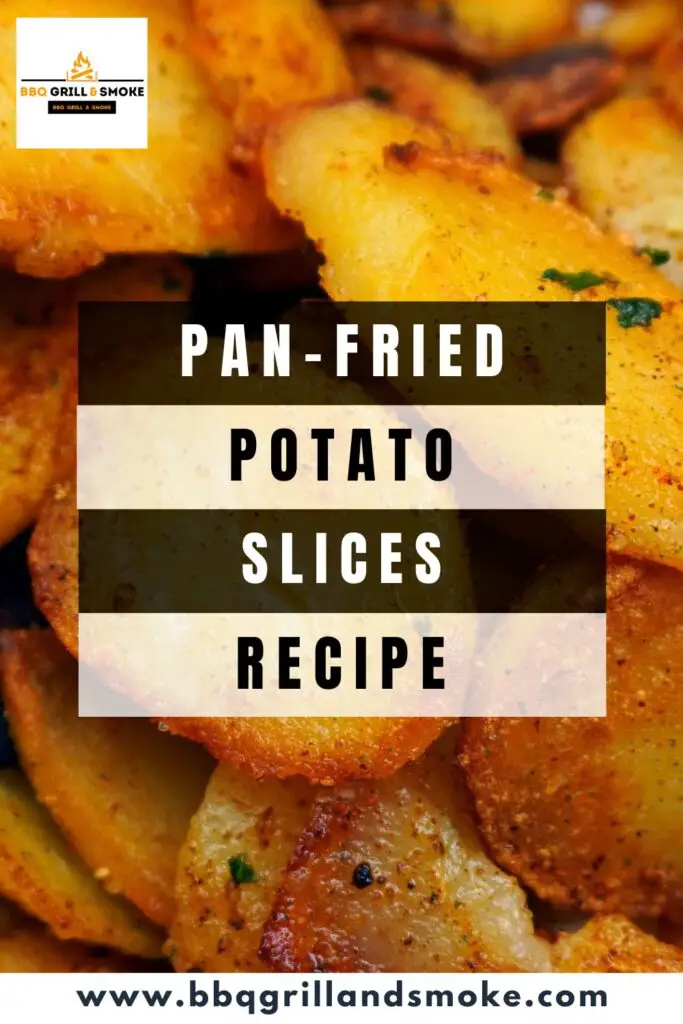 Actually, you are not required to pre-cook your potatoes at all.
You will need to slice your potatoes thin and pick the best oils to make the perfect, extra-crispy pan-fried potato slices.
So, get ready to make these crispy potatoes without burning any pieces. Read through my best tips to pan-fry potatoes to perfection.
What Makes This Recipe So Good?
Fried potatoes are delectably crunchy on the exterior and buttery soft on the interior.
You will get that texture without the need to immerse the potatoes in lots of oil, thanks to the fact that they are only pan-fried instead of deep-fried.
The seasoning is quite basic but seriously efficient. You can jazz up the natural flavors of the baby potatoes with a light-tasting neutral oil, a little salt, a little pepper, and a whisk of fresh herbs.
This is a blend that keeps the fried potatoes extremely well-rounded; that way, you can serve them alongside more or less any entrée at breakfast, lunch, or dinner.
Before frying your potatoes, there will be no need to boil them, so this easy recipe is extremely fast and rather practical.
And, using a mandolin slicer rather than a chef's knife will definitely make the prep work even easier; just ensure that you are careful and watch your fingertips.
Pan-Fried Potatoes Slices
This healthy recipe for pan-fried potatoes will immediately become your family's favorite after you take a bite.
Course: Side Dish
Cuisine: American
Prep Time: 10 minutes
Cook Time: 20 minutes
Total Time: 30 minutes
Servings: 6
Ingredients
5 medium-sized russet potatoes (peeled and sliced into 1/8″ thick slices)
½ teaspoon of salt
½ teaspoon of pepper
3 tablespoons of vegetable oil
½ onion, chopped (optional)
Laid-Out Instructions
First, get a large skillet and heat the vegetable oil in it over medium heat. I recommend that you go with a cast iron skillet, but you can always use any skillet.
After that, add the sliced potatoes to the skillet. Then, cover and cook for 10 to 15 minutes.
Let this continue until the potatoes are browned a little bit around the edges and cooked halfway through.
Make sure that you season generously with salt and pepper. That being done, stir in the onions gently.
Cook for 8 to 10 minutes, and make sure you cook uncovered. Stir from time to time until the potatoes are succulent and browned. Now, serve immediately and enjoy.
Notes
In addition, you can use ½ teaspoon of onion powder rather than the sliced onions for this recipe.
How to Serve Pan-Fried Potatoes
The most interesting part about these delicious pan-fried potatoes is that they can be used as the ideal protein sidekick for any meal. The same goes for potatoes generally.
The options are quite unlimited, especially when you think of them as a base as well as a side.
It will be a delectable breakfast with creamy scrambled eggs or stuffed in this bacon breakfast burrito.
You can also add them to a classic Niçoise salad as they will add a little drama to it, or use them as an unexpected base for beef totchos.
Well, you also have the option of eating them on your own with a chunk of hot sauce, tangy mayo, or ketchup.
Storage
You can store any leftovers in the refrigerator; all you need to do is place them in a tightly sealed container.
Storing them this way will make them last for up to 4 days, and you can also place them in the freezer, which will make them last for up to 6 months.
Reheating
However, it can be quite tricky when it comes to reheating leftover fried potatoes. This is because they are likely to lose plenty of their moisture.
You can avoid using the microwave and reheat them in a non-stick skillet over medium-high heat. You can add a little bit of oil.
Although you can also reheat them in a skillet or an air fryer, this will help maintain the crispy texture.
And, still, you can reheat them in the microwave if you just want them to warm again.
Recipe Frequently Asked Questions
What is the Best Potatoes for Pan Fried Potatoes?
To add different colors to the table, you can always go for the tricolor potatoes.
But, based on your preference, you can opt for Yukon golds, russet potatoes, or red potatoes.
Do I Need To Boil the Potatoes?
As previously mentioned, boiling potatoes is not needed, but if you have leftover boiled potatoes, then to pan fry, just slice them and follow the written instructions.
How to Store Sliced Potatoes
For up to 3 days, you can store cooked potatoes in the fridge. If you are preparing sliced raw potatoes ahead of time, you can store them in the fridge.
Just immerse them in water for up to 24 hours, as this helps prevent the potatoes from browning.
How to Make Crunchy Potatoes
I will say that the key to making crunchy or crispy potatoes is to cook the potatoes in a mixture of butter and oil over high heat.
Simply add 2 to 3 minutes to the cooking time if you want extra crispy potatoes.
Do I Have To Peel Potatoes?
Normally, I peel them before frying the potatoes; however, keep in mind that this is totally optional.
All you need to do is simply ensure that you wash the potatoes before slicing if you chose not to peel them.
But, in my opinion, I'm sure you'd want to ensure that you get rid of any dirt and debris, given the fact that you will be eating the entire potato.
Final Thoughts on Pan-Fried Potatoes Slices Recipe
For these tasty fried potatoes, any skillet will work, but as previously said, cast-iron skillets will definitely do an excellent job.
This is so because they distribute the heat evenly throughout the pan, which will definitely yield evenly cooked potatoes without so much stress or adjustment.
Unless you certainly don't like potato skins, you can leave them on the potatoes.
You will actually barely notice a silver potato peel around the edge due to the fact that these potatoes are sliced so thin and then fried so incredibly.
But you need to ensure that you give them a good wash and get rid of all the surface impurities.
This concludes this guide on pan-fried potatoes slices, as you now have the best pan-fried potato slice recipe.