Miso soup is certainly one of my favorite parts of going out for sushi. So, you will be getting the best miso soup gluten-free recipe.
Miso soup is a Japanese comfort food that is similar to chicken noodle soup in the U.S.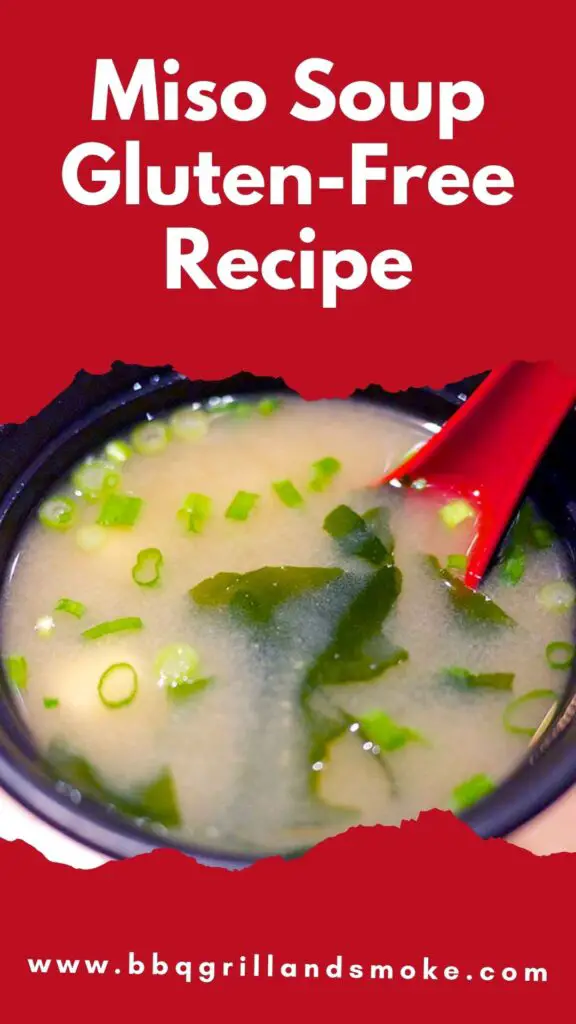 It can be eaten as breakfast, lunch, or dinner. This tasty soup is made with fermented soybeans and some grain, which also means that miso soup is not gluten-free.
But, don't worry, you can find or make miso soup made with gluten-free grains since you want an easy miso soup gluten-free recipe.
What Is Miso Soup?
As you already know, miso soup is a soup that is served at Japanese restaurants and is made with miso paste and dashi stock.
Miso soup has a rather salty flavor, which is gotten from the miso paste. It is regarded as a comfort food.
In addition, it is common in Japan to serve miso soup with breakfast, lunch, or dinner.
Keep in mind that when shopping for miso, just look at the names of the misos.
Mugi miso is one that is manufactured with barley, and Tsubi miso is manufactured with wheat and rye.
People who are gluten-free have either celiac disease, which is an autoimmune condition, gluten sensitivity, or intolerance. What causes issues for a lot of people is the protein in gluten.
That being said, it is quite important that you do not eat wheat, rye, or barley if you have one of these conditions.
Recipe for Gluten-Free Miso Soup
You can make this simple recipe for gluten-free miso soup for dinner tonight. It is easy to make on the stove in less than 30 minutes.
It is naturally vegan, and it is also gluten-free given that it is made with rice noodles.
Remember that you also have the option of personalizing this soup with whatever vegetables you have available.
What to Serve with Miso Soup
Miso soup is a very well-rounded side that can literally be served with any meal.
Below are some common dishes that you can enjoy with miso soup:
You can serve it with noodles such as creamy shrimp udon or shrimp yaki udon.
You can go with rice to go along with any meal.
You have the option of enjoying your grilled or pan-seared fish.
Going with nigiri, sashimi, or sushi is also a great option.
You can also serve fried dishes such as air-fried chicken katsu, tempura, and tonkatsu (Japanese fried pork cutlet) with miso soup.
Storage
Immediately after it is fully cooled, you can store any leftover miso soup in a tightly sealed container, then place it in the fridge for up to 3 days.
I suggest that you take out the extra soup before adding miso if you are planning to make extra miso soup.
All you need to do is add miso to the soup you will be eating.
For instance, take out the remaining 3 servings and add only one tablespoon of miso to the serving you will be eating if you make an entire recipe of this miso soup, but only have plans to eat one serving.
This is done in order to make the miso remain as fresh, aromatic, and hearty as possible.
Reheating
Just heat the miso soup in a pot until it becomes hot, or right before it begins to simmer, if you have leftover miso soup with the miso paste already added.
This is done in order to preserve as much flavor and nutrition in the miso as possible.
You can actually bring the soup to a boil if you have not added the miso paste to the soup yet.
Just turn off the heat, then proceed to dissolve the miso paste into the soup as the recipe instructs, and then enjoy.
Recipe FAQs
Is Miso Soup Gluten Free?
You need to look at the miso paste and the dashi if you want to determine if your miso soup is gluten-free.
Keep in mind that miso can be made from gluten-containing ingredients, so it is essential that you know what is in the miso soup, particularly if you are gluten intolerant or celiac.
Whether miso soup is gluten-free or not will be determined by the restaurant or what you use to make it.
Every restaurant uses different brands and ingredients to make their miso soup.
So, it is very important that you ask every place you go to remain safe from gluten contamination and ingredients.
Dashi is another ingredient that I would suggest that you check the ingredients for. This is so because a lot of dashi brands include wheat.
What Kind of Miso Should I Use?
You are free to use any type of miso, as this is determined mainly by what you prefer.
The most common types of miso are yellow, red, and white.
Keep in mind that white miso is creamy and sweeter, whereas red miso is richer and saltier.
Conclusion
The main ingredients when it comes to making miso soup include miso paste and dashi broth.
Everything else that was used or that you will use is just an add-on; however, you are very likely to mostly find miso soup with wakame seaweed and tofu.
The typical ingredients in miso soup include wakame (seaweed), scallions, silken tofu, dashi, and most importantly, miso paste.
A lot of restaurants are in the habit of adding a little soy sauce or other seasonings.
Practically, this soup is a magical healing soup. I recommend you go for it during your sick days.
That being said, this concludes this guide, as you now have your perfect miso soup gluten-free recipe.