It's time to sink your teeth into these mouth-watering pork ribs on a pellet grill. The flavors are exceptional.
Cooking pork ribs on a pellet grill will give them the right amount of smokiness.
These smoked ribs will certainly impress you and your guests, whether you are a professional backyard cook or you are just starting your journey.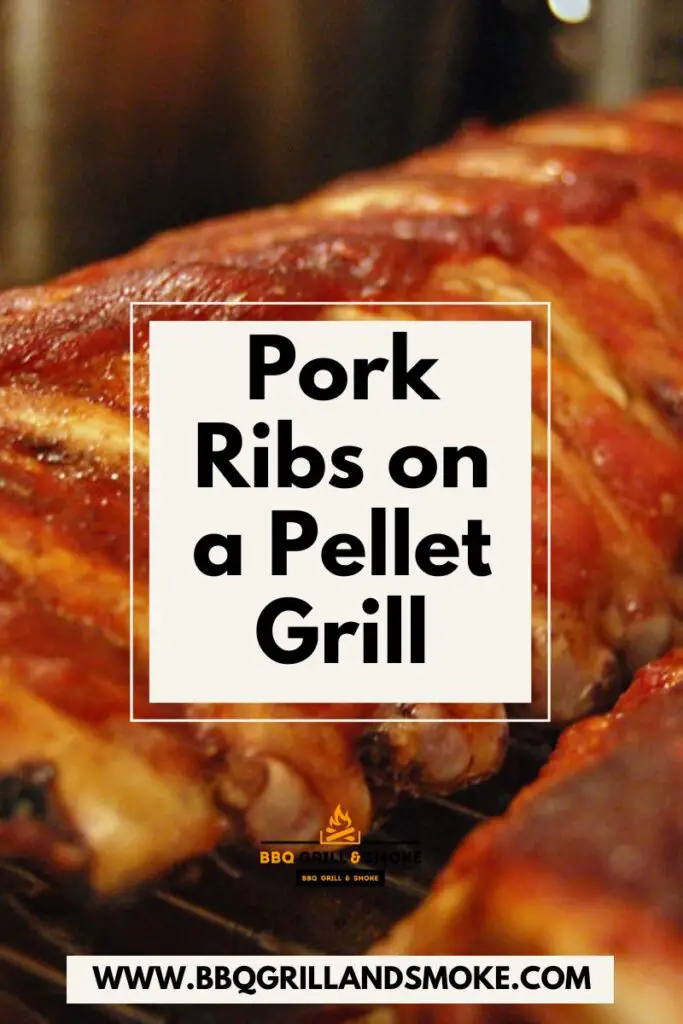 That being said, get your apron, fire up the grill, and prepare to make these ravishing baby back ribs on a pellet grill.
BBQ ribs are one of the most well-known items that end up on the grill when it comes to cookouts.
These pork ribs are a budget-friendly meat choice, and they are also extremely simple to cook on a pellet grill.
It is time to make the best piece of meat that you can make on a pellet grill: smoked baby back ribs.
These pork ribs are extremely delicious, which makes everyone love them. Well, now let's roll some smoke and get these ribs smoking.
What Are Baby Back Ribs?
Baby back ribs are pork ribs that are obtained from a pig. They are actually the part of the rib that connects to the spine after the loin is removed.
They are referred to as "baby" given that they are short and small, not because they were obtained from a baby pig.
And, if you want to cook larger ribs, these ones are referred to as spare ribs and are obtained from the end of the baby back ribs.
They are the part that wraps around and connects to the breastbone of the animal.
These ribs are required to be cooked low and slow in order to become succulent, which makes them perfect for smoking.
It's a guarantee that these smoked baby back ribs will become your favorite thing to smoke, thanks to the fact that they are so easy and amazingly delicious.
Pellet Grill Pork Ribs
These simple pellet grill pork ribs are fall-off-the-bone tender and extremely mouth-watering. In my opinion, these are the best baby back ribs anywhere.
Course: Main Course
Cuisine: American, BBQ
Prep Time: 30 minutes
Cook Time: 4 hours
Total Time: 4 hours and 30 minutes
Servings: 3
Equipment
Pellet grill
Wood pellets
Food-safe squirt bottle
Pink butcher paper or aluminum foil (for wrapping)
Ingredients
1 rack of baby back ribs
½ cup of apple juice (or ¼ cup of apple cider vinegar mixed with ¼ cup of water for spraying the ribs)
¼ cup of pork rib rub
½-2/3 cup of BBQ sauce
1 ½ tablespoons of yellow mustard
Laid-Out Instructions
First, you are to remove the ribs from the packaging, pat them dry, and then place them onto a lined baking sheet. After that, place it in the refrigerator for 1-4 hours to create a pellicle on the surface.
That being done, remove the ribs from the fridge and allow them to stand at room temperature for 15-20 minutes.
Now, preheat your pellet grill to 225 degrees Fahrenheit. Also, trim off any excess knobs of fat or meat from the top of the ribs.
Turn the baby back ribs over; this way, the bone side is facing upward, and using a sharp knife, make a slit in the silver skin. Afterward, grab ahold of the cut piece with a folded paper towel, then pull up and gently pull off the membrane.
Also, turn the rack of baby backs over and then coat the meat part with yellow mustard. Ensure that you apply the BBQ rub evenly to the ribs.
After that is done, you are to place the ribs bone-side down on the pellet grill, then close the lid and allow it to go for 1 ½ hours.
After that, you will notice that the ribs have created a deep brown bark on the surface, and you might also find some dry patches.
Now, fill your food-safe spray bottle with room-temperature apple juice or cider vinegar plus water. Go ahead and drizzle the ribs with the mixture.
Proceed to close the lid and allow the ribs to cook until they reach an internal temperature of 160 degrees Fahrenheit.
Also, remove the ribs and place them on a large sheet of butcher paper, then gently wrap them up and place them back on the grill. Remember that this step is optional, so you can skip it if you want to.
Unwrap the baby back ribs immediately after the ribs reach an internal temp of 185 degrees. Then, place them back on the grill and brush them with BBQ sauce. Allow them to cook for an extra 30 minutes.
Immediately after they reach an internal temp of 195–200 degrees Fahrenheit, the ribs are done.
So, remove the ribs from the pellet grill, place them on a cutting board, and allow them to rest for 10–15 minutes.
That being done, slice them into individual ribs and serve them with additional BBQ sauce on the side.
What to Serve with Pellet Grill Ribs
You can serve these with smoked cheesy potatoes, foil-packed potatoes, smoked jalapeno poppers, grilled broccoli, or a pecan-crusted goat cheese salad.
I suggest you cook whatever your favorite BBQ rib recipe is on the pellet grill. There are several wood pellet flavor options, too.
A few of your options include cherry, hickory, or any other wood.
All you need to do is find your favorite flavor and have some fun using your pellet smoker to make smoked ribs.
Storing of Pork Ribs on Pellet Grill
You should let them cool down to room temp before refrigerating or freezing them if you have just finished cooking the pork ribs and want to store them in order to consume them later.
You can place them in a tightly sealed container or wrap them tightly in plastic wrap or aluminum foil, and then store them in the refrigerator if you plan to eat the ribs within a few days.
Make sure that they are eaten within 3–4 days to ensure safety and freshness.
Freezing
You can freeze the ribs if you want to store them for a longer period.
It is highly recommended that you use a vacuum sealer or freezer-grade bags to minimize the risk of freezer burn.
Make sure that all the air is removed from the packaging to prevent ice crystals from forming on the ribs.
Recipe FAQs
Do You Have To Remove the Membrane?
The straight answer to this is no, but I suggest that you do. And it is actually a simple and easy process.
How Are Baby Back Ribs and Spare Ribs Different?
In comparison, baby back ribs are shorter than spare ribs. Spare ribs are likely to be larger, flatter, and have more meat and marbling.
Are Baby Back Ribs Pork or Beef?
Just about all of the time, it is referring to pork. They are obtained from completely grown pigs. It is quite possible to purchase baby-back beef ribs, but it is not common.
What Is the Best Woof for Baby Back Ribs?
I strongly suggest that you use fruitwood such as peach, cherry, or apple wood.
You can use pecan or maple for this baby back rib recipe if you want more moderate smoke.
Final Thoughts on Pork Ribs on Pellet Grill
Keep in mind that you do not need to wrap these ribs. But note that wrapping will result in a succulent rack of ribs.
Unwrapped ribs will create a better smoke ring, but the meat will just not be as succulent.
So, I suggest that you use aluminum foil for fall-off-the-bone ribs.
Normally, doing this will steam the ribs and soften them more than pink butcher paper will.
And, you can serve the following with these pellet grill pork ribs: coleslaw, cornbread, pellet grill baked beans, corn on the cob, and potato salad.
This brings us to the end of this guide, as you now have everything you need for pork ribs on a pellet grill.