Well, what better way is there to baptize a new pellet grill than by making ribs?
With this guide on "Ribs on a Pellet Grill," you will find an extremely simple way to get the ribs juicy, smoky, succulent, and with a delectable back if you will be adding your own BBQ rib rub.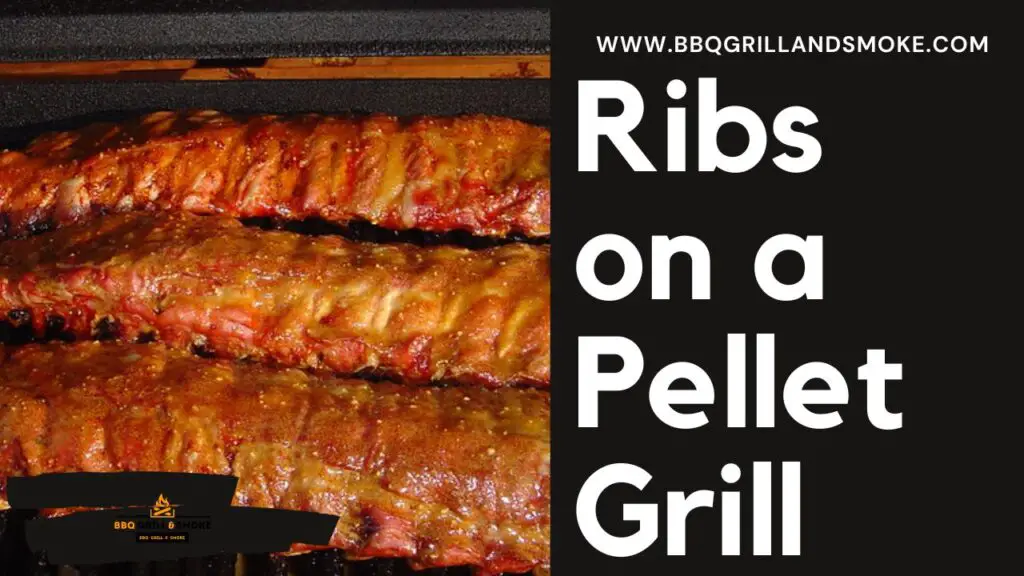 This ribs on a pellet grill recipe works with any kind of ribs you have. You can use pork ribs, but it will also work for baby back ribs or St. Louis-style ribs.
What are Smoked Ribs?
Smoked ribs are a popular dish in barbecue cuisine, also popular for their succulent, flavorful, and smoky taste.
Normally, they are made by slow-cooking racks of pork ribs over wood smoke, which allows the meat to absorb the rich, smoky flavors.
Smoked ribs are mostly served with several different classic sides, such as baked beans, coleslaw, cornbread, and so on, which complement the smoky goodness of the meat.
All-inclusive, smoking ribs is a culinary art that combines the use of wood smoke and careful temp control to produce a delicious dish with a peculiar smoky flavor.
Smoked Pellet Grill Ribs
This simple recipe will provide you with a delicious and tender result, displaying the smoky goodness of pellet-grilled ribs. You can adjust the seasoning and cooking times to your preference, and feel free to add your own creative twists.
Below is a detailed recipe for preparing ribs on a pellet grill:
Course: Main Dishes
Cuisine: American
Prep Time: 20 minutes
Cook Time: 6 hours
Total Time: 6 hours and 20 minutes
Servings: 6 people
Ingredients
2 racks of pork ribs (spare ribs or baby back)
1 tablespoon of salt
1 tablespoon of chili powder
¼ cup of brown sugar
2 tablespoons of paprika
½ cup of barbecue sauce (optional)
1 teaspoon of cayenne pepper (adjust to taste for heat)
1 tablespoon of black pepper
1 tablespoon of onion powder
1 tablespoon of garlic powder
Wood pellets for your pellet grill (fruitwood such as cherry or apple work well)
Laid-Out Instructions
First, you are to remove the membrane from the back of the ribs, as this will help the seasonings and smoke flavor penetrate the meat better. To lift a corner of the membrane, I suggest you use a butter knife or your fingers, then grab it with a paper towel and peel it off.
That being done, combine the brown sugar, garlic powder, paprika, chili powder, onion powder, black pepper, salt, and cayenne pepper in a bowl. Afterward, mix it well to create a dry rub.
After that, lavishly spray the dry rub over both sides of the ribs and pat it in to adhere. Also, allow the ribs to sit at room temperature for around 30 minutes to allow the flavors to meld.
Now, for a low and slow cook, preheat your pellet grill to 225–250 degrees Fahrenheit (107–121 degrees Celsius). You are to add your preferred wood pellets in order to create a smoky flavor.
When that is done, place the seasoned ribs on the grill, bone side down, close the lids, and allow them to cook for around 3 to 4 hours for baby back ribs or for spare ribs, 5 to 6 hours. Ensure that you maintain the temperature in the recommended range.
You can base or spray the ribs with a mixture of apple juice, cider vinegar, and water every hour if you want. This will help keep them moist.
Now, get your meat thermometer and use it to check the internal temp of the ribs. You will know they are done when they reach around 190–203 degrees F (88–95 degrees C) and the meat is tender and begins to pull away from the bones.
You can also apply barbecue sauce during the last 30 minutes of cooking if you like saucy ribs. This will give the sauce a chance to sear.
Carefully remove the ribs from the grill immediately after they are done and allow them to rest on a cutting board for 10–15 minutes. This will allow the juices to be redistributed.
That being done, get a sharp knife and use it to carefully slice the ribs between the bones, then arrange them on a platter or individual plates.
After that, you can serve extra barbecue sauce on the side for dipping. That being done, serve these delectable pellet-grilled ribs with your choice of sides and enjoy.
What to Serve with Ribs
I always say, what's a great barbecue without a lot of mouth-watering side dishes?
Smoked baked beans and smoked mac and cheese are the perfect cook-out side dishes.
You can feed a large crowd with this recipe, and the leftovers are just as delicious.
Below are a few other serving suggestions:
Pesto tortellini salad
Coconut-lime rice
Roasted potato salad
Bacon macaroni salad
Hawaiian potato salad
Brown butter mashed potatoes
How Do You Store Leftovers?
Allow the ribs to cool and store them in a tightly sealed container in the refrigerator after cooking.
They should last for around three to four days if stored properly. In addition, you can also freeze leftovers for two to three months.
After that, they are still safe for consumption, but the quality will start to decrease.
Recipe FAQs
Why Do You Need to Remove the Membrane?
The membrane, which is also commonly referred to as silver skin, prevents the rub from penetrating the meat, which in turn yields a tough texture.
When cooking low and slow, the connective tissue breaks down, which is not the case with the membrane.
The membrane will still come out tough and chewy no matter how you cook it, which is something I'm sure you don't want for your ribs.
What Is the Best Wood for Smoking Ribs?
I recommend a lighter sweet wood such as cherrywood, pecan, or applewood when it comes to any kind of pork.
A subtle sweetness always accompanies pork, which is why it pairs well with these woods.
However, you can go with Hickory if you want a bolder smoke flavor, but I wouldn't advise you to go for anything stronger than Hickory. If not, you will risk overwhelming the meat.
Should Ribs Fall Off the Bone When Cooked?
Well, of course not. Ribs that cook so long that they fall off the bone are overcooked and, in general, are mushy.
I believe ribs should still have some bite to them, but definitely not be tough.
How to Make the Best Pellet Grill Ribs
The first step to this is to choose your favorite rack of ribs. As previously mentioned, you can use this method with any kind of rib.
I suggest you go for pork spare ribs, given that they are inexpensive compared to baby backs and spare ribs have more meat.
One rack of baby backs will feed one adult, whereas spare ribs will feed two adults.
After that, you need to get some pellet smoker pellets. As you might be aware, you will find that there are a variety of flavors available based on what smoke flavor you want, like apple, competition blend, pecan, hickory, mesquite, or cherry.
Final Thoughts
You can use the bend test. This test helps make sure that you will have perfectly cooked and juicy ribs at all times.
Thermometers might not be quite reliable with ribs due to the fact that the meat is extremely close to the bone.
Just pick up the ribs with tongs for the bend test, and if the bark breaks and the ribs almost split in half, then they are done.
When planning your side dishes, also remember to consider any dietary preferences or restrictions your guests might have.
In addition, make sure that there's something for everyone to enjoy along with your mouth-watering pellet grill ribs, so just offer different kinds of options.
With that being said, this will bring us to the end of this guide on "Ribs on a Pellet Grill."