You need to try this extremely simple pork loin on pellet grill recipe, particularly if you want a succulent, juicy pork loin.
It comes with a mouth-watering rib, and then it is smoked on your Traeger or electric pellet grill.
If you are new to using a smoker or if you need a simple smoker recipe that is hands-off yet gets excellent results, then this is the perfect recipe for you.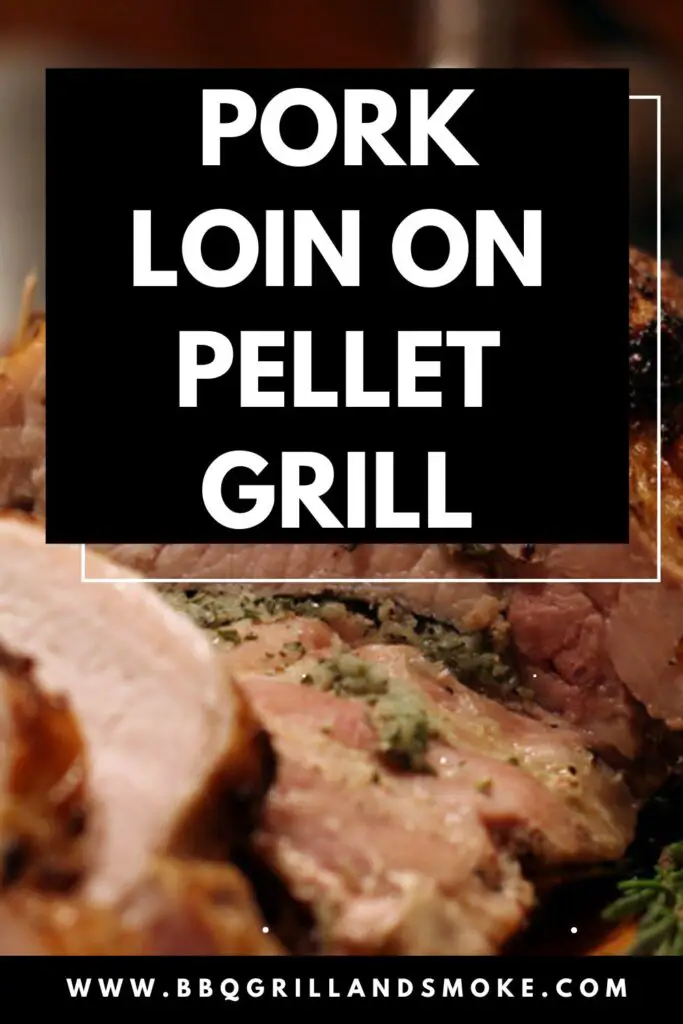 It is ideal for a birthday party, backyard party, BBQ, or dinner gathering.
This succulent, juicy pork loin is incredible. An easy homemade dry pork rub is rubbed onto the pork loin, then smoked on the pellet grill.
The result is a perfectly seasoned pork loin that comes out juicy and mouth-watering.
As previously mentioned, if you are an experienced pro at using your pellet smoker or if you are just beginning, this is the perfect recipe for you.
Pork Loin on Pellet Grill
This smoked pork loin roast is a must-try if you are looking to cook an excellent meal for a large crowd on your pellet grill.
It is made with three simple ingredients and is extremely tender and yummy.
With your favorite rub, you will get to add your preferred flavors. You can make it your own, whether you like it sweet or tangy.
The pellet grill is a wonderful way to smoke meat for almost anyone.
In the absence of all the guesswork of keeping your grill at a steady temp. All you need to do is set it and forget it.
Pellet Grill-Smoked Pork Loin
This juicy pellet grill smoked pork loin is simple to make. It will only take around 15 minutes to prep, and it will be ready in less than 3 hours.
Course: Main Course
Cuisine: BBQ
Prep Time: 15 minutes
Cook Time: 2 hours, 30 minutes
Total Time: 2 hours and 45 minutes
Servings: 9
Equipment
Pellet grill
Tongs
Meat thermometer
Aluminum foil
Basting brush
Ingredients
4 Ibs pork loin (center cut)
¼ cup of BBQ sauce
2 tablespoons of mustard
3 tablespoons of BBQ dry rub
Laid-Out Instructions
First, you are to remove the pork loin from the packaging and then pat it dry with a paper towel.
You don't need to remove all the fat, but you do want to trim off any silver skin that won't render during the cooking process.
After that, you are to rub down the pork loin with mustard. You have the option of also using olive oil. This will help the rub stick to the meat while it is smoking. Just ensure that you coat all sides, including the ends.
That being done, season lavishly with your favorite rub. You want to ensure that you have an even coating of seasoning over the whole pork loin. However, this might seem like a lot of seasoning, but it is a thick cut of meat, and the only flavor is on the outside surface.
Now, place the pork loin on the pellet grill and set it at 275 degrees Fahrenheit. When that is done, close the lid and set a timer for around 90 minutes. What you want here is an internal temperature of about 145 degrees F.
Your pork loin will reach 145 degrees Fahrenheit, somewhere between 90 minutes and 2 hours, depending on the size and thickness. After that, baste with your favorite BBQ sauce, and you also have the option of using a glaze or any other sauce that you prefer.
Now, continue to cook for another 15 to 20 minutes until it reaches an internal temp of 150 degrees F. Afterward, remove the pork loin from the pellet grill and wrap it loosely in aluminum foil. Allow it to rest for 15–30 minutes; this is extremely important. If not, the pork juices will run out and the meat will become dry.
Then, you are to remove the pork from the aluminum foil, slice the pork loin, and then serve and enjoy.
How to Serve Smoked Pork Loin
Personally, I normally slather a generous amount of BBQ sauce on it, just about any time I eat pork loin at a cookout.
In all honesty, this meat is actually extremely juicy and flavor-filled, and it doesn't really need any sauce.
The rub comes with plenty of sweet and tangy flavors, and the meat is tender and incredible all on its own.
Your loved ones will realize they don't need the BBQ sauce after a bite of this when you serve it at a family picnic.
I suggest you cut it into thinner ½-inch-thick slices whenever you are slicing up your pork loin.
This will result in a more succulent bite and also permit your guests to take as much or as little as they would like.
What to Serve with Pork Loin
Below are a few great sides to serve with your delicious smoked pork loin if you are looking to make an excellent spread at your next picnic or cookout.
Bleu cheese broccoli slaw
Smashed potatoes
Poppy seed grape chicken pasta salad
BBQ baked beans on the grill
Cheesy corn fritters
Spiralized apple cranberry salad
Storage
Immediately after preparing, you are to wrap the pork loin in plastic wrap or aluminum foil, which will prevent air exposure and can lead to spoilage.
After that, place it in a tightly sealed container or a resealable plastic bag, which will further protect it.
Make sure you label the container with the date in order to keep track of how long it has been stored.
I strongly suggest that you store it in the refrigerator if you plan to cook the pork loin within 1-2 days.
Ensure that the refrigerator temperature is below 40 degrees Fahrenheit (4 degrees Celsius), which will help keep the meat safe from bacteria growth.
Freezing
You can consider freezing it if you won't be using the pork loin within a couple of days.
Just double-wrap it in plastic wrap or aluminum foil in order to prevent freezer burn, and then you are to place it in a tightly sealed container or a vacuum-sealed bag.
Make sure that you label it with the date, and for the best quality, use it within 3-6 months.
Frequently Asked Questions
How Do You Keep a Pork Loin Moist When Smoking?
You can keep your pork moist by using a dry rub. Apply the dry rub to the pork loin before you smoke it on your grill.
After that, you apply another coat of rub right before placing it on your pellet grill.
How Long Should I Smoke a Pork Loin?
You are to smoke your pork loin for around two hours, or until it reaches an internal temperature of 145 degrees F.
Can I Cook Pork Loin in the Oven?
You can also cook this smoked pork loin recipe in a standard oven as a pork loin roast.
This has to be done with the use of a digital meat thermometer in order to make sure that it reaches the proper internal temperature.
Final Thoughts
Pork loin is versatile, as it is great for wraps, sandwiches, or sliced and served with vegetables and starch.
Keep in mind when cooking a pork loin that you should not overcook it and allow it to be fantastic. This will help ensure tender, juicy pork all the time.
You should look no further than this pork loin on pellet grill recipe if you are looking for an inexpensive cut of meat that can feed a crowd.