These pan-fried juicy pork chops are extremely delicious and packed with flavor.
All you need to do is rub the pork chops with a lot of homemade seasoning, then cook them until they become brown on the edges and perfectly succulent.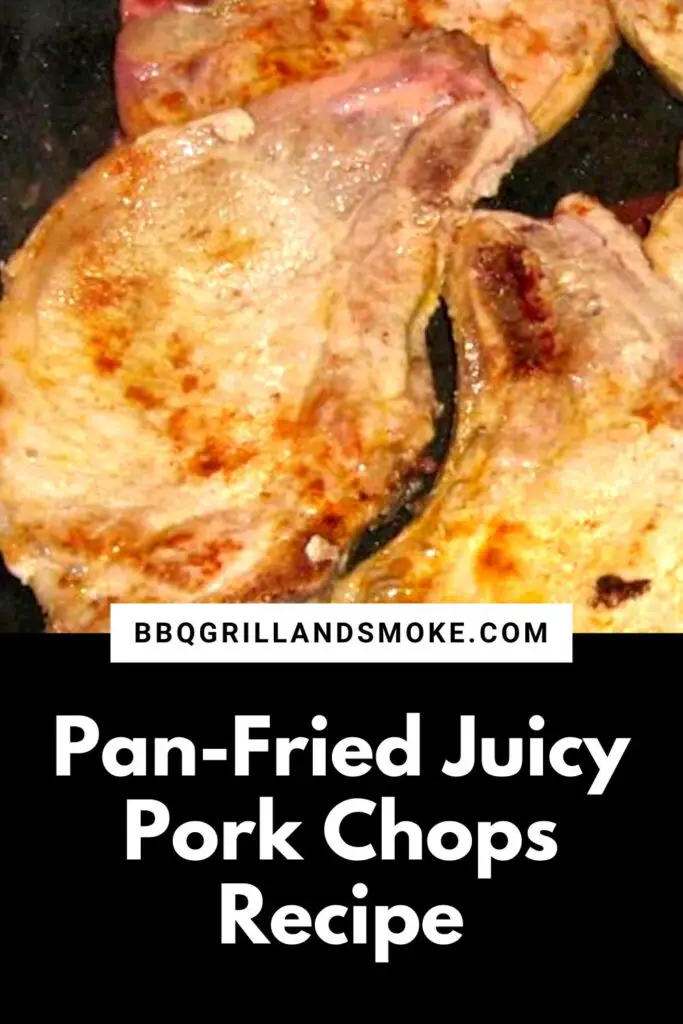 These pork chops will be ready in less than 15 minutes, and you won't need any marinade.
This healthy recipe also requires just a few easy-to-find ingredients to be made.
This pork chop recipe will become your family's favorite in no time, and you can make it very often along with cauliflower mashed potatoes or your favorite salad, yielding a completely hearty dinner.
You will also enjoy air fryer pork chops and creamy pork chops if you love cooking pork chops.
It's time to make these delicious pan-fried juicy pork chops, which require one pan and a couple of ingredients.
Pan-Fried Pork Chops
I consider pan-frying your pork chops in butter and fresh herbs to be one of the best ways to cook a pork chop.
You will get the perfect golden brown sear on the exterior and a juicy, soft pork chop on the interior as a result when you fry pork chops in a heavy-bottomed cast iron skillet.
As they cook, you can also add some butter and herbs that you baste over the top of the pork chops, and they are certainly captivating.
This is a dinner everyone is going to enjoy, and leftovers are a maybe.
This is a quick and simple main dish that can be served with more or less any kind of side dish.
You don't need any special ingredients or kitchen equipment to make it, which happens to be the best part of this simple recipe.
To fry pork chops, you will only need a handful of common ingredients.
It is an easy dinner recipe that even first-time cooks can master. So, let's begin!
Pan-Fried Pork Chops Recipe
Course: Main Course
Cuisine: American
Prep Time: 5 minutes
Resting Time: 10 minutes
Cook Time: 7 minutes
Total Time: 22 minutes
Serving: 1 pork chop + butter
These pan-fried pork chops are certainly amazing. They are incredibly soft and delicious, with a perfect golden sear.
You can just serve them with a simple honey garlic herb butter, which takes them to the next level.
Ingredients
4 thick cuts of boneless pork chops
2 teaspoons of sea salt
1 tablespoon of oil
2 teaspoons of Italian seasoning
1 teaspoon of fresh ground pepper
Garlic Honey Herb Butter
1 tablespoon of minced parsley
1 tablespoon of honey
2 cloves of garlic (finely minced or grated on a microplane)
4 tablespoons of salted butter (at room temperature)
Laid-Out Instructions
First, get a medium-sized cast iron pan and heat it over medium-high heat.
After that, dry the pork chops with paper towels and use sea salt, pepper, and Italian seasoning to season them on both sides.
Afterward, spray half of the oil over one side of the pork chops and use your fingers to spread it around.
That being done, add the pork chops to the hot pan, oiled side down. Then, char the chops for 4 to 5 minutes, or until a golden crust forms.
Get the remaining oil and rub it over the top side of the pork chops, then turn them over.
Also, sear them for an extra 3 to 4 minutes, and after that, remove them from the pan and allow them to cool for 10 minutes.
Now, go mix the softened butter with garlic, honey, and parsley. This should be done while they are resting.
Before serving, just add a dab of butter on top of each pork chop when you are ready to eat.
What To Serve With Pork Chops
You should try these pork chops. And you can pair them with one of the side dishes that will be mentioned below.
Colorful coleslaw would be ideal, and it does add plenty of crunch. Your favorite coleslaw is anything but dull, particularly with a lavish amount of acidity from apple cider vinegar and Dijon mustard. You can also go with a Mayonnaise-Free slaw.
For some vegetables, you can serve your tasty pork chops with roasted asparagus, sautéed zucchini, or lemon garlic sautéed cabbage.
You can also add a hearty, low-carb side of mashed cauliflower. This will only take 20 minutes and would be great served with the pork. Or, just go for homemade mashed potatoes if you want to move to a more traditional side.
How To Store Leftover Pork Chops
As previously mentioned, it will be okay for you to have leftovers, as these pork chops are extremely good.
However, if you then have some leftovers, just get a tightly sealed container and place the pork chops in it, then store them in the refrigerator.
The pork chops will remain fresh in the refrigerator for around 3 to 4 days.
And, when you are ready to eat them, just reheat them in the microwave, in the air fryer, or on the stovetop.
Frequently Asked Questions on Pan-Fried Pork Chops
What Kind Of Pork Chops Should I Use?
For this recipe, boneless pork chops that are at least 1 ½ inches thick were used.
However, you can use thinner pork chops, but keep in mind that that will make it difficult to get a nice char without overcooking them.
How Long Should I Pan-Fry Pork Chops?
Boneless pork chops cook extremely fast in a pan.
In the case of pork chops that are 1 ½ inches thick and seared in a pan over medium-high heat, it will take them between 7 and 9 minutes to cook.
And when you take them out of the pan, the pork chops should be 140 degrees Fahrenheit.
Just allow them to cool for 10 minutes, and then the temp will rise to 145 degrees F, which we all know is the safe cooking temp for pork.
Can I Pan-Fry Bone-In Pork Chops?
The short and straightforward answer to this question is yes. Although they will just take a few additional minutes to cook.
Final Thoughts on Pan-Fried Juicy Pork Chops
As previously stated, for pork chops to be safe for consumption, they need to be cooked to 145 degrees Fahrenheit.
You can just take your pork chops out of the pan at 140 degrees, as they will rise to above 145 degrees F while resting.
Just simply turn the heat down to medium, as this will help prevent the crust from burning if you check your pork chops using an instant-read meat thermometer and they require a few extra minutes to come up to temp.
With that being said, this will then be the wrap-up of this guide on pan-fried juicy pork chops.