These pan-fried potatoes and onions are the perfect potato side. They are fork-tender, crunchy fried potatoes, and yummy onions.
This dish can easily complement any breakfast or dinner. The potatoes are a well-rounded side dish that tastes just as good with your eggs and bacon as it does with an entire roasted chicken.
These extremely delicious potatoes are delectably crunchy on the exterior and finger-licking tender on the interior.
You can cook your potatoes with my easy method for simple pan-fried potatoes and onions and also skip the extra step of boiling potatoes.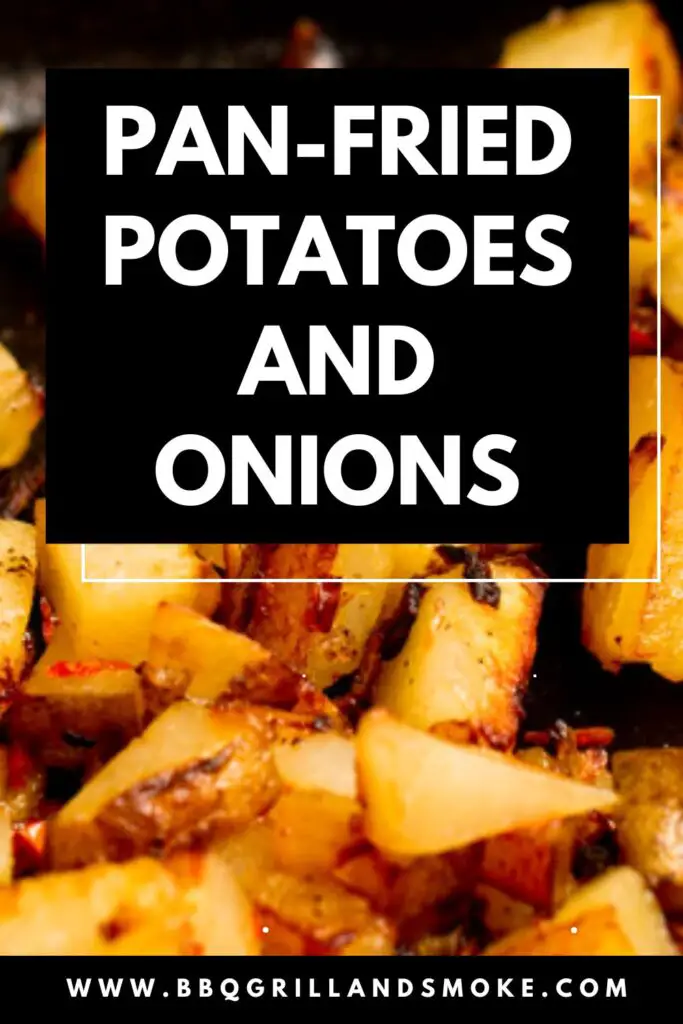 Crunchy southern fried potatoes are an extremely simple side dish with your omelets, waffles, pancakes, scrambled eggs, or French toast for breakfast or a nutritious brunch.
They are also great when served with a roasted or rotisserie chicken, Salisbury steak, pork roast, or meatloaf for dinner.
What Are Fried Potatoes with Onions?
As you might know, fried potatoes and onions are a favorite Southern breakfast tradition.
And it is also a staple side dish that is so well-rounded. They are commonly referred to as 'skillet potatoes,' 'home fries,' and 'country fried potatoes.'
Actually, they are the base of those 'skillet breakfasts' that they serve at several American cafes and diners.
They are just pan-fried diced potatoes with grated or chopped onions and seasoning.
Fried Potatoes and Onions
This simple recipe for pan-fried potatoes and onions is a first-rate Southern and soul food staple.
Most times, pan-fried skillet potatoes are served for breakfast alongside crispy bacon and buttery biscuits.
Course: Breakfast, Lunch, Dinner
Cuisine: American, Southern
Prep Time: 15 minutes
Cook Time: 25 minutes
Total Time: 40 minutes
Servings: 8 servings
Ingredients
2 pounds of russet potatoes (sliced into 1-inch rounds or diced into 1-inch cubes; make sure the potatoes are dry).
1 cup of sliced onions (you can go with white onions)
1 teaspoon of Creole seasoning
½ teaspoon of smoked paprika
1 teaspoon of olive oil or avocado oil
Salt and pepper (to taste)
½ cup of chopped green peppers
Laid-Out Instructions
First, heat a skillet on medium-high heat. I suggest that you use a 12-inch cast iron.
That being done, add the sliced potatoes, onions, green peppers, spices, and olive oil to the pan.
Make sure you sauté for 3 to 4 minutes until the onions are fragrant.
After that, adjust the heat on the stove to medium, then proceed to place the lid on the skillet and let the potatoes simmer, steam, and soften for 10 to 15 minutes.
Just make sure you do that for however long it takes for the potatoes to soften.
I strongly suggest that you monitor and watch it from time to time, then flip the potatoes with a spatula as required, as this will help prevent charring.
Afterward, remove the lid from the skillet and turn over the potatoes.
I recommend that you stay away from stirring, as it will just result in the potatoes falling apart. Just use a silicone spatula and be careful with your hand.
Let the potatoes cook for an extra 10 minutes, which should be uncovered, then allow them to cool before serving.
What Goes With Fried Potatoes and Onions?
Below are a few of my favorite ways to serve this simple pan-fried potato and onion recipe.
You can always keep it really simple, or you can make an excellent main course to go with them.
Breakfast for Dinner
You can easily pair these fried potatoes and onions with a few simple fried eggs. A fried egg on top with a few dashes of hot sauce is always my thing.
Make These Potatoes Instead of French Fries
When making hamburgers or pulled pork sandwiches, these fried potatoes are an excellent French fry substitute.
It Also Goes Well With a Simple Pork Dish
You can just make a simple pork chop dinner, then proceed to have these tasty potatoes as a nutritious side.
Serve It alongside a Grilled Steak
You can always serve these delicious potatoes alongside air-fried London broil, which tastes wonderful.
How to Store and Reheat Leftovers
Just get an airtight container, then proceed to store the leftovers if you have any in it.
After that, place it in the refrigerator, and doing it this way will make it last for up to 5 days.
When it comes to reheating this dish, you can do that quickly in the microwave.
However, I suggest that you do the reheating in a skillet if you want to keep the edges crunchy and delectable.
Can Extras Be Frozen?
Well, definitely. You can always freeze leftover fried potatoes.
Just store them in an airtight container, and the potatoes and onions can be frozen for up to 3 months.
But keep in mind that you have to make sure you defrost and heat before serving.
Recipe FAQs
Should You Dry Potatoes Before Frying?
Of course. Yes, dry the potato slices before frying them, as this helps minimize the oil splatter when you add them to your skillet.
Luckily, you won't have too much moisture to dry off given that we are not soaking our potatoes in advance.
However, it will be pretty helpful, as it will ensure that the oil does not bubble up too much.
Should You Boil Potatoes Before Frying Them?
In this case, that won't be required or needed given that we are slicing these potatoes pretty thin, so they cook totally in the skillet as they are frying.
How Do You Fry Potatoes Without Getting Soggy?
Well, in my case, I don't mind if the potatoes get a bit soft; however, if you are the type that prefers them to be crispier, just ensure that you keep the potatoes in one layer in the skillet without overlapping too much.
What Kind of Potatoes Should I Use For These Fried Potatoes and Onions?
For this healthy recipe, I suggest you go with russet potatoes. Also, you can use Yukon Gold or another starchy potato recipe.
This is recommendable because the starch helps create a slightly creamy texture in the potatoes and helps them brown.
Final Thoughts on Pan-Fried Potatoes and Onions
For this recipe, any oil with a high smoke point will do the job. You can also use vegetable oil or canola oil.
Yukon gold, russet, or red potatoes are the best options. Russet potatoes are the best when it comes to crisping.
And, as previously mentioned, Yukon gold is medium-starch, which will yield incredibly creamy potatoes.
Keep in mind that your potatoes will not cook evenly if you overcrowd the pan, so if necessary, just cook in batches.
That being said, this concludes this guide on pan-fried potatoes and onions.