In this guide, you will learn about smoking brisket on a pellet grill using this easy smoked pellet grill brisket recipe, which is the best way to get juicy, melt-in-your-mouth tender, Texas-style beef brisket right from your own backyard.
You can be sure that your dinner will be well worth the wait. Summers are marked by the finger-licking aromas of BBQ smoking on a backyard grill in Texas.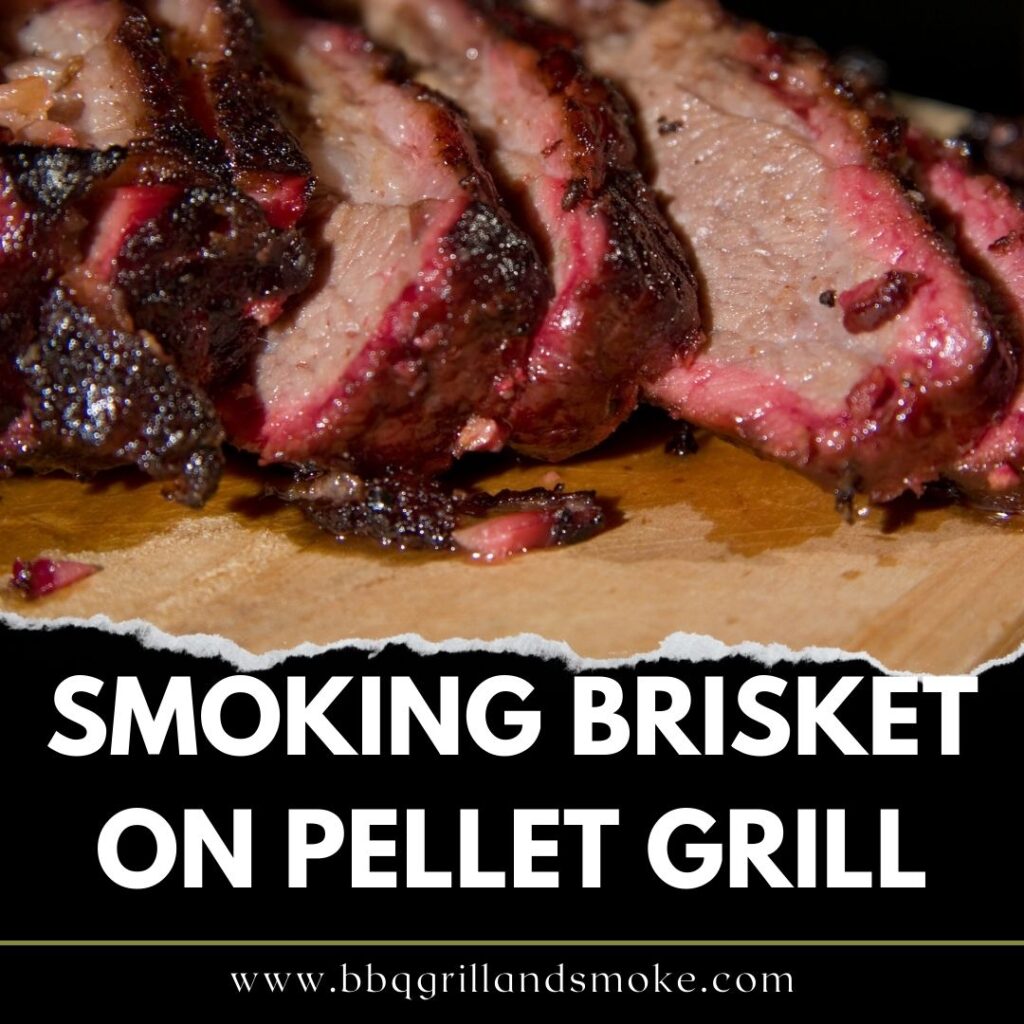 You can also create Texas-style brisket right at home on your own pellet smoker with this smoking brisket on a pellet grill recipe.
When it comes to smoked brisket, pellet grills are actually a game-changer.
They create classic smoky flavors while maintaining consistent temperatures, and this is something that makes the entire process so much easier.
Not all methods are best for pellet grills, even though there are several different methods for smoking brisket.
Aaron Franklin's popular butcher paper wrap method delivers the best results, thanks to the fact that the heat comes from beneath the grill grates.
It produces a firm, smoky bark while preventing the lean side from drying out, which is sometimes a hard task to do on a pellet smoker.
Keep in mind that the resting period is equally as important as the smoke, so make sure you don't skimp on this step.
This is so because resting the brisket provides the moisture time to redistribute and reabsorb back into the meat.
You will only allow the juices to escape by slicing it too soon, which will leave you with a dry, tough piece of meat.
In addition, make sure you save your trimmed fat to smoke along with your Traeger brisket.
The delicious tallow it renders is liquid gold and ideal for adding to your butcher paper wrap, which makes your meat extra yummy and juicy.
What Is Brisket?
Historically, brisket is an unappealing cut of beef due to its toughness, but when prepared correctly, it certainly melts in your mouth.
On every cow, there are two brisket cuts, and the exact cut differs from country to country.
An American full-packer's brisket is composed of two different muscles: the flat and the point.
When placing your order in a restaurant, these are the lean and fatty selections you would be asked for.
Smoked Pellet Grill Brisket
Moist and succulent brisket with a smoky flavor and great bark are all achieved on your pellet grill.
Course: Main Course
Cuisine: American
Prep Time: 30 minutes
Cook Time: 15 hours
Total Time: 15 hours and 30 minutes
Servings: 10
Equipment
Ingredients
11 lbs. of full-packer brisket
4 tablespoons of beef rub (you can use a store-bought rub)
Laid-Out Instructions
First, you are to trim the brisket, which will help get rid of any of the hard fat. After that, remove most of the fat from the top side and on the fat side. Also, trim the fat from the point and leave a quarter inch under the flat.
With that being done, season your brisket on all sides generously with rub and set your smoker to 180 to 190 degrees Fahrenheit.
Afterward, put your brisket in the smoker with the fat cap pointing down, then place a foil pan underneath on the rack below with a little water in order to produce moisture and catch the drippings. You are to allow it to smoke for 7-8 hours.
You are to wrap the brisket in butcher paper when the temperature of the brisket reaches an internal temperature of about 165 degrees F and you are happy with the bark. Also, raise the temperature of the smoker to 350 degrees Fahrenheit and continue smoking.
After that, remove the brisket from the smoker when the thickest part of the flat is probe tender, about 200 to 203 degrees Fahrenheit.
That being done, wrap the brisket in an old towel and rest it in a cooler for at least 1 or up to 6 hours before you proceed to carve.
How to Serve
Texas lovers actually don't need any accompaniments and will just have smoked beef brisket all on its own in all its glory.
However, there are other dishes that you can serve on the side, and they include onion slices, pickle chops, and sandwich bread, to name a few.
The sauce is not served with Texas brisket, but you can go ahead if you like sauce with brisket.
You can go with honey-sriracha BBQ sauce and coffee-bourbon BBQ sauce for sauce to be served with this delicious brisket.
Storage Information
There is no need to get rid of leftovers, even though brisket is best eaten when freshly smoked.
All you need to do is place them in a tightly sealed container and store them in the refrigerator, which will allow them to last for up to 3 to 4 days.
And, when you are ready to reheat your brisket, simply wrap it in foil and warm it in the oven at 325 degrees Fahrenheit. Do this until the meat is heated through.
You also have the option of using it to make mouth-watering sandwiches or tacos.
Frequently Asked Questions
How Long Does It Take to Smoke a Brisket?
Normally, brisket takes around 1 to 1 hour and 30 minutes for each pound to cook.
However, keep in mind that this can differ wildly if it is extremely windy, really cold outside, or just a quite thick cut; in these cases, simply plan for 2 hours for each pound.
What Is the Best Wood for Smoked Brisket?
When it comes to smoking brisket, any hardwood pellet is actually a great option.
Traditionally, oak, hickory, and mesquite can be used. Go ahead and check the ingredients to ensure that it is just wood without filler, and stay away from flavored woods.
Can I Cook Brisket Overnight?
Of course, you can cook brisket overnight. Fortunately, this has been made easy with an electric pellet grill.
However, make sure it is still monitored for safety reasons.
Before any long cook, in order to avoid pellet jams and grease fires, make sure your smoker is cleaned.
The interesting part about pellet grills is that they don't need to be seasoned.
Most name-brand grills come with mobile apps to check on progress and contain large hoppers for pellets.
Do You Smoke Brisket Fat Side Up or Down?
You can smoke your meat side up or fat side down. This helps create a bright bark on the meat.
I suggest that you smoke its fat side up immediately after you wrap your brisket in butcher paper; that way, the meat will be at the bottom, where the juice accumulates.
How Much Brisket Per Person?
This also differs greatly, as it is determined by how the meat is being eaten and what sides are available.
However, you are to plan for 1 pound before cooking for each person.
Based on estimation, a 15-pound brisket from the store should be able to feed around 15 people with sides.
Should I Flip The Brisket When Smoking?
When you wrap, you can turn over the brisket; however, make sure you do not open the smoker often to turn over the brisket.
By letting out the hot air, the brisket will not get caramelized, and opening the lid will only delay your cooking time.
Final Thoughts on Smoking Brisket on a Pellet Grill
As you are aware, brisket can be served in several ways, which is why it is so great.
Classic Texas BBQ serves brisket sliced on a platter, and a few other options include sandwiches, chili, tacos, and so on.
You can also serve it with several sides and basic accompaniments like raw red onion slices, basic sliced white sandwich bread, and dill pickle chips.
That being said, this will now bring us to the end of this guide on smoking brisket on a pellet grill.