It's time to make a mouth-watering burger pellet grill on your pellet grill or smoker, but we will be going with a pellet grill in this guide.
Knowing how to grill the perfect burger is a vital step in becoming a true grill master, given that burgers are the classic dish for grilling season.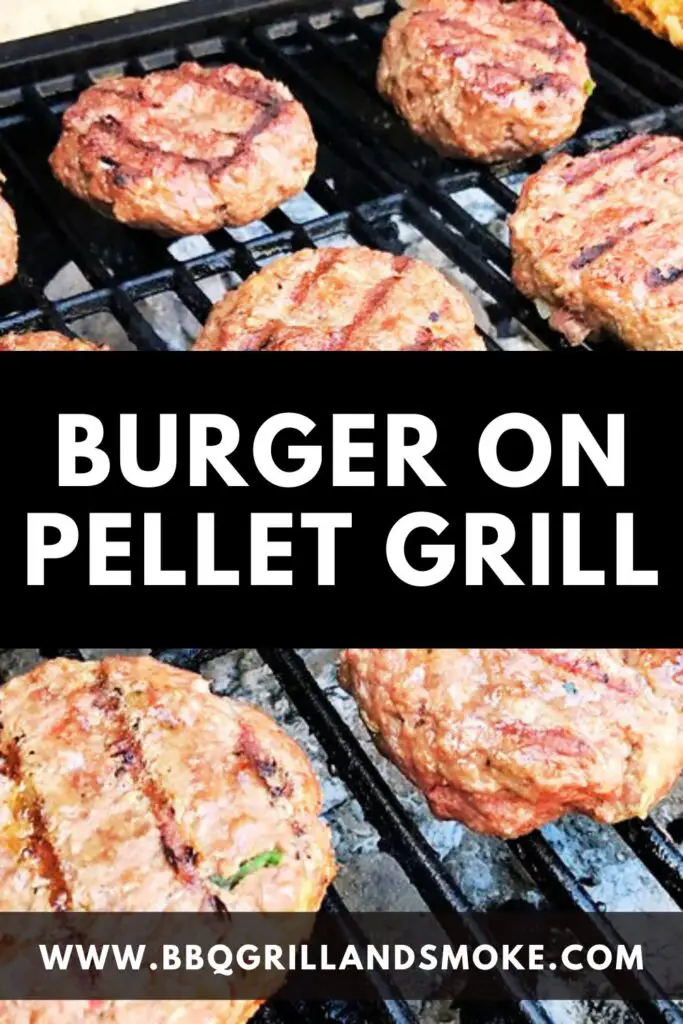 For any grilling get-together, burgers are always the go-to dish. They are excellent when it comes to entertainment because they are the quintessential crowd-pleaser and simple for both beginners and experts.
As a basis for the cook-out, when your guests hear that you are grilling, they tend to expect a typical hamburger to be on the menu.
When done right, the burger is anything but basic. Light your creative fire inside and explore new seasonings, toppings, and meat or meatless options to surprise your tastebuds and create a never-bland burger.
It's time to use your grilling skills to serve anyone who receives your cookout invitation something beyond their wildest burger expectations.
The Best Pellet Grill Burger
These delicious pellet grill burgers are kissed with smoke and caramelized right before serving.
The hot-smoking process results in the natural beefy goodness of these burgers, which will have you craving more.
The secret to this is using good seasoning and keeping a close eye on the cooking temperature.
The Best Pellet Grill Burger
Nothing is better than a burger that has been hit with a little smoke and then charred right before coming off the grill.
The smoke kicks up the natural beef flavor of the patties and goes well with a mouth-watering cheese (I suggest blue), a dash or two of your favorite barbecue sauce, and grilled onions.
This is the perfect burger pellet grill. This will certainly become your favorite after a bite of it.
Course: Main Dish
Cuisine: American, BBQ
Prep Time: 10 minutes
Cook Time: 1 hour
Total Time: 1 hour and 10 minutes
Servings: 6 burgers
Equipment
Ingredients
3 pounds of ground chuck
12 slices of cooked bacon
2 medium tomatoes (sliced)
1 teaspoon of salt
6 hamburger buns
1 ½ teaspoon of black pepper
1 red onion (raw or smoked)
6 slices of blue cheese or pepper jack
1 cup of barbecue sauce
Laid-Out Instructions
First, you are to prepare your pellet grill for 225 degrees Fahrenheit, then form ground beef into 6 equal-sized patties, around 1 to 1 ½ inches thick. Make sure you make a small indentation in the center of each parry. Also, season with pepper, salt, or BBQ rub.
Now, place the burgers on the preheated pellet grill. Then, close the lid and cook the patties for 30 minutes. Turn over the burgers and cook for an additional 30 minutes.
Proceed to smoke the onions, slice them thin, and throw them with seasonings and oil. Also, place them in a disposable aluminum pan and cook for 45 minutes to an hour, or just until they become succulent and seared. Keep in mind that this step is optional.
Top each of the hamburger patties with a slice of cheese immediately after they are almost done (an internal temperature of 155 degrees Fahrenheit). For these smoked burgers, I suggest you go for sliced blue cheese, pepper jack, American, or cheddar.
Go ahead and cook for 3–4 minutes until the cheese has melted. Immediately after they reach between 160 and 165 degrees F, the burgers are done.
After that, remove them from the grill and assemble your burgers with sliced tomatoes, raw or smoked onions, lettuce, burger sauce, and bacon.
Keep in mind that you can use barbecue sauce as a topping or just mix one cup of barbecue sauce with 1/3 cup of mayonnaise to create a creamy burger sauce.
You can store your leftover smoked burger patties in a tightly sealed container in your refrigerator, which will make them last for up to 3 days. And you can reheat them in a 325-degree oven, microwave, or in a skillet on your stovetop.
What Sides Go Well With Smoked Burgers?
Smoked baked beans
Crispy air fryer potatoes
Air fryer broccoli
Air fryer carrots
Carrot salad
Creamy coleslaw
Onion rings
Air fryer French fries
Air fryer waffle fries
Crispy air fryer potatoes
Air fryer sweet potato fries
Crispy oven-roasted potatoes
Storing Burger Pellet Grill
Fridge
As previously mentioned, you can store the burgers in a tightly sealed container in the refrigerator. This will make them last for up to 3–4 days.
Freezer
All you need to do is wrap each burger individually in plastic wrap, and after that, place them in a Ziploc bag.
That being done, place the bag in the freezer, which will make the burgers last for up to 2 months.
Allow them to defrost in the fridge overnight when you are ready to consume them, and then reheat them in the air fryer or microwave.
Recipe FAQs
What Temperature Are Smoked Burgers Done?
Perfect medium-temp smoked burgers are done at 145 degrees F.
What Pellets Do You Use to Smoke Burgers?
If you use hickory pellets, just be ready to have your mind blown.
I love going for a strong wood chip flavor when it comes to burgers, as it makes them unique and unforgettable.
Why 80/20 Ground Beef for Smoking?
Saturated fat is quite comparable to 85/15 ground beef; however, burgers are just a bit more juicy at 80/20. This is the ratio you will find for ground chuck.
That being said, you can actually use more lean ground beef, and they will come out quite juicy, always succulent, and extremely good.
Can You Smoke Burgers Better Grilling Them for BBQ Parties?
Smoking burgers in several ways can be quite easier compared to grilling them.
They are ideal for outdoor grilling or food-smoking parties in the backyard, given that they are hard to mess up.
If you get carried away talking with your guests while they are on the grill, it is easier to burn traditional grill burgers or overcook them.
You can just place them on the Traeger before the party begins when it comes to party or meal-prepping smoked burgers, given that they require around 2 hours.
I recommend you use a thermometer that remains in the burgers; that way, you will get alerted on your phone when they are ready to be taken off the grill.
This way, they will always come out succulent and juicy.
Are Smoked Burgers Good?
The straightforward answer to the above question is yes; smoked burgers are good.
The smoking method is just an incredible way to cook hamburgers.
The low and slow cooking process will result in a juicy beef burger along with a nice red-brown crust.
When Smoking Burgers, Do You Flip Them?
Of course, yes, the burger patties should be flipped halfway through the cooking process.
That being said, some backyard cooks will leave them as they are; this is based on your personal preference.
Can You Cook on the Smoke Setting on a Traeger Grill?
Well, yes, the smoke setting is for cooking and adding that delectable smoke flavor to your food as it is smoking.
Final Thoughts on Pellet Grill Burger
By adding some black pepper bacon or pulled pork, you will make this recipe a meat lover's dream.
Cheese can make the difference between a "meh" burger and a classic burger.
I strongly suggest that you go for blue cheese if you like, and you can also get your hands on some blue cheese slices.
If not, you can go for white cheddar, sharp cheddar, feta cheese, pepper jack, or smoked cream cheese, which will go perfectly well on these pellet burgers.
However, you also have the option of using Swiss or Provolone if you are in search of something calmer.
With all that being said, this brings us to the end of this guide on "Burger Pellet Grill."