This Round Steak in Crock Pot Recipe is fast to throw together, cooks all day, and yields a mouth-watering beef and gravy dinner that awaits you when you get home.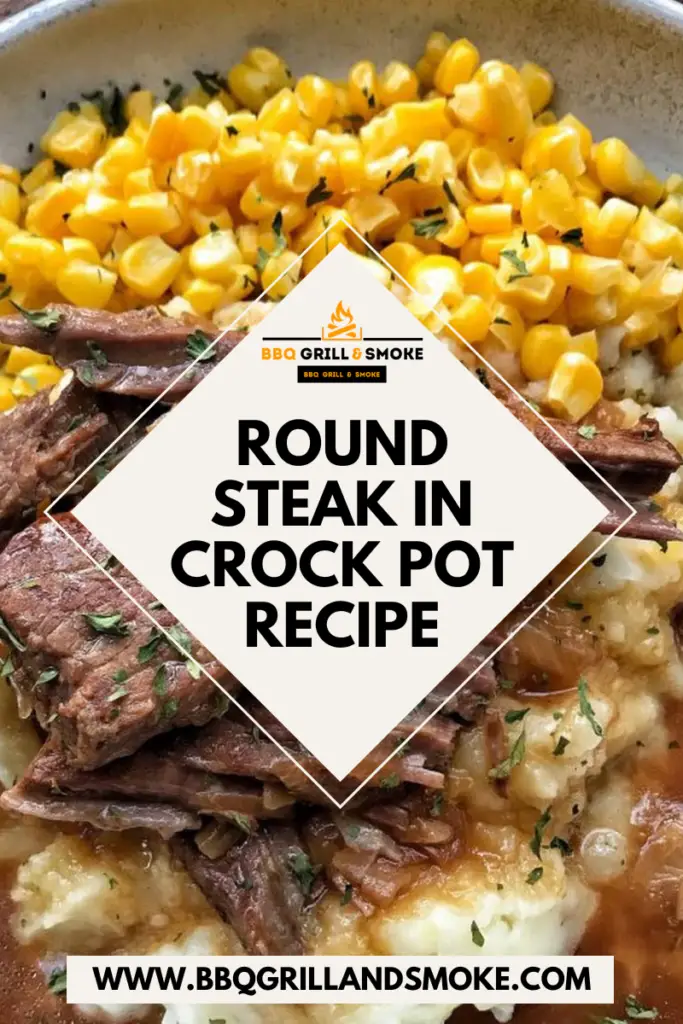 The fun part about this is that you can allow your slow cooker to do all the work with this easy Crock Pot Round Steak.
All you just need to do is to throw all the ingredients together in the crock pot and go do whatever it is you want to do.
Then, you come back to find your soft and juicy round steak, mushrooms, and onions in a rich beef sauce.
This Crockpot round steak recipe is soft, juicy, and delicious and features an affordable top-round or bottom-round steak cooked in a highly flavored sauce with vegetables.
Easy Crock Pot Round Steak Recipe
Preparation Time: 15 min.
Cooking Time: 4 hours and 30 minutes
Total Time: 4 hours and 45 minutes
Servings: 8 to 10 servings
This easy recipe makes use of onion soup mix and condensed soup to make a rich-tasting and flavorful sauce for the round steak.
In the slow cooker, you will have everything you need for a healthy dinner, but a nice fresh salad might be a great choice for an excellent addition and a touch of color on your plate.
Ingredients
3 pounds of round steak
½ teaspoon of kosher salt
¼ teaspoon of freshly ground black pepper
½ cup of all-purpose flour
2 tablespoons of extra-virgin olive oil (or you can go for vegetable oil)
1 (1-ounce) packet of dry mushroom and onion soup mix (you can also alternate for classic onion soup mix)
2 (10.75-ounce) cans of condensed cream of mushroom soup
1 1/3 cups of water (or you can go for unsalted stock)
4 medium carrots (thinly sliced)
2 medium onions (sliced)
Laid-Out Instructions
First, you will need to get all the ingredients together. Then, you proceed to cut the round steak into plateful portions or thin strips.
Get the kosher salt and freshly ground black pepper and then proceed to spray the meat with them. And, make sure you do this on both sides.
When that is done, you can now get a large bowl and place the flour in it. Then, you proceed to ass the sliced meat and mix them thoroughly.
Afterward, over medium-high heat, you are to get a large skillet and add the oil. Then, also add the flour-coated steak and proceed to cook.
Cook till all sides start to turn brown. This should take about 5 to 6 minutes. Then set it aside. After that, you are to get a medium bowl and add the dry onion soup and mix it with the cans of cream of mushroom soup and the water.
With that being done, you are to place half of the steak, onions, and carrots in the crock pot. Then, you are to pour half of the soup gravy mixture over the meat and vegetables.
Put the remaining steak, onions, and carrots on top, and also cover with the remaining gravy mixture.
You can then place the lid on and cook on high for 3 ½ to 4 ½ hours. However, you can also cook on low, but this will take about 8 to 9 hours, or probably until the beef is soft and juicy.
What Are Round Steaks Good For?
We are talking about the crock pot round steak recipe. I think it will be nice to talk about the cut of meat we are using in the recipe.
A round steak is an excellent option for slow cooking in plenty of moisture, thanks to its tougher texture.
You will allow the fat in them to break down if you cook them slowly at a low temperature, which in turn will yield a soft, juicy, and delicious beef.
Round steaks can also be stir-fried and sliced extremely thin. And, to make battered Chicken Fried Steak, you can go for cubed round steak.
However, you will need to be aware that, naturally, the top round is softer and juicier compared to the other cuts, which, in turn, makes them an excellent choice for pan frying.
But, for a round steak in a crock pot recipe, you need not worry; any cut will work perfectly well.
Serving Suggestion for Round Steak in Crock Pot Recipe
This flavorful beef stew has an excellent-tasting sauce. On occasions, you can add in all the extra vegetables and cook them with the beef.
However, you can serve it with a couple of veggie side dishes. This is if you are cooking just the beef.
Some potatoes and a couple of steamed vegetables such as broccoli, green beans, or carrots are perfect.
Other Delicious Additions
This round steak in crock pot recipe is excellent for adding other vegetables or customizing it to the taste of your family with fresh herbs or spices.
Below will be a few suggestions:
Along with the onions and carrots, you can add 1/2 cup of diced celery. You will also find that cubed rutabaga or sliced turnips are an excellent accompaniment.
You can also add 1 small jar or can of drained sliced mushrooms. On the other hand, before adding around 1 cup of fresh sliced mushrooms in a teaspoon of olive oil into the slow cooker, you are to sauté.
Add about 1 to 2 small cups of round potatoes or fingerlings. This will both provide the dish with a wholesome carbohydrate and stretch the serving wedges.
You can mix around ½ to 1 teaspoon of a gravy browning sauce, like Gravy Master or Kitchen Bouquet, into the sauce mixture as this will help provide it with some extensive color.
Lastly, you can coat the finished dish with fresh parsley, as this will help add some color and freshness when serving.
Final Thoughts: Round Steak in Crock Pot Recipe
You might also be wondering how long you should cook this round steak. Well, I will give you those little important details in this guide.
If your cut of meat is thin, I would suggest that you cook your round steak for a shorter amount of time, which will be around 4 hours, or it might cause it to become tough.
However, if your cut of meat happens to be thick, I recommend cooking it for a longer amount of time.
The timeframe for this will be around 6 to 8 hours, or else your round steak will not cook through and become soft and juicy.
This round steak will turn out to be soft, juicy, and delicious when cooked for the right amount of time.
You will be able to easily cut using a fork. You should also know that the timeframe for the Crock Pot and oven can vary as it is determined by their model, size, altitude, make, and so on.
And, with all that being said, I believe you now have everything you need for the round steak in crock pot recipe.