To become an expert at grilling steak, all you just need is a few little essential details, so you should know that grilling steak to have the best-grilled steak is not difficult.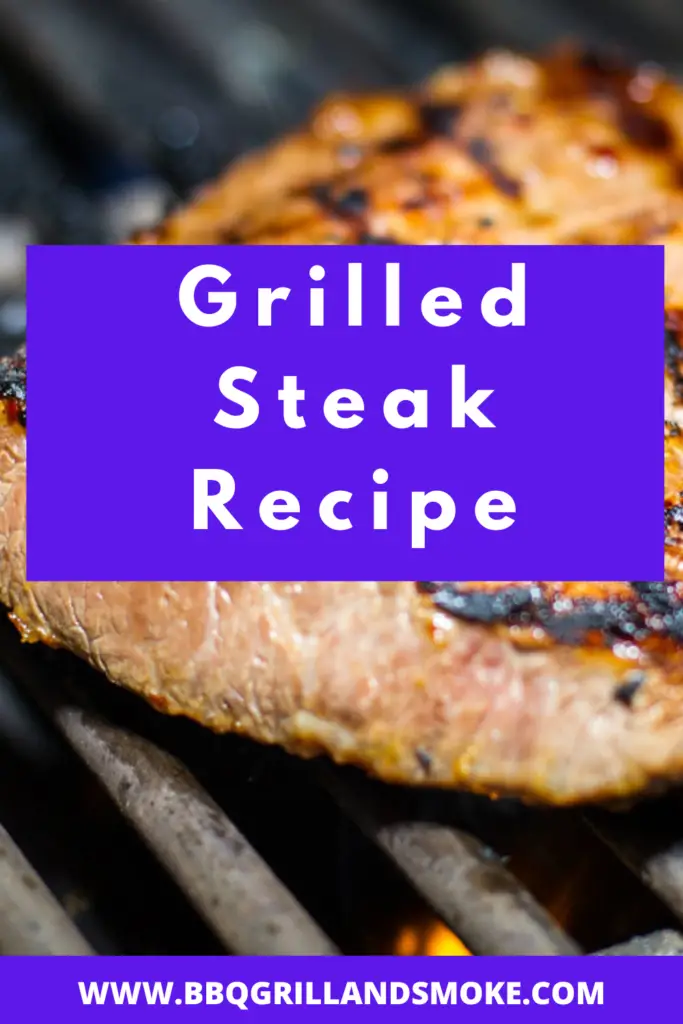 So, in this guide on "Steak on the Grill (Grilled Steak Recipe)", I will be giving you those little important details to make the best-grilled steak and also become an expert at it.
You will be getting the guaranteed way and method to grill the best steak using this grilled steak recipe.
All you will need to do are just some little things, like purchasing the best slice, air-drying it in the fridge, and for the finishing touch, make use of your prepared herb butter sauce. Then, light up the grill.
The sole objective of this recipe is to help you make a grilled steak that will make even a beginner look like a master, and a master will have to look at his/her flame-created work of art as a mere piece of cake.
How Do You Grill the Perfect Steak?
I'm sure this will be a question that has kept popping up in your brain, which is how do you get to grill the perfect steak.
But, not to worry too much. I can assure you that this guide and the recipe given in it will give you the perfect and right laid-out instructions that will result in a perfect grilled steak.
So, to answer the question, "How do you grill the perfect steak?" Well, all you need is just the right trick that results in the perfect grilled steak.
The right trick is for you to make two heat zones on your grill. You should have one side that is blazing hot with a high flame and the second side that will be cooler and unlit.
Then, what you will need to do is to char the steaks on the hot side, which will give them a delicious, golden-brown crust and also those desired grill lines.
Afterward, for the finished cooking, which should be done extensively, you will have to then take them over to the cooler side.
Following these steps, you will then have a sizzling steak on the outside and a soft, juicy, buttery steak on the inside.
Which Cut of Steak Is Best for Grilling?
These are very important things you need to know if you are planning to grill the best and most perfect steak.
You can go for the ribeye (which has no bone), the rib steak (which is the same cut as the ribeye, but does have a bone), the porterhouse, or the T-bone.
Thanks to the large marbling of fat in these cuts, makes them all great choices or options for a great grill. This will also make their meat soft, juicy, and delicious.
Steak on the Grill (Grilled Steak Recipe)
This grilled steak recipe is simple and delicious. It is also quick, which will surely relieve the stress of dinnertime.
Serves: 2 – 4
Ingredients
2, 1Ib bone-in strip steaks cut 1 – ½" thick (or you can go for the steak of your choice)
Vegetable oil
For the Steak Seasoning
¾ tablespoon of rock salt
1 – ½ teaspoons of whole black peppercorns
½ teaspoon of minced dried garlic
½ teaspoon of minced dried onion
¼ teaspoon of fennel seeds
1/8 teaspoon crushed red chili pepper
To make the herb butter
A big pinch of steak seasoning
1 stick of salted butter (1/2 cup), softened to room temperature
1 tablespoon of fresh rosemary, finely minced
2 tablespoons of chopped parsley.
1 tablespoon of finely minced fresh thyme
1 minced or pressed garlic clove
Laid-Out Instructions
For the Steak Seasoning
The first step you will need to take for the steak seasoning is to get all the ingredients for the steak seasoning. You will also get a mortar.
Then, you pour it all into the mortar and pestle till it is roughly ground. Well, on the other hand, you can get all the ingredients and place them all into a heavy-duty Ziplock bag.
Afterward, make sure you get all the air inside it out, then get a meat pounder, heavy-bottomed skillet, or rolling pin and use it to crush all the ingredients.
To make the herb butter
Now, for the herb butter, you are to get a bowl and pour all its ingredients into it. Then, you get a fork and mix them with it till they are well blended.
Get a sheet of plastic wrap, then proceed to scoop the herb butter on it. Afterward, shape it into a thick log, and then you are to refrigerate it until it becomes firm.
And, if you have the time, I would suggest you freeze it for about 20 to 30 minutes, although you should know it can be done ahead of time.
Regarding the steaks
We have now gotten to the laid-out instructions for the steaks. The first thing you will have to do is to trim off any big chunks of fat that may have been around the steaks.
This is to help prevent flare-ups on the grill. After this, you can now pat the steaks dry with a paper towel.
Then, you get the oil and rub each side of the steak with it. Proceed now to get the steak seasoning and season the steaks lavishly.
And, to make sure that it sticks, you are to press the steak seasoning gently into the steaks, and I will suggest you use most of the seasoning if not all.
Fire up 2/3 or ½ of your grill burners (2 or 3 burners, or 1 of 2 burners; this will be determined by how many burners you have).
Afterward, you warm them up on high for about 10 to 15 minutes, or until the grill gets to 500 degrees.
Then, you are to place the steaks on the lit side and you will char on each side of the steaks for 1 – ½ minutes (you can regulate this suitably if your steaks are smaller or bigger than 1 lb, cut 1 – 1/2″).
You are to keep the lid closed between the flipping. Afterward, move the steaks to the unlit part of the grill, then you can continue cooking them for 7 to 10 minutes.
All this should be done with the lid closed. This is to get medium doneness or till you have gotten to your preferred level of doneness.
Then, you can now remove the steaks from the grill and place them on a platter. Allow them to cool off for 5 minutes, at the minimum.
And, before you serve them, you are to top them with sliced herb butter. Then, you can now serve and enjoy.
Conclusion on Steak on the Grill (Grilled Steak Recipe)
So, before I wrap up this guide, I would like to give you some tips on steak temperatures for doneness:
Rare (cool red center): 125 degrees; Medium rare (warm red center): 135 degrees; Medium (warm pink center): 145 degrees; Medium well (slightly pink center): 150 degrees; Well done (little or no pink): 160 degrees.
To also give you more tips on cooking steak, you should know that the size and thickness of steaks differ, so you should only use the cooking times as a guide, not as something you must compulsorily follow.
This is to tell you that if you slice into a steak and you find out that it's not cooked enough, I would strongly suggest you place it back into the grill pan and cook it for a few more minutes.
And, with all that being said, I'm now sure you have everything you need to make the perfect and best-grilled steak using this "Steak on the Grill (Grilled Steak Recipe)."