With this simple pellet grill steak recipe, you will learn how to cook the perfect steak at all times.
This is basically grilled steak caramelized over high heat on your backyard pellet grill.
This healthy pellet grill steak recipe will take your favorite beef steak cut and char it over a pellet flame on your backyard Pit Boss, Traeger, or Camp Chef pellet grill.
This easy pellet grill recipe allows the beef to do the talking. It is made with your choice of ribeye, flank, filet mignon, or sirloin steak.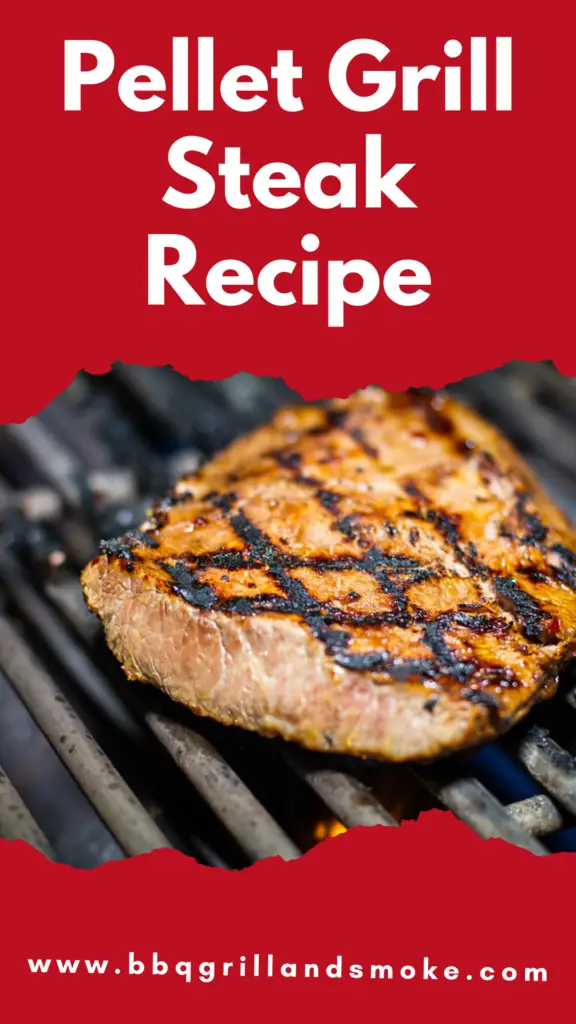 You can prepare it with a simple salt dry brine whose purpose is to lock in flavor and moisture; however, the meat brings everything else.
In this guide, you will find out how to cook your steak on your pellet grill, from picking the right steak cut to setting up your pellet cooker for perfect charring.
Steak on Pellet Grill
Personally, I believe that cooking a steak on a pellet grill is one of the tastiest ways to prepare a delicious backyard steak.
I actually still love the flavor and ease of cooking the perfect steak on a pellet grill, even after a decade of cooking steaks on every type of grill imaginable.
It provides you with just the right amount of smoke and a moderate char on the outside. 
Based on your preference, you can always finish them with a little bit of butter while they are resting, just to take them to the next level.
The Best Steak Cuts for Pellet Grilling
With each varying in quality and cost, everyone has their own go-to steak. Below are my suggestions when choosing steak for pellet grilling in general:
Flank
Flank steak is a lovely, lean, and tough steak cut that comes with a rich, beefy flavor.
A lot of people might actually go for sirloin or strip as their go-to grilled steak choice; however, flank steak is much more well-rounded and flavor-packed.
Ribeye
Ribeye steak comes with a heavy amount of fat marbling, which gives it its flavor and juiciness, and also a layer of fat surrounding the 'eye,' which separates the two muscles that make this cut of beef.
Ribeye is just the cut for you, particularly if what you prefer is your steak cooked to medium-rare.
Sirloin
The truth is, only a few steaks are as perfect for grilling as a sirloin steak.
It is obtained from the top sirloin, and it is a lean and juicy cut that comes with a decent beefy flavor.
That being said, it does not have much fat marbling running through it, which means it is highly recommended to cook it to medium-rare doneness if you want its optimum level of tenderness.
Pellet Grill Steak
Course: Grilling
Cuisine: American
Prep Time: 1 hour
Cook Time: 45 minutes
Total Time: 1 hour and 45 minutes
Servings: 2 servings
It's your turn to make the best ribeyes with this pellet grill steak. This recipe can be perfectly made on a pellet grill or smoker.
Ingredients
2 ribeye steaks
Cracked black pepper
Coarse sea salt
Laid-Out Instructions
First, you are to season the steaks with salt and then place them in the fridge for up to 2 hours.
After that, you are to remove them from the fridge an hour before you proceed to smoke them. This will allow the meat to come to room temperature.
That being done, proceed to add the cracked black pepper, then preheat the pellet grill to 220 degrees Fahrenheit.
Afterward, you are to place the steaks directly on the pellet grill and smoke until the internal temperature is 120 degrees Fahrenheit, which will take around 20 to 30 minutes.
Also, remove it from the pellet grill. Turn the heat setting of your grill to 500 degrees F, and permit the grill to come up in temp.
Immediately after it is at this temperature, proceed to place the steaks on the grill and cook until they reach your desired doneness, which will take around 6 to 9 minutes.
Now, it's time to remove and allow the meat to rest for 10 minutes, then proceed to serve and enjoy.
What Should I Serve with Pellet Grill Steak?
Just add a smoked lobster tail to the plate if you want to do surf and turf. I'm sure you will also love a nutritious potato with your steak, so you can opt for that.
And your options can include mashed potatoes, grilled veggies, smoked cheesy potatoes, pesto cauliflower or smoked cauliflower, or just a nice fresh salad.
You should always make sure that the sides are done before you cook your steaks, and this goes the same with whatever you serve.
The truth is that there's nothing worse than serving a cold steak to your guests.
Storing Pellet Grill Steak
To store, just place the cooked and cooled leftover steak in a tightly sealed container, then proceed to store it in the refrigerator for 3 to 4 days.
Then, to reheat, you are to warm the steak in the microwave or just heat it in a lightly oiled or buttered skillet over medium-low heat.
Frequently Asked Questions
Can You Overcook Steak on a Pellet Grill?
Of course, it is very possible for you to overcook steak on a pellet grill.
That being said, you can avoid overcooking the steaks on a pellet grill by watching them closely. Also, use a meat thermometer to monitor the internal temp.
Should You Use a Two-Zone Setup for Cooking Steak on a Pellet Grill?
If your steaks are extra thick, then two-zone grilling is definitely a good practice.
However, keep in mind that with this method, first, you need to caramelize the steak over high on the grill in order to create a flavorful crust, and then, second, you are to transfer it to low, indirect heat to finish cooking.
How Long Does It Take to Smoke a Steak?
Some recipes will take just under 2 hours, as they will start the smoking of the steaks at a low temp for around 30 minutes and then finish them out at a higher temperature.
What Pellets Should You Use for Pellet Grill Steak?
You can actually use any pellets, and you also have the option of using a blend of pellets.
However, if you are the type that prefers to use one type of pellet, the best ones, in my opinion, for this recipe include oak or hickory.
In addition, you can serve these with smoked baked potatoes, and make sure you add them to your list of pellet grill recipes.
Are Pellet Grills Good for Steak?
As you are likely to be aware now, cooking steak on a pellet grill actually changes the game.
The Traeger grill particularly sets this cooking technique apart from the rest. Below are the reasons:
Wood-Fired Flavor
Smoking the meat over hardwood pellets imbues it with a delicious smokiness that can't be recreated with other cooking techniques.
Convenience and Versatility
You can practically cook every cut of steak on a pellet grill. This method always delivers finger-licking results, from cooking tougher cuts low and slow to searing succulent cuts over high heat.
Precise Heat Distribution
Particularly for Traeger, the digital controllers permit you to maintain a steady temperature in order to ensure even cooking.
Final Thoughts on Pellet Grill Steak Recipe
As you know, this recipe uses ribeye steaks, even though you are free to use any cut of steak. If needed for different cuts, you will have to adjust the cooking time.
These steaks will first be seasoned and chilled in the fridge, so make sure you allow at least an hour for the steaks to rest prior to starting to grill them.
Keep in mind that the times might vary as always due to the fact that your pellet grill is turning off, but it is strongly advised to have a meat thermometer or probe on hand.
That being said, this will now bring us to the end of this guide on "Pellet grill steak recipe."