Since you are here, going through this guide (Pit Boss vs Traeger), I will assume you know that both the Pit Boss and Traeger are wood pellet grills.
And, this might be perhaps the reason why you are here because you can't decide which one to choose between the two (Pit Boss and Traeger).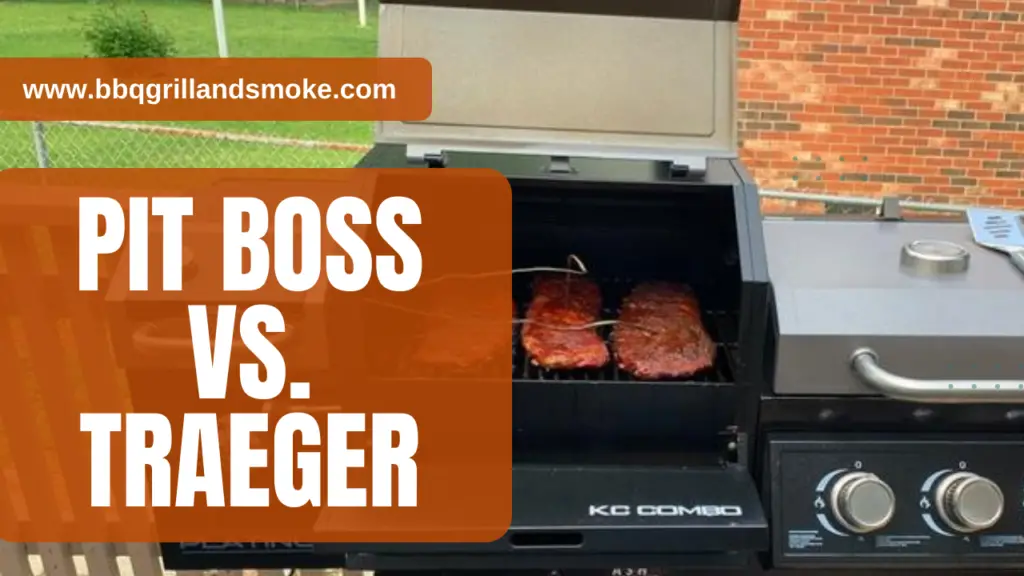 The interesting fact is that both the Pit Boss and Traeger are one of the most well-known pellet grills that you will find in the market today.
So, it is quite sure that there will be several opinions about the two pellet grills, and these opinions will both be positive and negative.
But you should be careful from whom you get your advice as it is in the habit of people to mostly defend, and have good comments about what they get.
I will be breaking that in this guide, I will give you important details about both these two pellet grills and you can then choose which you prefer.
This guide will be helping with the pellet grill between the Traeger and the Pit Boss that suits you best and will serve the purpose of what you require best.
History of Pit Boss vs Traeger
Pit Boss
Let's briefly look at the history of the Pit Boss before we go more into more important details about it.
Exactly in the year 1999, the Pit Boss was founded which create an extensive variety of grilling tools that comprise charcoal and gas grills. However, it is well known as pellet grills.
Pit Boss is both simple and affordable and if you are wondering where they make the Pit Boss grills, it is a subsidiary of Dansons Inc. Pit Boss grills are produced in China.
Traeger
Moving to Traeger which is among one of the best-selling brand names for pellet grills and has been here for more than 30 years now when they manufactured the hardwood pellet-burning grill.
They also made a Wi-Fi controller for one of their grills which permits you to be able to control the temperature of the grill from a distance and this was in the year 2017.
And, they are acknowledged and considered to be the spearhead of innovation in this area.
And, as to where they make the Traeger, they are produced in the USA which was their origin as they are produced in China for a while.
Comparing Pit Boss vs Traeger
I will now go into more important details about the Pit Boss and the Traeger, starting with the main dissimilarity between these two pellet grills.
Temperature Control
So, the first dissimilarity between these two pellet grills that we will be looking at is their temperature control as this is something quite important when it comes to grills.
Pit Boss
The manufacturer of the Pit Boss grills does a good job concerning their heat retention ability as they are built well.
You are not prone to have a problem like leaking heat and smoke from any of Pit Boss grills but, there can be an issue concerning their temperature precision.
Most Pit Boss temperature dials which can be set at 25 degrees Fahrenheit is considered to be kind of high.
There have also been complaints from customers of Pit Boss grills that their grills sometimes run too hot and they have also been unable to keep their temperature down.
Traeger
They also did a good job concerning the heat retention ability of their grills. The cooking compartments of their grills have two stainless steel layers which assist with insulation and heat retention.
So, you should also cast off the worries of whether there will be a leaking heat issue and the temperature dials of their grills can be set at 15 degrees Fahrenheit. So, this is to say the temperature precision of their grills is quite okay.
Price
Comparing the cost price of Pit Boss to its counterpart Traeger, its cost price is still quite reasonable and economical.
The cost price of most of the Pit Boss grills is around $500 to $700 and there are still Pit Boss grills that are cost less than this although the top price for their pellet grill is $700.
And for the Trager, its cost price is about $600 and they have models that are about $2,000 so, you should more for what you are budgeting for.
Durability
Pit Boss and Traeger pellet grills are both durable but, in comparison, the Trager is considered to have the highest advantage in this aspect.
That means, overall, the Traeger pellet grills are more durable than that of Pit Boss. The Traeger pellet grills have insulated sidewalls on a great number of their units.
And, that is the primary advantage they have over the Pit Boss in this aspect and the usefulness of the insulated side walls is that they prevent heat loss.
Pit Boss and Traeger pellet grills can both be used outside so, considering this aspect, it is more advisable to go for the Traeger grills.
Warranty and Extra Features
The warranty for Pit Boss grills is 5 years while that of Traeger grills is 3 years so, we will say the Pit Boss company is more considerate in this aspect compared to the Traeger.
And, you should note that these warranties from both companies do not include the cost of shipping but, as an advantage is their extra features, the two companies have an app that can help you control the temperature of your grill from either your smartphone or your tablet.
And, as for the Traeger company, they have included a new feature to their app which helps you regulate the temperature of your grill with your voice and this can be done through your Amazon Alexa.
Still, on the Traeger brand, they also have a sensor that informs you when you are running low on pellets and it also has a mode that produces additional smoke, including a grease tray that is easy to clean.
Final Thoughts on Pit Boss vs Traeger
So, you should know, pellet grills from both Pit Boss and Traeger are high quality so, there should be no doubt concerning the products from the two companies.
And, their products are both durable, produced to last long, and also to help improve the grilling experience of their customers.
Going to the point of which of these two grills are you to choose, well, that will depend on you entirely and also on what you require a grill for.
You should get a grill that best serves the purpose of what you want as I have given you a number of important details about both brands to help with your decision-making.
In search of a grill with a good number of extra features, looks good, and the cooking ability is great then, I will advise you to go for the Traeger brand.
And, if you are concerned about the cost price that is to say if you are looking for something more affordable then, you should consider going for the Pit Boss brand.
So, with all that being discussed, it will be right to wrap up this guide which is about Pit Boss vs Traeger.