For those who are not interested in charcoal or do not have the necessary time, propane or an electric smoker are their only options. So, in this guide, we will be going about Propane vs Electric smoker because I'm sure you might be weighing your options, trying to make a decision on which one you should go for, which one is better.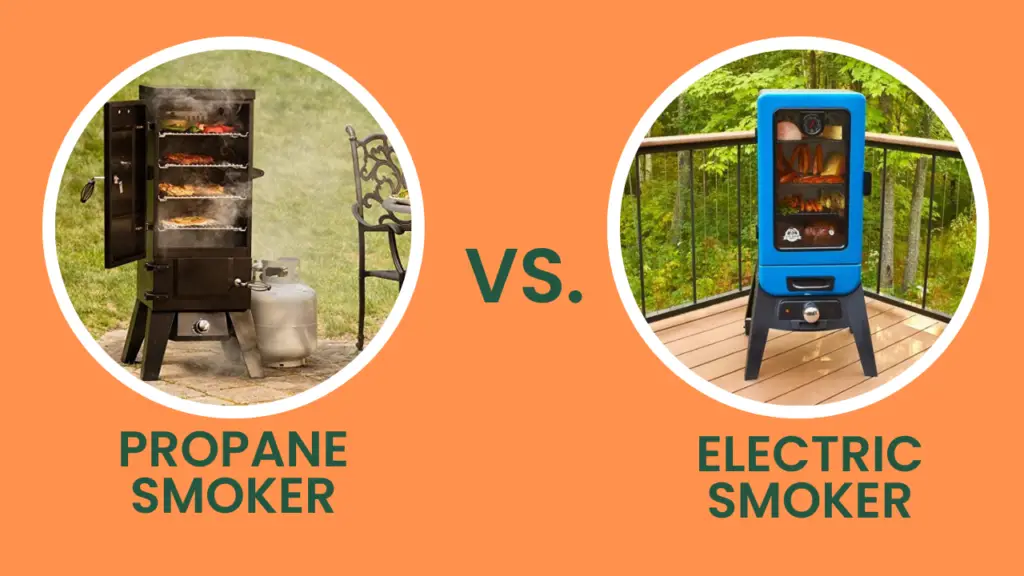 I will be going over the important details of both propane and electric smokers, also giving the advantages and disadvantages of the two.
Being more knowledgeable and having a better understanding of the two will surely help you decide which one is more suitable for you.
Propane vs Electric Smoker: Overview
The most similar among all of the models we have is both propane and electric, although that's just by the looks.
So, since both propane and electric have a similar appearance, a great number of people then mistake them for each other, thinking they are the same.
Both propane and electric smokers have vertical designs which are both armed with several racks for cooking your food and different kinds of food.
This also means, in terms of their cooking space, that both propane and electric smokers have cooking areas spacious enough for a reasonable amount of meat, and they still provide rather a small carbon footprint.
And, in terms of pricing, both smokers are relatively economical, so you should budget in the range of around $200 for their price, although this is for a standard smoker.
Compared to other regular, familiar smokers and even charcoal smokers, they cost around $700, which is considered more expensive in comparison to propane and electric smokers.
Although you shouldn't be carried away with their similarities, as they have a handful of similarities, they also have their differences.
In general, propane smokers are quite mobile and handy, so they are the best to take on the go, but in comparison to an electric smoker, a mobile and handy propane smoker is able to reach a higher temperature.
Meanwhile, as you should know, this is not good news when dealing with smoking.
This can be good when you are cooking up some crunchy chicken.
But, if that is not the case, then you will need to closely monitor the way your food cooks and also control and adjust the temperature of your smoker, and this should be done appropriately.
And, also compared to an electric model, a propane model produces a much better and preferable smoke ring.
For even a bit of unpleasant weather, the propane model is still a good choice for smoker use.
This is because it does not make use of electricity, it uses a propane tank which serves as its fuel source and lights the gas grill that you then use to cook your food.
With that being said, you now have the idea that electric smokers are not very mobile and handy, which is unlike propane smokers.
Electric smokers are not the best smokers to use during rain or damp weather as you will always need to plug them into an electrical outlet, which might be dangerous in that kind of unpleasant weather.
And now, you should also know that electric smokers are extremely convenient to use and set up.
An electric model is quite similar to an oven as it is also used to heat your food with the use of its heating element.
Thanks to this fact, electric smokers are not the kinds of smokers that will run extremely hot, and also, as a fact, this is pleasant.
Another fact is that most smoking is done in the temperature range of 200 degrees Fahrenheit to 275 degrees Fahrenheit.
There is something known as "cold smoking." This is something electric smokers are best suited for.
The Difference Between Propane And Electric Smokers
Compactness and handiness are two of the most important things that cross the mind of anyone interested in propane vs electric smokers.
This is because there are limits to where electric smokers can be used as they need a power outlet for them to be used, which also means they cannot go off the grid.
And, as mentioned above, a propane smoker is quite the opposite of this, as you can use and take it anywhere you like.
All that will be needed will be its gas, so let's get deeper to know and understand more about these two kinds of smokers.
Cost
As said above, the propane smokers and the electric smokers are somewhat similar, and they probably even have some similarities in their applicability.
A gas smoker is normally cheaper to purchase. All you need to be careful of is the quality, as the price of the cheapest gas models is reasonable.
There are also a good number of electric smokers with reasonable prices, but you will surely need to budget more if you are interested in getting an electric smoker with the latest features and Bluetooth connectivity.
Gas and electricity costs differ from place to place, so it is kind of difficult to say exactly which of the two is cheaper to run. But, normally, it is cheaper to run an electric smoker.
Ease of Use
This has to do with convenience, which includes the start-up time, temperature control, and ease of ignition.
Both propane smokers and electric smokers are relatively easy to light, and if I need to be extremely critical, I will say electric smokers are a bit easier to ignite.
And, this also influences the start-up time a bit, which means electric smokers deliver a quicker start-up time.
Before lighting the smoker, propane smokers require their users to manually open the gas tap, which might be a little disadvantage to a quicker start-up time, as it also depends on the individual on how fast or slow that happens.
Food Quality in the End
Some users have testified that between the propane smokers and the electric smokers, which one cooks better, more delicious food, and most of them have chosen propane smokers.
Although you should know that this is an extremely subjective topic, as this has to do with individuals, what tastes nice and delicious to one might be totally different to another.
So, if you desire a smoker that turns out food with an appearance and taste similar to that of a charcoal smoker, then you should go for a propane smoker.
But, if you are more interested in smoking more tender foods such as fish and cheese, then electric smokers are your best bet as they provide you with control and precision.
Temperature Range
You should not be concerned because both propane and electric smokers will provide you with the necessary heat for your cooking.
And, if we are to compare the propane smokers and the electric smokers, which have a higher temperature range, then I would ask you to go for propane smokers.
Durability and Dependability
There is no sign of a recognizable difference between the propane smoker and electric smoker in terms of durability.
They are both likely to have been manufactured with almost the same materials, although I will advise you to keep your propane smoker indoors.
It will start to show indications of wear and tear when it is frequently outdoors, especially when it is exposed to severe weather conditions.
And, you should also know that propane smokers are also likely to have some flaws and malformations in temperature, while electric smokers are more dependable at controlling and adjusting their temperature.
Cleaning and Maintenance
There is not much difference in terms of cleaning these two smokers, the propane and electric ones.
The flaws and malformations in the temperature have to do with some delay between the gas tank and the smoker, and this is something you should be very careful and conscious about when it comes to maintaining propane smokers.
Although this is not a cause for concern, there are additional preventive measures available.
Providing necessary and required repairs for smokers is part of maintaining them, which goes for both propane smokers and electric smokers.
In comparison, repairing electric smokers is generally expensive as most of them have to do with the price of the latest parts they have and need.
Top Propane and Electric Brands
This will help you more if you have decided on which one to go for, as you have all you need above to make the right decision.
So, if you are planning on making a purchase, which is the next step, below will be some of the top brands for both propane and electric smoker.
If you will be going for propane smokers, you should go for top brands like Masterbuilt, Char-Broil, and Smoke Hollow.
Although you might also want to check out Camp Chef as they produce some pretty cool gas smokers, that's if you are on a tight budget.
And, if you are in the market for electric smokers, I will still advise you to go for the three brands I mentioned above, as they are still a great choice of brands.
However, Smoke Hollow will be preferable when you are on a pretty tight budget, but I assure you, it will be worth it.
Conclusion on Propane vs Electric Smoker
Both propane and electric smokers are relatively similar, and they both have advantages and disadvantages, as previously discussed.
Electric models provide you with more ease in terms of usage and engagement, while propane models are usually more suitable for smoking meat.
And, also as stated earlier, this guide on "Propane vs Electric Smoker" is just here to make you have more knowledge and understanding of these two, the choice and decision on which one is better, depend on you entirely.