In 15 minutes, your delicious, fork-tender pan-fried Brussels sprouts will be ready. And it makes an ideal side dish for any event.
When it comes to Brussels sprouts, this is my go-to recipe. It is extremely simple to make and surprisingly delicious.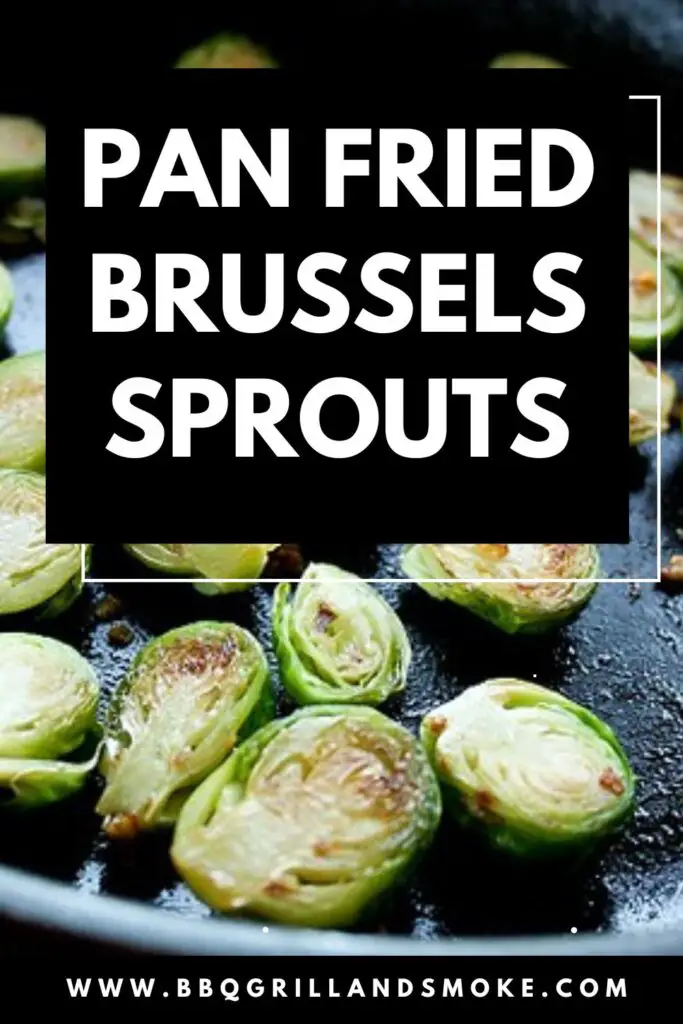 All you need are just a few common ingredients to make these pan-fried Brussels sprouts and guaranteed, the results are always super tender and soft.
You will be eating Brussels sprouts more often after you give it a try. You will also love cooking it on the stove.
It will actually take you a few minutes to put this dish together, and you will create a beautiful taste and texture when you prepare the Brussels sprouts in a pan.
The sprouts get nicely seared on the exterior, whereas they get fully cooked and succulent on the interior.
Pan Fried Brussels Sprouts Recipe
It is quite sure that you will never go back to another version after you have had these crunchy but succulent, perfectly pan-seared Brussels sprouts.
Cooking it in a hot skillet will sear the sprouts and then add sweetness and crunch, on the other hand, the chicken stock or vegetable stock (this is based on your preference) and butter give it a yummy twist.
Although optional, you can give it the perfect amount of tang and also balance out the flavors with a squeeze of lemon juice at the end.
You can always serve these Brussels at your next holiday dinner or along with baked chicken, pork chops, or grilled steak.
What to Serve with Pan-Fried Brussels Sprouts
Salmon
This well-rounded protein is mouth-watering with Brussels sprouts. You can also try it with air fryer salmon or baked salmon.
Pork
You can also serve these delicious sprouts with a nutritious dish such as crockpot pork chops.
Pasta
I recommend that you have a side of Brussels sprouts with a pasta dish like Penne Alla Vodka.
Chicken
You can try this as a side with lemon butter chicken or crockpot chicken and potatoes to create a tasty and hearty dinner.
Even More Ways to Eat Brussels Sprouts
You can get rid of their bitterness by shaving the sprouts thinly and topping them with a lot of lemony dressing.
You can also go with smashed Brussels sprouts, which are like mashed potatoes but, in this case, low-carb.
Lastly, for this guide, you also have the option of Brussels sprout chips, which are best crispy.
How to Store, Reheat, and Freeze Pan-Fried Brussels Sprouts
To Store
All you need to do is get a tightly sealed storage container and place your cooked Brussels sprouts in it, then store it in the refrigerator. This will make it last for up to 4 days.
To Reheat
Get the leftovers and rewarm them gently in a large skillet on the stove over medium-low heat until they are warmed through.
Make sure that you also add in a splash of balsamic vinegar, as this will help perk them back up.
You also have the option to microwave the Brussels sprouts on a microwave-safe plate until they become warm.
And, if you prefer, add fresh toppings. I recommend you use an oven to reheat your leftovers.
To do this, just warm them at 350 degrees Fahrenheit until they become heated through; this should take around 5 or so minutes.
To Freeze
I actually don't suggest that you freeze your Brussels sprouts, as they become soggy.
Even so, that does not mean that you can't freeze them; you can definitely freeze them, but only if you are okay with the less-than-best texture.
So, to do this, simply get an airtight, freezer-safe container, place the cooked and cooled Brussels sprouts in it, and store it in the freezer.
You can store it in the freezer for up to two months. Then, allow it to defrost overnight in the refrigerator before reheating.
Recipe FAQs
Can I Use Other Nuts?
Well, of course, you can use other nuts. However, I will suggest that you go for pecans, walnuts, and almonds, as they taste great.
Are Brussels Sprouts Healthy?
The short and straight answer to the above question is yes; Brussels sprouts are healthy.
Brussels sprouts are actually packed with nutrients such as potassium and vitamin C, and they also have a high content of fiber.
You can use a bit of olive oil, almonds, and some balsamic glaze to make it a clean and nutritious side dish.
What's the Best Type of Pan for Cooking Them?
Well, in my opinion, a heavy-bottomed pan or cast-iron skillet is your best option, given that they help the Brussels sprouts get nice and caramelized.
However, you can always try to use non-stick pans, but they definitely won't give you the same results.
Final Thoughts on Pan Fried Brussels Sprouts
If you want to get creative, you can always add a splash of freshly squeezed lemon juice just before you serve them.
And, for some grand flavors, use lemon pepper, truffle sea salt, black Hawaiian sea salt, smoked bacon sea salt, or habanero sea salt.
To keep cooking the sprouts for another minute, add 1 tablespoon of balsamic vinegar after the broth has evaporated.
Or, immediately after the sprouts are cooked, just spray them with some balsamic reduction.
This concludes this guide on pan-fried Brussels sprouts. Keep in mind that you can always get creative with this simple recipe and add different flavors each time you make it.