Anyone who has eaten grilled red snapper knows how delicious this meal is. But if you haven't this grilled red snapper recipe is all you need!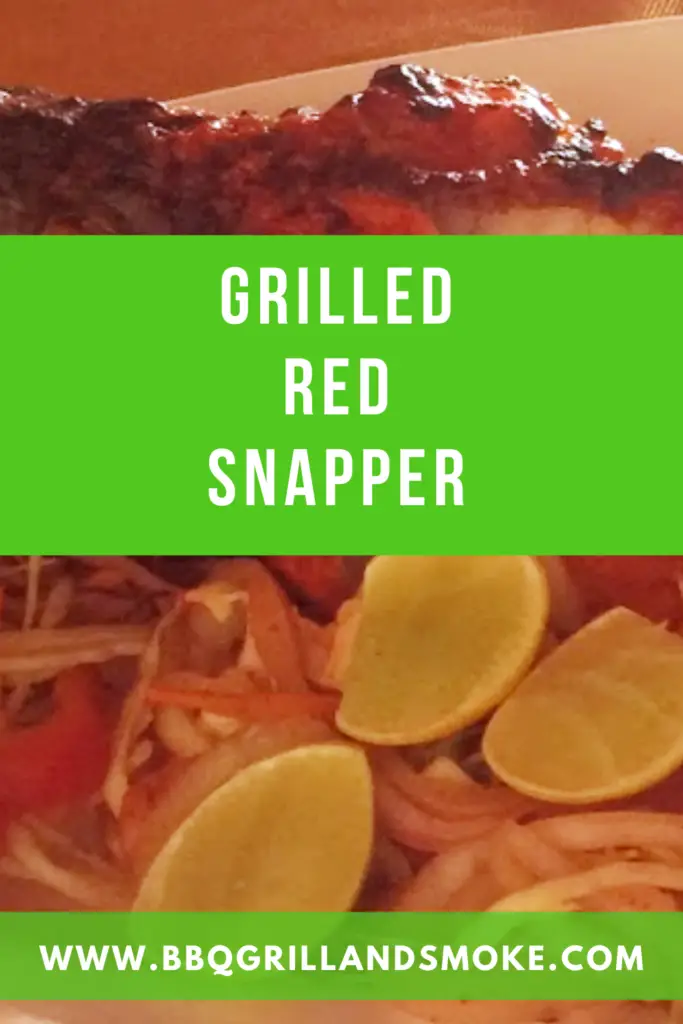 What is a grilled red snapper? Grilled red snapper is a seafood dish that is made with grilled snapper fish. The fish is grilled and served on a platter with a sauce. But you don't have to serve it just in one way.
Grilled red snapper can be served in many ways, but the most common ingredients are butter, lemon, salt and pepper. It can also be served with vegetables such as spinach or tomatoes to add colour to the dish or served in tacos or sandwiches for those who prefer not to eat it as it comes off the grill.
So what does grilled red snapper taste like?
It tastes delicious!
A grilled red snapper is a type of fish that is often served in restaurants. It tastes very similar to salmon but has a milder flavour. The texture of the fish is soft and flaky and it tastes best when it is grilled with olive oil and lemon juice.
The bottom line is, grilled red snapper tastes great, especially if well prepared. Otherwise, it will become dry, too salty and bitter. But if you follow these recipes, you will learn the simplest way to cook red snapper fish and enjoy delicious seafood dishes.
Ingredients you'll need to prepare grilled red snapper
What are the ingredients you'll need to prepare grilled red snapper? It looks like a daunting task, but it isn't. In fact, the preparation is quite simple. There are just a few ingredients you'll need in order to prepare this dish, and nothing about its preparation requires a specialist (although it's probably best if you know your way around the kitchen).
So let's get into it! Here are the ingredients you'll need to prepare grilled red snapper:
Grilled red snapper is a delicious dish that can be prepared with a few ingredients.
Ingredients:
3 tablespoons of olive oil
1 teaspoon of salt
1 teaspoon of black pepper
1 tablespoon of lemon juice
2 cloves garlic, minced
¼ cup chopped fresh parsley leaves
4 (6 ounce) red snapper fillets
Spices: Smoked paprika, garlic powder, onion powder, and celery seed
How to prepare grilled red snapper
I just love red snapper, I'm nuts about it. I mean, if we're going to be wild and crazy with our fish selection, we might as well go all the way and take advantage of the local catch.
If you're new to seafood, are unfamiliar with the fabulousness that is fresh red snapper, or you're looking for an easy way to make perfect grilled red snapper in your own home then this post is for you.
Grilled red snapper (also known as sea bass) is a great fish for the grill. Have you ever prepared it? If not, I have a few tips that you might find useful.
Follow my basic method and in just a few moments you'll be well on your way to getting the perfect grilled red snapper.
Grilling red snapper is not difficult, but it does require some preparation.
What can you serve grilled red snapper with?
Has anyone ever asked you what they can eat or serve with grilled red snapper? If you're like me and cook a lot of fish then that question has probably come up more than once.
Grilled red snapper is delicious on its own, but often people want to know what to serve with it, especially if you are serving it for guests.
A grilled red snapper is a great meal for dinner or lunch. It can be served with a variety of sides, but here are some of the most popular ones:
A side of rice is also recommended when serving grilled red snapper
Mashed potatoes
Grilled red snapper can be served with a side of fresh vegetables, such as asparagus, broccoli, or green beans.
Grilled corn on the cob
Cauliflower rice
Grilled red snapper is a great summer meal and can be made on the grill or in the oven. It is quick, easy and not to mention delicious! This dish has a beautiful golden colour to it when cooked. This recipe only takes 15 minutes tops!
Like I said before, it is such a delicious meal that you're sure to love. But don't just take my word for it—give it a try and let me know what you think!