In just 20 minutes, this pan-fried tilapia (no flour) with lemon butter sauce has become flaky and soft.
You will be making this pan-seared tilapia recipe with just six ingredients.
Look no further than fish when dinner needs to happen fast, and this pan-fried tilapia (no flour) is your best bet.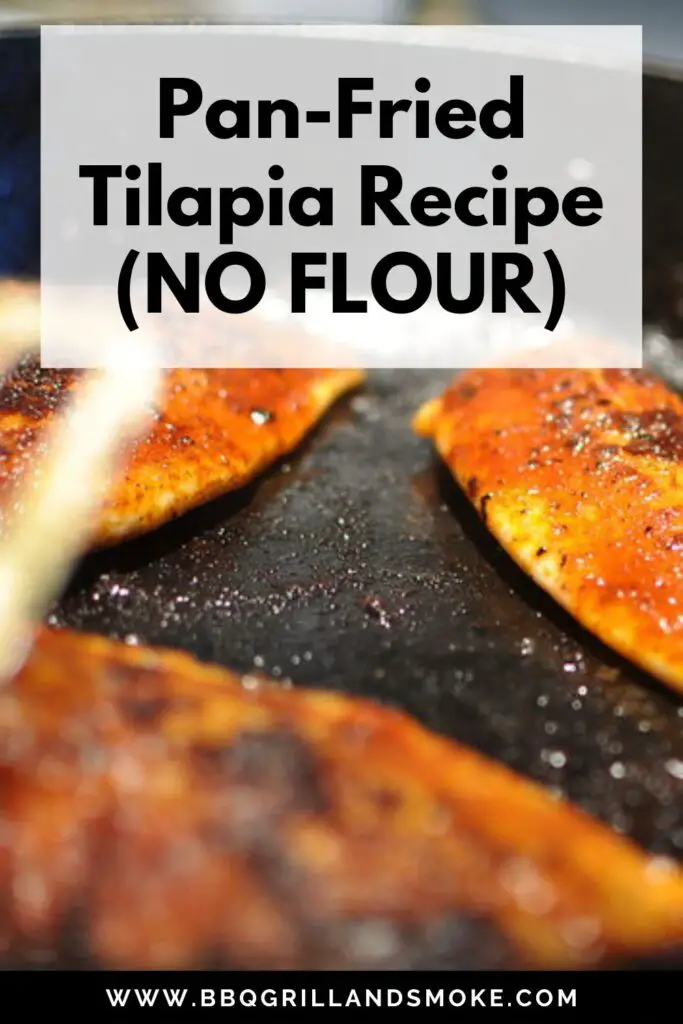 You can whip up pan-seared tilapia with lemon butter sauce in just 20 minutes, which will become perfectly tasty, flaky, and succulent.
It is a simple, affordable, and delicious meal that will definitely become your favorite in no time.
What Is Pan-Fried Tilapia?
Pan-fried tilapia is a seafood dish that contains crispy fried tilapia fillets that are individually seasoned in a flour rub.
This recipe changes bland, raw tilapia fillets into a delectably yummy and crunchy fish; all of this takes less than 30 minutes.
Tilapia is one of the healthiest freshwater fish options that you can find available in more or less any grocery store.
It is low in cholesterol, carbohydrates, and fiber; however, it is high in protein.
It has such a mild flavor that even people who usually do not like fish or seafood love tilapia.
As previously mentioned, this pan-fried tilapia is your best option when you can't think of what to make for dinner or there's no time.
You can also use fresh or frozen tilapia and make a quick dinner and lunch the next day.
Pan-Fried Tilapia
Enjoy this pan-seared tilapia that is flaky, flavorful, buttery, succulent, and delectable. It also has a mild fish flavor.
You will love and enjoy this delicious recipe with tilapia fillets and other tasty ingredients.
It should always be your go-to on those busy weeknights, thanks to the fact that it is simple and quick to make.
Course: Main Course
Cuisine: American
Prep Time: 5 minutes
Cook Time: 15 minutes
Total Time: 20 minutes
Servings: 4
Ingredients
Tilapia
4 6-oz of tilapia fillets (1.5 lb total)
1 teaspoon of sea salt
½ teaspoon of garlic powder
2 tablespoons of olive oil
¼ teaspoon of black pepper
Lemon Butter Sauce
2 tablespoons of lemon juice (from 1 lemon)
½ teaspoon of garlic powder
½ cup of salted butter
Laid-Out Instructions
First, using paper towels, ensure that you pat the fish fillets completely, as this will help ensure even browning.
After that, get garlic powder, black pepper, and sea salt and use them to season the fish on both sides, then set aside.
That being done, heat the olive oil in a large skillet over medium-high heat for 2 minutes.
Afterward, you can add the tilapia fillets in a single layer, and if it does not fit, work in batches.
Sear without moving for 3 to 4 minutes until the edges of the fish have become opaque. Turn over and cook for 2 to 3 minutes until it is cooked through.
When that is done, remove the fish from the pan and cover it tightly with foil, as this will help keep it warm.
Now, reduce the heat to medium-low, then make the lemon butter sauce for the fish in the same pan.
After that, sprinkle a little lemon butter sauce over each serving plate, then place the pan-fried tilapia fillets over the sauce, then spray more sauce on top.
How to Serve Fried Tilapia
Seared tilapia is amazingly well-rounded and can be served with anything you have available.
Just go with air fryer broccoli or marinated cucumbers for an easy and straightforward vegetable side that requires minimal time.
You can also make some herb baby potatoes, orzo pasta, or basmati rice to complete your meal.
On the flip side, to make fish tacos, you can just flake the tilapia and place it into tortillas or just serve it on top of a salad such as Israeli couscous salad.
You can also top it with your favorite sauce and ingredients, such as corn, avocado, cilantro, tomatoes, and pickled jalapenos.
Just add tzatziki sauce to the side or a dollop on top of your fish if you love spices.
And, lastly, you can make an open-faced fish sandwich with a slice of almost whole wheat sourdough bread, mayo, a layer of tzatziki, or tartar sauce, and a fillet of fried tilapia.
Storage Instructions
Refrigerate
You can just place the fish in a tightly sealed container and store it in the refrigerator, which will make it last for up to 4 days.
Freeze
To do this, you must first arrange your fish on a platter and freeze it until it becomes solid.
You can now transfer the solid tilapia to a tightly sealed container or ziplock bag and then store it for up to 90 days (3 months) in the freezer.
Reheat
To reheat from the refrigerator, reheat on the stovetop with a teaspoon of olive oil on a hot nonstick pan.
To make the fish crispy again, just reheat it with olive oil. As an alternative, you can also reheat it in the air fryer at 350 degrees F until it becomes warm.
Recipe FAQs
Can You Pan-Fry Tilapia Without Flour?
I'm sure you know the answer to this already. Well, the straight answer to this is yes; you can pan-fry tilapia without flour.
Fortunately, this easy recipe does not use any flour. Just seasonings that result in a delicious, gluten-free, low-carb fish dinner.
Can I Pan Fry Frozen Tilapia?
In this recipe, you can also use frozen tilapia, but you need to defrost it before you cook.
Fortunately, tilapia is thin, and it will definitely defrost in no time, so just place it in a large bowl of cool water, and in under an hour, it should be thawed.
What Does Tilapia Taste Like?
Well, as you know, tilapia is a mild white fish that is not so fishy-tasting. It also has a softer texture compared to many other types of white fish.
What Kind of Pan Should I Use to Pan-Fry Tilapia?
In my opinion, a non-stick pan is the best type of pan for frying tilapia or any fish.
When cooked, tilapia and other fish are very likely to become extremely flaky.
A non-stick pan will pan-fry the fish without it sticking too much and falling apart.
Final Thoughts on Pan-Fried Tilapia (No Flour)
You can actually try adding some paprika or lemon pepper seasoning for a more complicated seasoning.
And you can make pan-fried tilapia recipes with even more seasonings.
However, I suggest that you keep the fish simple, given that this version has a delicious lemon butter sauce.
That being said, this will then be the wrap-up of this guide on the best recipe for pan-fried tilapia (no flour).