Well, this pan-fried fish in butter is the ideal recipe to check out, and it is still the best whether you are a fish newbie or an experienced fish pro.
There are plenty of reasons why fish should be on regular rotation in your house if it is not already so.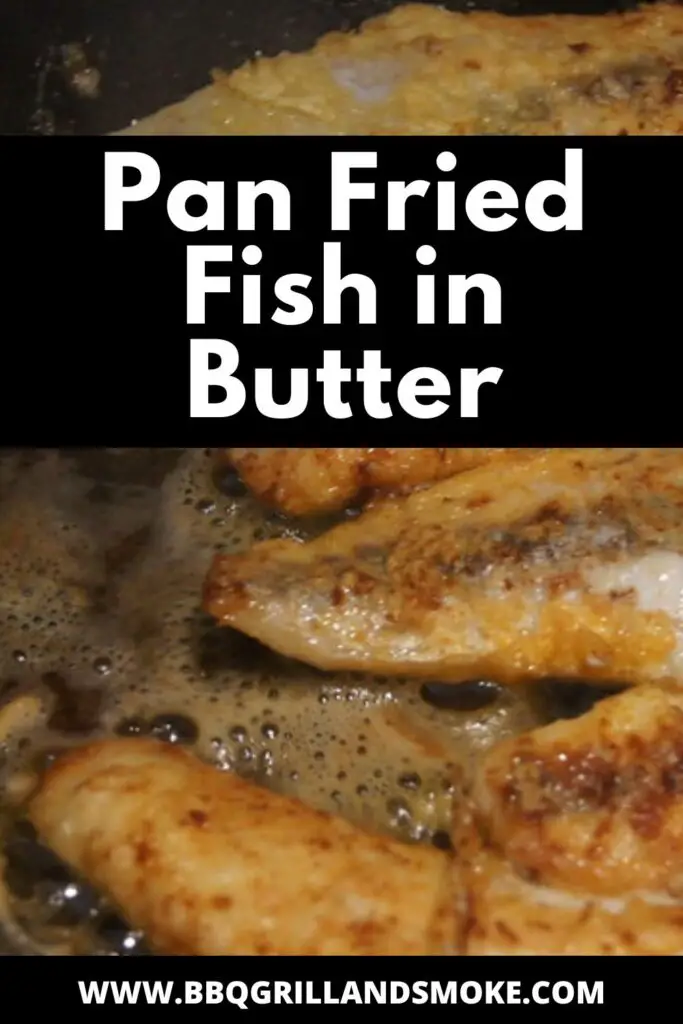 And, in not more than 15 minutes, this recipe for pan-fried fish in butter will be ready, and it is mouth-watering.
It is a general rule that a healthy and balanced diet should include at least two portions of fish per week.
This is so because fish is an incredible low-fat protein source that contains plenty of vitamins and minerals.
Plus, it also provides several health benefits. So, more or less, fish is a nutritional win.
Pan-Fry Fish
I consider pan-frying fish to be one of the most delectable ways to cook any non-fatty fish.
It interests me how the coating protects the flesh from direct heat and helps keep the fish moist.
On the other hand, it also provides a browned, crunchy, or crispy crust.
With this method, you can avoid the large amount of oil and the mess required for deep frying.
Lemon Butter Sauce for Fish
Course: Main Course
Cuisine: American
Prep Time: 5 minutes
Cook Time: 10 minutes
Total Time: 15 minutes
Servings: 2
This lemon butter sauce with crunchy pan-fried fish is perfect at home or in a grand restaurant.
You can make it in no time at home. Brown the butter, which helps give the sauce a rich, nutty aroma that pairs amazingly with fresh lemon.
The same is true for thickening the sauce and giving it a beautiful golden color.
Ingredients
Lemon Butter Sauce
1 tablespoon of fresh lemon juice
Salt and finely ground pepper
60 g, or 4 tablespoons, of unsalted butter (cut into pieces).
Crunchy Pan Fried Fish
2 x thin white fish fillets (120–150 g, or 4–5 oz each), skinless, boneless
2 tablespoons of oil (you can use canola)
2 tablespoons of white flour
Salt and pepper
Serving
Finely chopped parsley (optional)
Lemon wedges
Laid-Out Instructions
Lemon Butter Sauce
First, get a light-colored saucepan or small skillet and place the butter in it over medium heat.
After that, melt the butter and leave it on the stove. Make sure you mix or stir from time to time.
And, in around 3 minutes, when the butter becomes golden brown and smells nutty, remove it from the stove immediately and then pour it into a small bowl.
That being done, add the lemon juice and a pinch of salt and pepper.
Whisk, then, when it is cooled a little bit, taste. You can also adjust the lemon or salt to your taste.
Afterward, just set it aside, and it will remain pourable for about 20 to 30 minutes.
Crunchy Pan Fried Fish
First, get paper towels and pat the fish dry with them, then drizzle it with salt and pepper, then flour.
Now, use your fingers to spread the flour, turn, and repeat. You can also shake off the excess flour and, if necessary, slap it between your hands.
After that, heat the oil in a non-stick skillet over high heat. Just add the fish when the oil is shimmering and there are faint wisps of smoke.
Afterward, cook for 1 ½ minutes until it becomes golden and crispy on the edges, then turn and cook the other side for 1 ½ minutes.
However, if you have thicker fillets, you will cook them longer. After that, remove it immediately and place it on the serving plates.
Spray each with around 1 tablespoon of sauce. Make sure you stay away from the dark specks that settle at the bottom of the bowl.
That being done, garnish with parsley, and then serve with lemon on the side.
What to Serve With Sautéed Fish
You can serve your fish with delectable coconut rice and wilted spinach, or you can keep it simple by topping the fish with store-bought pineapple salsa.
You will definitely love how the tropical flavors pair well with the mild-flavored cod.
You can also serve this fish with roasted carrots. Or, you can just go with roasted butternut squash, particularly if you have a butternut squash lying around.
Simple skillet green beans would also be a delectable option to serve with this yummy pan-fried fish in butter.
And, lastly, for this guide, just serve honey whole wheat dinner rolls with this pan-fried fish. This is absolutely delicious.
Freezing Pan-Fried Fish
Cook this fish as instructed; after allowing the fish to cool, freeze separately with freezer paper, as this helps keep them from sticking together.
You also have the option of freezing it on a tray until firm enough to freeze individually.
So, just get a freezer bag or freezer-safe container and store them in it; this will allow them to last for up to three months.
Reheating Frozen Fish Fillets
All you need to do is place the frozen fillets on a sheet pan in an oven, then set the oven to 400 degrees Fahrenheit or 200 degrees Celsius.
Then, proceed to bake for 15 to 18 minutes. When the bubbles form and sizzle on the edges, you will know they are ready.
FAQs about pan-fried Fish
How Can You Tell the Fish Is Ready to Flip?
I suggest you check the side of the fish while it is frying on the first side; then you will be able to see how far it has become opaque.
Just flip the fish immediately after it's opaque, about halfway through, and then allow it to finish cooking on the other side.
Does This Recipe Make Enough Sauce To Serve With Rice Or Vegetables?
Well, absolutely yes. It has become quite evident over the years that you people also love sauce as much as I do.
The best part about this is that this recipe makes enough sauce to serve over the pan-fried fish and to sprinkle on steamed or roasted rice or vegetables.
Final Thoughts on Pan-Fried Fish
You can actually try your hand at making the sauce in the pan after cooking the fish. This is if you are a seasoned cook.
You can serve this fish with mashed potatoes or mashed cauliflower if you want a low-carb option.
You can go for Paris Mash for a truly indulgent restaurant experience, as it is the richest, creamiest mashed potato in the world.
In addition, you can serve it with a garden salad or leafy greens with French vinaigrette or Italian dressing.
With that being said, this brings about the end of this guide on pan-fried fish in butter.