This simple Chinese pork belly recipe results in soft, delicious meat. It has the crispiest skin with the perfect fat-to-meat ratio.
It is seasoned with an easy Chinese five-spice dry rub. It is a perfect option for a main dish for lunch or dinner, or it can be served along with other meals.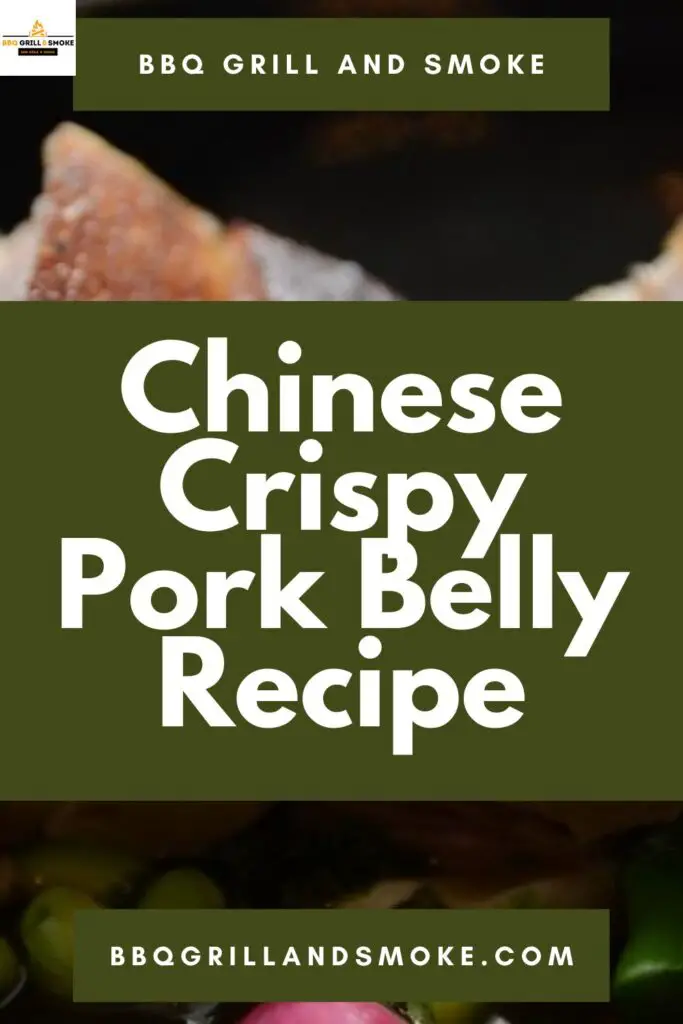 This best recipe for Crispy Pork Belly is just like what you will get at the Chinese BBQ meat shop.
I consider this to be the world's best crackling with delectable seasoned flesh. It is also easy to make.
What Is Chinese Roast Pork Belly?
Crispy Chinese-style pork belly, also known as "Siu Yook" or "Siew Yoke," is a slab of pork belly that has a crunchy crackling skin.
The meat beneath it is relished with Chinese five-spice powder, salt, and sometimes brown sugar.
I can guarantee that the top of the skin is the best crackling you will ever taste. You will find it popularly served at several Chinese restaurants.
It is also enjoyed on Chinese New Year, as this is believed to bring good fortune, strength, and wealth.
Furthermore, you will find Chinese roasted pork belly to be sold along with BBQ pork or char siu pork, roasted duck, deep-fried chicken, and several other Chinese barbecue meat dishes.
Chinese Pork Belly
This Chinese Pork Belly is slow-cooked until it becomes meltingly soft and then finished with a sticky chili glaze.
Prep Time: 10 minutes
Cook Time: 2 hours and 15 minutes
Total Time: 2 hours and 25 minutes
Course: Dinner
Cuisine: Asian, Chinese
Servings: 6 small servings
Ingredients
Slow Cooked Pork Belly
1 kg (2.2 lb) of rindless pork belly slices (chopped in half, each piece being approximately the length of your index finger)
1 tablespoon of caster sugar
3 cloves of garlic (peeled and roughly chopped)
1 litre (4 + ¼ cups) of hot chicken stock
1 tablespoon of rice wine
1 thumb-sized piece of ginger (peeled and minced) or 1 tablespoon of ginger puree
Glaze
2 tablespoons of Honey
1 teaspoon of lemongrass paste
2 tablespoons of vegetable oil
Pinch of salt and pepper
1 red chili (finely chopped)
1 thumb-sized piece of ginger (peeled and minced)
2 tablespoons of brown sugar
3 tablespoons of dark soy sauce
To Serve
Chopped red chilies
Chopped spring onions
Laid-Out Instructions
First, you are to get a heavy-based pan and add the pork belly slices, ginger, garlic, stock, rice wine, and sugar to it.
Then, get a cast-iron casserole pan. Bring it to a boil, then proceed to place a lid on it. Also, decrease the heat and simmer for 2 hours.
With that being done, remove the pork from the pan, but after you've turned off the heat, proceed to pat it dry with the kitchen towels.
After that, you can reserve the liquid, as this is based on your preference. It is ideal for Chinese or Thai noodle soup.
When that is done, you are to chop the pork into bite-sized chunks.
Get a small bowl and mix together 1 tbsp of the oil, along with the ginger, honey, chili, a pinch of salt and pepper, brown sugar, soy sauce, and lemongrass paste in it.
Now, get a frying pan and add the remaining 1 tbsp of oil to it, then heat over medium heat.
Also, add in the pork, along with a pinch of salt and pepper, and fry. Make sure you turn it regularly until the pork begins to turn golden.
However, watch yourself, as the oil can splatter at this stage. I suggest a splatter guard.
That being done, pour the glaze over the pork and continue to cook for a few more minutes.
And keep turning the pork often until it becomes dark and crispy. Proceed to remove the pork from the heat and serve it.
You can also top it with a few spring onions and chopped chilies. This is based on your preference.
How to Serve Crispy Pork Belly
Just cut it into slices, then cut each slice into smaller pieces. You can also serve your rich Chinese pork belly with mustard.
You can go with either your everyday yellow mustard or Hot English Mustard. It can be served with white sugar.
In addition, you can serve it with plain, fresh vegetables. You can go with cucumber and radish.
Storing Chinese Crispy Pork Belly
Just cut your leftover crispy pork belly, if you have any, into thick strips and then proceed to store them in the fridge.
Make sure it is placed in a tightly sealed container, and it will last for up to 3 to 4 days.
However, before refrigerating, ensure that you allow the pork belly to cool all the way.
You can also freeze the crispy pork belly, which will allow it to last for up to 1 to 2 months.
Although, keep in mind that the skin won't be as crispy as it was when fresh.
Chinese Crispy Pork Belly Recipe FAQs
How to Reheat Chinese Roast Pork Belly
Just reheat in the oven again at 350 degrees F until the skin becomes crispy again. The meat will definitely be warm.
However, avoid overbaking it, or else it will dry out. You can also reheat it in the microwave, but the skin will become soggy.
What Is Pork Belly?
A pork belly is a fatty, boneless cut of pork that is gotten from the underside, or "belly," of a pig.
Sometimes, you can get a pork belly with the ribs attached to it.
For dishes such as hong shao rou (Chinese braised pork belly), char siu, and siu yuk, pork belly is the most preferred cut of meat.
What Is Crispy Roast Pork Belly in Cantonese?
Crispy pork belly, or Cantonese roast pork belly, is also referred to as siu yuk in Cantonese.
Why Is My Pork Belly Skin Not Crispy?
The most probable reason your roasted pork belly is not crispy is that the pork skin is not dried enough.
So, ensure that you pat the pork skin dry, score it, and make use of a copious amount of salt.
Final Thoughts on Chinese Crispy Pork Belly
It is quite essential that you allow the pork belly to rest for around 10 minutes, as this will allow the meat to cool down and also reabsorb all the juices.
This is a perfect way to keep the pork belly juicy. And to make it gluten-free, just replace the soy sauce with tamari.
And, the rice wine with sherry. Also, ensure that you use gluten-free stock. You can also use a slow cooker for this recipe.
Well, with that being said, this concludes this guide on the best Chinese Crispy Pork Belly Recipe.