This will be the best pork belly recipe you will ever find. This crispy pork belly recipe will yield a pork belly with amazingly crispy, perfectly golden skin.
In comparison with all other pork bellies I've made, the prep work for this is extremely minimal.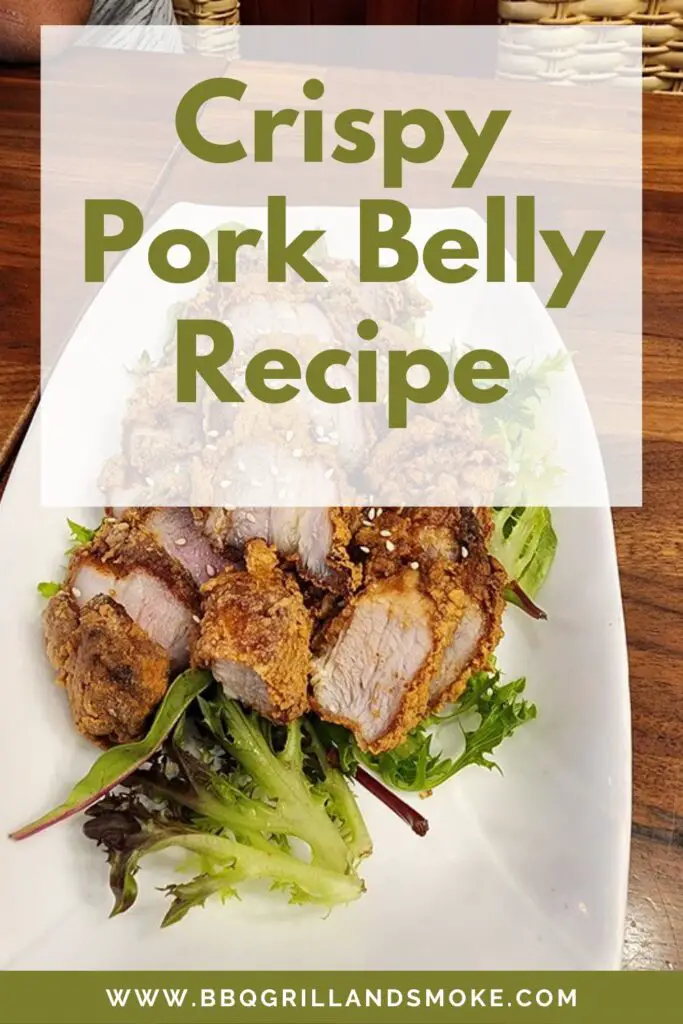 With just 4 everyday ingredients, you can make this pork belly that is crispy on the exterior and tasty on the inside.
So now, your search for the perfect pork belly recipe is certainly over.
What Is Pork Belly?
Pork belly is an affordable, fatty cut of meat that is gotten from the underside of the pig near the loin.
Spareribs are also obtained from this area. Although the belly is one long piece with the skin on, it weighs around 12 pounds.
When the skin is removed, it is then salted, cured, and smoked to make bacon.
However, it is Italian pancetta if it is salted and cured but not smoked.
Traditionally, you will find pork bellies more in the cuisines of northern Europe and Asia.
Oven Roasted Crispy Pork Belly
This recipe works perfectly well for skin-on and skinless pork belly. So, let's get right into it and learn how to make the best crispy pork belly.
Course: Main Course
Cuisine: American
Prep Time: 5 minutes
Cook Time: 1 hour, 30 minutes
Total Time: 1 hour and 35 minutes
Servings: 8 people
Ingredients
1 pound of pork belly (skin-on or skinless)
2 teaspoons of sugar
2 teaspoons of fine salt (or 4 teaspoons of kosher salt)
A few grinds of black pepper
Laid-Out Instructions
If you are using skin-on pork belly, you are to first pat the skin dry using a paper towel, then score through the skin every ½-inch at a diagonal using a sharp knife.
Make sure that you cut through the skin and into the fat; however, it shouldn't be deep enough that you will hit meat.
To create a diamond-shaped pattern, you are to repeat cutting on the opposite diagonal.
After that, you can season the pork belly with salt, sugar, and a few grinds of black pepper.
That being said, proceed to cover and refrigerate overnight. Now, preheat the oven to 450 degrees Fahrenheit.
Make sure you roast the pork belly for 30 minutes on the middle rack in a heavy, oven-safe pan or skillet.
Ensure that it is skin side up or fat side up. Then, reduce the heat to 275 degrees F and roast for an hour or more.
Do this until it becomes tender but not mushy. Keep in mind that larger pieces of pork belly will take longer.
One pound of the belly will be there after an hour at 275 degrees Fahrenheit. After that, remove it from the oven and allow it to cool to room temp.
You can wrap it tightly in plastic and refrigerate until chilled through; do this for at least a few hours or up to 2 days.
Slice them into thick pieces and brown them in a skillet on the stovetop until crisp immediately after chilling.
You can enjoy it alone or in soups, pasta sauces, salads, ramen, and so on.
How To Serve Crispy Pork Belly
The normal way to serve pork belly is to cut it into slices, then cut each slice into smaller pieces.
You will love the small pieces, as they are the best, thanks to the fact that pork belly is rich and hearty.
When it comes to sauce, you can serve it with mustard. And it can be either your everyday yellow mustard or hot English mustard.
This is a kick of fresh heat paired with the richness of the pork belly. You can also serve it with white sugar.
A small dish of everyday white sugar that you can dip the pork into will do.
In the case of sides, you can just serve them with plain, fresh vegetables. You can also pair them with cucumber and radish.
How To Store Pork Belly
Just wait until the pork belly is cooled to room temperature before you store it. So, just place it in a tightly sealed container in the fridge.
This will make it last for up to 3–4 days. However, cover it with a paper towel if you intend to keep the skin as crispy as you can.
The paper towel is there to absorb any excess moisture. It is very important that you wait until the pork belly is cool.
Given the fact that otherwise, the condensation in your container will turn the skin soggy.
Keep in mind that you should never leave the pork belly out on the side for more than two hours.
After this, bacteria can begin to multiply, so in a way, you are risking getting yourself sick.
Recipe FAQs
What Is The Difference Between Pork Belly And Bacon?
Pork belly and bacon are two extremely popular products. However, a slab gotten from the belly of a pig is what you call a pork belly.
Whereas, a cured and smoked product that is gotten from pork belly is what you call bacon.
Both products contain high levels of fat and flavor. Pork belly is frequently used in Asian cuisine; on the other hand, bacon is a popular breakfast food.
Side Pork vs. Pork Belly: What's the Difference?
Pork belly and side pork are both cuts of meat gotten from the same area of the pig.
Pork belly is a fattier cut of meat, cooked fresh, whereas side pork is a leaner cut of meat that is normally cured and smoked.
Do I Need To Prepare My Pork Belly Overnight?
The short and straightforward answer to this is no. You don't need to prepare your pork belly overnight.
All that is required of you is to season it and place it in the fridge for a few hours.
Doing this will help the skin become crispy as it dries out.
Conclusion on Crispy Pork Belly Recipe
When you are purchasing pork belly, go for a slab that is close to an even thickness and about one pound.
This is the same whether it is skinless or skin-on. And, as previously mentioned, larger cuts of this meat will require more cooking time, which will work for this recipe.
If you happen to have thin areas, they tend to burn during the first 30 minutes of roasting at 450 degrees Fahrenheit.
I suggest you use a heavy-bottomed, oven-proof pan or skillet for roasting.
Stay away from a glass baking dish, as this is a place where the fat that renders will burn and smoke excessively.
That being said, this will be a wrap-up of this guide on crispy pork belly recipe, as you now have the best oven-roasted crispy pork belly recipe.