Hong Kong noodles came from the East, but their mouth-watering taste has gained their extreme popularity.
So, in this guide, I will give you the best recipe for pan-fried Hong Kong noodles, particularly given that many people enjoy stir-frying the dish because it is easy to make.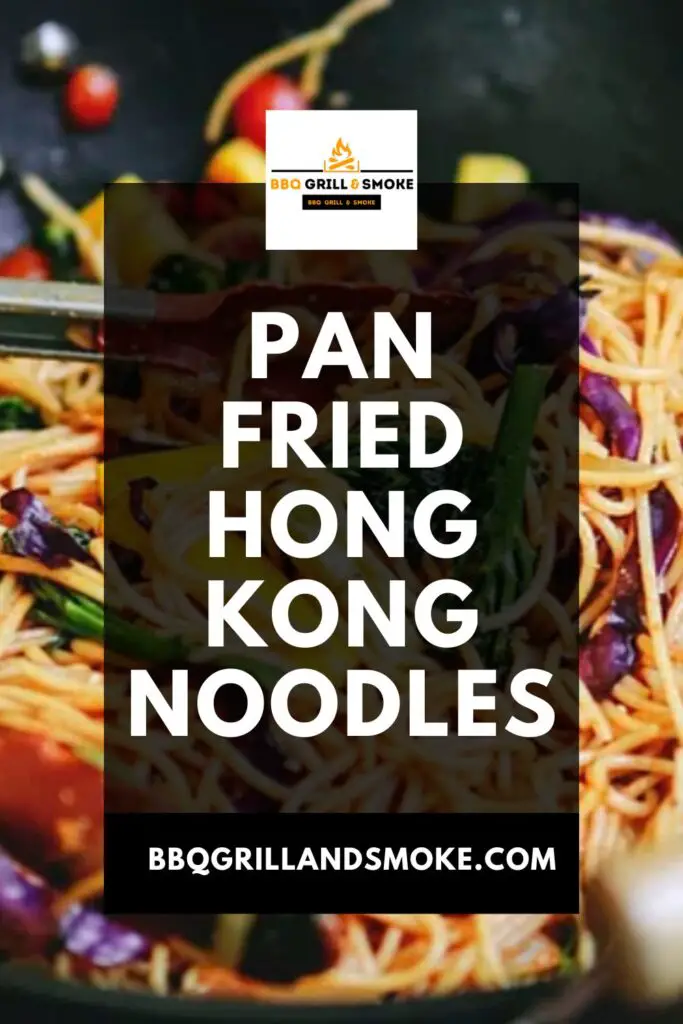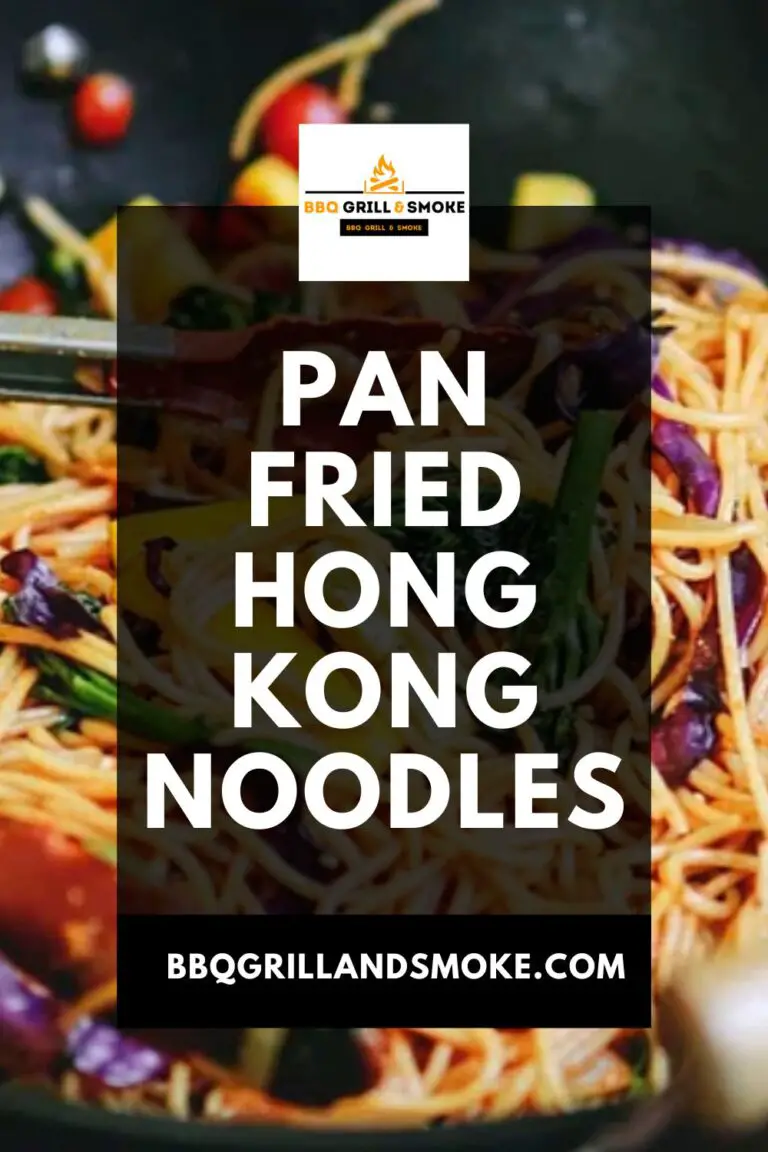 However, in addition, you can also incorporate hearty ingredients and make it a versatile meal.
Just read through for a stir fry Hong Kong noodles recipe that you can easily make at home and personalize with any toppings.
Given the fact that you can control the amount of oil that goes into the work, your homemade version would be much healthier. So, let's get on with it.
What Are Pan-Fried Noodles?
Soy sauce pan-fried noodles, which are also commonly referred to as Chi You Huang Chow Mein, are a well-known kind of Chinese stir-fried noodles.
They are traditionally served as a breakfast or quick lunch and are usually enjoyed at dim sum restaurants.
Also, for Chinese takeout, these fried noodles can also be found as a first-rate option for noodles.
And their well-rounded flavors go well with every dish and are a delicious alternative to a plain bowl of steamed rice.
Pan-Fried Hong Kong Noodles
These pan-fried Hong Kong noodles provide a crunchy and chewy texture along with a smoky and tasty flavor that you can customize with your favorite ingredients.
It will take less than 20 minutes to prepare this well-rounded Cantonese dish.
Course: Breakfast, Lunch, and Noodles
Cuisine: Chinese
Prep Time: 5 minutes
Cook Time: 15 minutes
Total Time: 20 minutes
Servings: 4
Equipment
Ingredients
12 oz (340 g) of Hong Kong pan-fried noodles or Hong Kong-style egg noodles
1 Ib (450 g) of shrimp (peeled)
7 oz (198 g) of mung bean sprouts
½ onion (sliced)
5 green onions (sliced)
2 oz (56 g) of Asian green chives (optional)
For Sauce
1 tablespoon of sesame oil
1 tablespoon of light soy sauce
1 tablespoon of oyster sauce
1 teaspoon of dark soy sauce
1 tablespoon of Shaoxing wine (Chinese rice wine)
Laid-Out Instructions
You are to cook Hong Kong pan-fried noodles according to your package directions.
In boiling water, it is normally around 1 minute for fresh noodles and 3 minutes for dried noodles.
After that, drain the noodles. Then, get a small bowl and add the sauce ingredients and blend them well.
Heat 1 tablespoon of oil and stir-fry the onion and shrimp, if you are using them.
Do this over high heat until the shrimp is completely cooked. Afterward, remove it from the wok and set it aside.
Now, over high heat, heat 1 tablespoon of oil in a wok, add the noodles, and spread them on the bottom of the wok.
For around 1-2 minutes, sear the noodles while spraying 1 more tablespoon of oil around the edges to crisp them up.
You should see that the noodles become golden crisp on the bottom and a little bit dry.
After that, turn to the other side and stir the noodles with kitchen tongs or chopsticks immediately after you turn them, and continue to stir-fry for another 1-2 minutes.
Also, spray more oil if required. That being done, add the green onion, mung bean sprouts, and chives and toss to heat through.
Also, add the shrimp and onion, pour the sauce, and toss for another 1 to 2 minutes.
Do this until you see the bean sprouts just beginning to become transparent.
What Do You Serve With Pan-Fried Noodles?
As you know, pan-fried noodles are delectable on their own; just add a little soy sauce or chili oil.
They are served with a saucy combo of sliced meat, vegetables, and shrimp at most restaurants.
However, you can always top it with your favorite stir fry.
Some of my suggestions include shrimp stir fry, Chinese stir fry scallops with vegetables, beef and broccoli stir-fry, vegan Chinese vegetable and seitan stir fry, and Mongolian chicken with mung bean sprouts.
Storing and Reheating Leftover Pan Fried Hong Kong Noodles
Storage
Just get a tightly sealed container, and you can store the leftovers in it. Then, place the container in the fridge, and it will last for up to 4 days.
Reheating
You can reheat it in a skillet on the stove until it is warm through.
And, to loosen up the noodles, just add a splash of water and even a dash of more soy sauce and oil.
Recipe FAQs
What Kind Of Oil Is Best For Pan-Frying Noodles?
You can use any neutral oil with a high smoke point. You can go for peanut oil, vegetable oil, or corn oil.
However, if you are using olive oil, I recommend you go for a refined version, not the nice extra virgin olive oil.
If You Buy Fresh Noodles, Can You Freeze Them?
It is more functional to freeze them, given the fact that fresh noodles are sold in somewhat large portions.
And you can bring them out as you need them. However, ensure that you first divide them into the portion sizes you want and then place them in the freezer.
What's The Best Kind Of Noodles To Use For Hong Kong Style Pan-Fried Noodles?
Preferably, you can go for the thin, fresh chow mein or fresh pan-fried noodles.
Compared to lo mein, they are thinner and contain less egg than wonton mein, so when pan-fried, they result in a crunchy, chewy texture.
Before frying them, you should steam them if you are using fresh noodles.
However, if you have access to only dried noodles, just boil them according to the instructions.
But, still, don't overcook them; run them under cold water to stop the cooking, and then continue with the rest of the recipe.
How Do You Keep Noodles From Sticking To The Wok When Pan-Frying?
Before pan-frying, just steam the noodles. That way, it won't stick. The noodles are more likely to stick if they are boiled.
You can also go for non-stick pans. Fresh noodles are also your best option, given the fact that you'd have to steam them and boil dried noodles.
Final Thoughts on Pan Fried Hong Kong Noodles
I suggest that you make sure that the sprouts are slightly cooked while still keeping their crispy texture.
Also, avoid overcooking, or they will just become soggy and limp. And ensure you serve them immediately while still hot.
And, as you know, you can enjoy these noodles with your favorite Chinese dishes like black pepper beef or Mongolian chicken and use them to prepare a satisfying and refreshing meal all in the comfort of your home.
That being said, this concludes this guide on the healthy recipe for pan-fried Hong Kong noodles.