All of these delectable ground beef recipes are not just simple to make; they are also made with three ingredients.
So, in this guide, I will be giving you a list of 3 ingredient recipes with ground beef.
You can always put together a mouth-watering meal even if you are in a hurry and have a limited pantry or refrigerated items.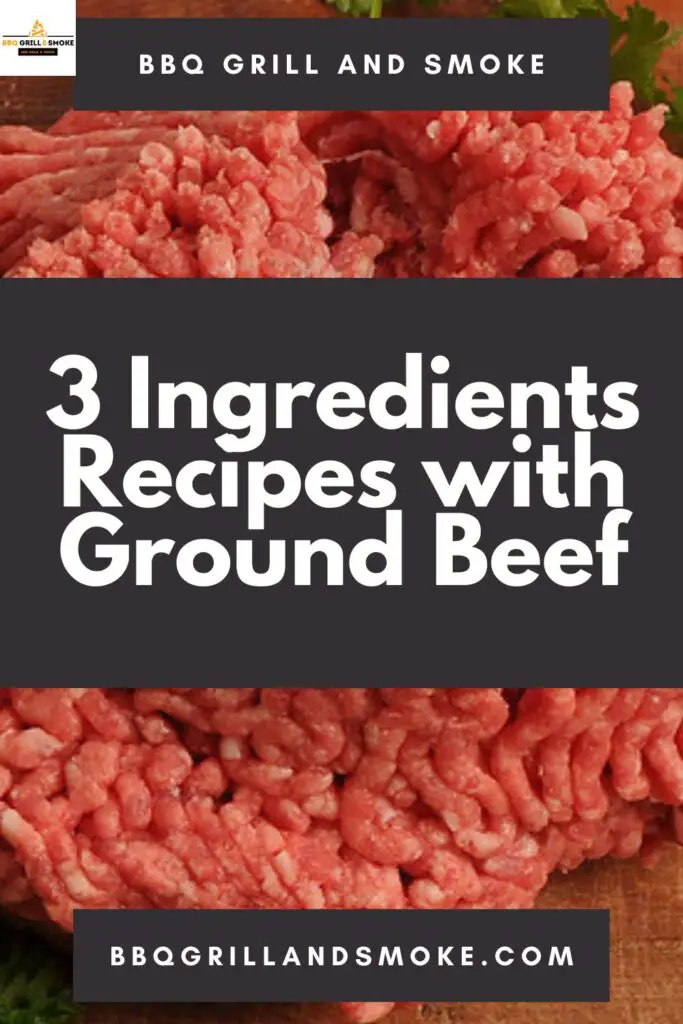 The best recipes in this guide are all family favorites, and they are definitely part of the regular dinner rotation in my house.
Every recipe shared here today will have three ingredients. However, keep in mind that a few basic staples such as water, oil, salt, and pepper will not count as ingredients.
All of the recipes taste delicious even with a limited number of ingredients, and they are satisfying.
Ground beef is a key ingredient in several households. It is perfect in soups, appetizers, and main dishes.
You can make something yummy and satisfying with any and all of the types of recipes I included in this guide.
Crock Pot Taco Meat
Crockpot taco meat is the first recipe on my 3 ingredient recipes with ground beef.
So, for your next taco night, just leave Taco Bell behind and make this delicious 3-ingredient slow-cooking taco meat at home.
For this tasty recipe, you will need ground beef, salsa, and taco seasoning. For this dish, you won't need to brown the ground beef.
All you need to do is add everything to the crock pot and cook on low for around three hours to create the best taco meat.
Remember that you can serve them with sour cream, lettuce, tortillas, and tomatoes.
Get The Recipe Here – Crock Pot Taco Meat
3-Ingredient Chili
This nutritious meat is perfect if you intend to remain warm in the winter, and it is packed with flavor.
In addition, it is very likely that you have most of the ingredients already in your pantry.
For this simple recipe, you will definitely need a pound of ground beef, a can of diced tomatoes with green chiles, salt or pepper, and a can of chili beans.
The most interesting part about this recipe is that you can freeze the leftovers in a tightly sealed container for quick future meals.
Get The Recipe Here – 3-Ingredient Chili
Crock Pot Grape Jelly Meatballs
When it comes to these meatballs, I strongly suggest that you keep an open mind.
They are yummy, spicy, and a simple way to create a peculiar, economical, and delectable dinner for the family.
You have two options: either use the premade meatballs or mold ground beef with seasonings into meatballs.
After that, simply add them to a crock pot with jelly and BBQ sauce. And you can pair these meatballs with noodles and rice at the dinner table.
Get The Recipe Here – Crock Pot Grape Jelly Meatballs
3-Ingredient Sloppy Joes
This is definitely the right recipe for you. Craft classic meals for kids and adults using three everyday ingredients.
These saucy sandwiches are healthy, tasty, and yummy. Another interesting fact is that this sloppy joe meat is also gluten-free.
So, all you need to do is grab some rolls or buns, and your dinner is ready.
Get The Recipe Here – 3-Ingredient Sloppy Joe
Beef Enchilada Dip
This is a Mexican-inspired dip, and it requires just three ingredients in addition to a few spices.
It is healthy, captivating, and cheesy. Just dive into this dip and enjoy heaven on earth if you are a fan of beef enchiladas.
Get The Recipe Here – Beef Enchilada Dip
Ground Beef and Sauce
All you need to create this refreshing main course recipe is 30 minutes and three ingredients.
I can assure you that the tomato gravy-like sauce in this recipe is mouth-watering.
You can decide to serve it with egg noodles or over mashed potatoes to complete the meal.
Get The Recipe Here – Ground Beef and Sauce
Ground Beef Mushroom Recipe
This recipe for ground beef mushrooms is an entanglement made in heaven with three easy ingredients.
It is certainly finger-licking. However, note that this recipe is actually called Salisbury steak.
All you need to do is make patties and cook them over medium-high heat. Make sure it is just 3 minutes for each side.
Get the mushroom and add it to the condensed soup, and use the soup can measure ½ a can of water.
After that, just stir to blend together the sauce mixture and cover with a lid or grease splatter screen.
That being done, simmer at low heat for 10 minutes. Flip over halfway.
Now, salt and pepper to taste and garnish with parsley, and then you can serve and enjoy.
Get The Recipe Here – Ground Beef Mushroom Recipe
Italian Beef Hoagies
All you need for these Italian beef hoagies are 2 tablespoons of red wine vinegar, 1 tablespoon of Italian seasoning mix, and 2 bell peppers, one green and one red.
You also need 2 tablespoons of onion soup mix or go for the Pampered Chef three-onion rub.
Lastly, add 1 cup of grated mozzarella cheese and 6 hoagie rolls during cooking.
Get The Recipe Here – Italian Beef Hoagies
Zesty Tacos
Just get 1 cup of chunky salsa, 1 tablespoon of taco seasoning, or Pampered Chef Everything Taco Seasoning, and 1 can (6 oz) of tomato paste.
You can also add grated cheddar cheese, tomatoes, shredded lettuce, taco shells, lime, and cilantro, but remember that these are optional.
Get The Recipe Here – Zesty Tacos
Easy Stroganoff
Get 1 tablespoon of Pampered Chef three-onion rub, 1 teaspoon of Worcestershire sauce, 8 ounces of fresh mushrooms, and 1 can of condensed cream of mushroom soup.
And, add 1 pound of egg noodles, ¼ cup of fresh parsley, 2 tablespoons of butter, and 1 cup of plain Greek yogurt or sour cream during cooking.
Get The Recipe Here – Easy Stroganoff
Final Thoughts on 3 Ingredient Recipes with Ground Beef
In my opinion, sautéing in a skillet and then draining any fat or grease that might form in the pan is the best way to cook ground beef for a make-ahead meal.
That being said, I strongly suggest that you go for 85% lean or 90 or 93% lean if you want to make the healthiest ground beef.
From ground beef, you can make Italian hoagie sandwiches, maid-rites, meatball sandwiches, barbecues, sloppy Joes, and Philly cheesesteaks.
This is to say that you can make so many dishes with ground beef, and some options include casseroles, sandwiches, soups, chilis, meatballs, and so on.
All that being said, this will now be the end of this guide on 3 ingredient recipes with ground beef.