Learn how to grill steak on gas grill. And this is not just how to grill steak, but how to grill it perfectly every time.
You will be given a simple recipe for grilled steak in this guide. This recipe will show you how you can sear a steak on a hot grill, and it will then be cooked to perfection.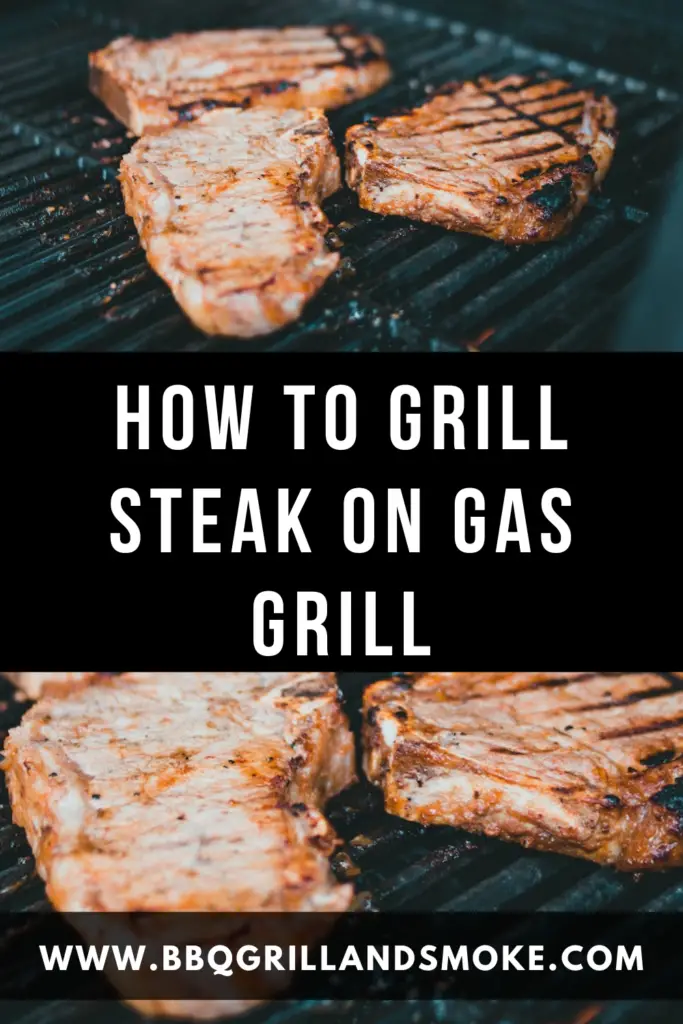 The detailed information on how to grill steak on a gas grill in this guide will show you and also make you understand that grilling steak is not difficult.
All you need for a perfectly grilled steak is just a simple recipe, but you also need to follow the recipe word for word.
Recipe on Grilling Steak on Gas Grill
Preparation Time: 5 min.
Cooking Time: 10 min.
Seasoning Time: 60 min.
Total Time: 75 min.
Servings: 2 servings.
Note
The sauce that will be used in this recipe is well-suited for any steak. However, you can skip it or go ahead and make use of a different sauce.
I will suggest you go for a thicker steak and slice it. And, if you are a grilling beginner, I would also suggest you go for thicker steaks instead of smaller, thinner individual steaks.
Ingredients for Steak on Gas Grill
For The Steak
1 1/2-inch of thick ribeye, bone-in or out (go for about 1 ½ pound without the bone)
¾ teaspoon of coarse sea salt or kosher salt
1 teaspoon of freshly ground pepper
For The Herb Butter Sauce
4 tablespoons of butter.
Leaves from 4 sprigs of thyme
1 tablespoon of minced fresh rosemary.
1 clove of garlic (minced).
1 shallot of about half the size of a golf ball (minced)
Laid-Out Instructions for Steak on Gas Grill Recipe
Trim the Fat
The first thing you need to do is to get rid of the exterior layer of fat from the ribeye. The inner marbling will relish the meat.
And, on the other hand, the exterior fat layer will create flare-ups on the grill, which in turn will add a burnt taste to the steak. Do not mistake this burnt taste for it being seared.
Season the Steak and Refrigerate
You can now move to the next step, which is for you to get a paper towel and dab the steak dry with it, as this helps get rid of moisture from the surface, which will help you achieve a good char.
Then, proceed to season each side of the steak with salt and pepper. Make sure you massage them fairly.
You can now put the steak in the fridge. Make sure it is uncovered and allow it to be in the fridge for an hour at a minimum and 48 hours at most.
Make the Herbed Butter
Get a small saucepan and add butter, garlic, herbs, and shallots to it. Then proceed to melt them, but this should be done over low heat.
Allow this to continue for 10 minutes, at a minimum, before you proceed to place the steak on the gas grill.
Before you proceed to grill the steak, you can make this butter up to 2 hours ahead of time. If you are to do this, make sure you cover it and refrigerate it.
You are to reheat the butter gently to allow it to melt again before you proceed to place the steaks on the gas grill.
Warm Up the Grill
You can now warm up the gas grill. And, to do that, you will need to heat the grill to 450 degrees Fahrenheit and make sure two of the burners are going.
The timeframe for this should be about 10 minutes. Afterward, turn down one of the burners to medium. This will help create two cooking zones.
Cook and Baste the Steak
Place the steak on the hottest side of the gas grill. Then, proceed to close the lid and char it for 2 minutes.
Afterward, you are to open the lid, turn the steak over, and then proceed to baste it with the melted herb butter and herbs.
Then, close the lid again, and cook it for another 2 minutes. After that, you are to turn the steak over again, and then move it to the lower heat side of the gas grill.
After that, you are to baste the steak again with butter. For the next 6 minutes, you are to continue turning the steak over and basting it every two minutes.
Do not forget to also close the lid between each turnover. For a medium-rare steak, you will move the grilled steak to a clean platter after it has spent a total of 10 minutes on the gas grill.
The internal temperature of the grilled steak should read 137 degrees Fahrenheit to 140 degrees Fahrenheit.
You are to baste the grilled steak again with butter. If you also want your steak to be more well-done, you can continue with the cooking for a longer time.
Allow the Steak to Cool Off
You are to allow the steak to cool off for 5 minutes, which will also cause the internal temperature of the steak to increase by a few degrees. The juices will also get redistributed.
Slice and Serve the Steak
Get a grain, and proceed to slice the grilled steak against it. And, if you want, you can also pour the remaining herb butter sauce (if you have any left) over the top of the grilled steak.
Then, proceed to serve it and enjoy it.
What Can You Serve with Grilled Steaks?
Well, before I wrap this guide up, let's quickly talk about what you can serve with your perfectly grilled steaks.
Truth be told, the options for this are limitless. But I will just give you a few ideas of what you can serve with grilled steaks.
As they range from pasta salads to BBQ sides, this will give you the perfect understanding that there are various side dishes for steak, especially when the steak is grilled.
You can also serve a wedge salad with grilled steaks, as people love the refreshing crispness of a wedge salad.
And, you can also go for potato salad, grilled vegetables, or cornbread. Furthermore, you can make steak sandwiches from the grilled steaks, if perhaps you've made too much of them.
Conclusion on How to Grill Steak on Gas Grill
You might have heard that using charcoal or wood-fired grills to grill steaks is the best, thanks to the fact that they provide the meat with extra flavor and charring.
However, this does not mean that you can't make great steaks using a gas grill. All you need to do is to learn how to perfectly grill steak on a gas grill, which has been discussed in this guide.
When using a gas grill, you will need to open the lid, turn on the gas, and then light up the grill. But, there's a warning, it is not advisable for you to light the grill with the lid closed.
This is because since the gas is turned on, it can build up inside the grill and then result in an explosion.
Well, with all that being said, I can now wrap up this guide as I'm sure you now have all you need on how to grill steak on a gas grill.