In this guide, you will learn step-by-step how to make Pit Boss London broil.
You will be able to make a smoked London broil on any grill or smoker with this Pit Boss London broil recipe.
This is the perfect recipe for whether you are using a pellet grill such as a Pit Boss, Camp Chef, or Traeger, an electric smoker such as a Masterbuilt, or just a conventional propane grill such as a Weber.
However, in this guide, we will be specifically looking into how to make London broil using Pit Boss.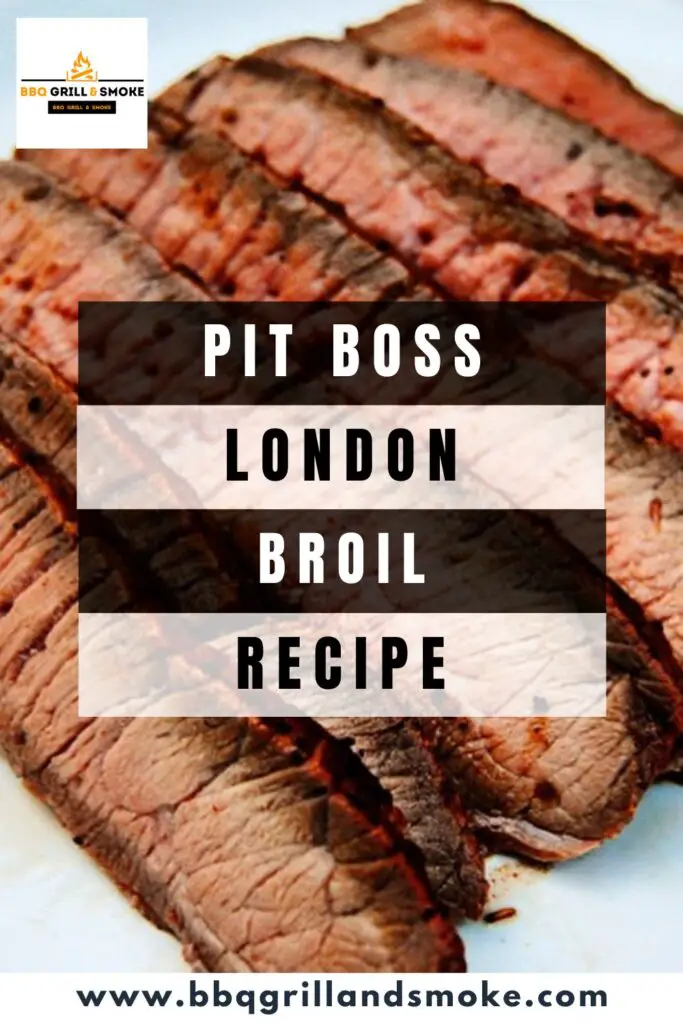 Sometimes, a London broil is referred to as a flank steak; it is not a particularly revered cut of beef in the grand parts of the world of steaks.
Even so, it is kind of lean, kind of tough, and not normally in the center of your butcher's showcase alongside the filets and ribeyes.
What Is London Broil?
Actually, the name "London broil" refers to both a cooking method, which is quickly broiling a lean flank steak, and also the cut of meat itself.
Flank steak and top-round steak are both types of London broil.
The former is what the butchers cut from the cow's abs, whereas the latter is gotten from their inner rear legs.
Cuts from the flank and top round are very likely to be lean and tough; however, when properly cooked, they are tasty and packed with flavor.
Their dense texture is actually perfect for soaking up marinades.
Smoked London Broil
This smoked London broil will be made on a pellet grill, Pit Boss, although it can be made on any grill, pellet grill, or smoker.
Before getting smoked with indirect heat and then reverse charred to finish, the London broil is first seasoned and marinated overnight.
Course: Main Course
Cuisine: American, Australian, BBQ
Prep Time: 20 minutes
Cook Time: 1 hour
Marinating Time: 12 hours
Total Time: 13 hours and 20 minutes
Servings: 4 servings
Equipment
Pit Boss
Large shallow glass baking dish
Instant-read thermometer
Foil-lined baking sheet (optional)
Broiler (optional)
Pecan, hickory, or mesquite wood chips, pellets, or chunks
What to Serve with London Broil?
I will be recommending some delectable sides for your London broil:
Mac and cheese
Coleslaw with wasabi dressing
Smoked corn
Glazed carrots
Roasted or mashed potatoes
Roasted asparagus
A fresh garden salad
Blanched broccoli
Grilled Brussels sprouts
Smoked sweet potatoes
How to Store Leftover London Broil
You can refrigerate your leftover beef in a tightly sealed container, and it will last for up to 7 days.
In addition, you can freeze it for a longer time in a freezer bag. Simply put it in the fridge or freezer within an hour of serving it.
How to Reheat Leftover Smoked London Broil
It is very easy to reheat smoked London broil in the microwave.
There are also several other cooking methods. You can try using a stovetop, oven, grill, or air fryer.
Frequently Asked Questions
Why Is My London Broil So Tough?
It is very likely that it was overcooked if your London broil became so tough.
If you intend to help a lean cut of beef become soft and juicy on the grill, just reduce your cooking time instead of the temperature.
How Do You Prevent a London Broil From Drying Out?
The best way to make sure that your London broil does not dry out is by marinating it.
Vinegar helps soften your meat, whereas, on the other hand, the marinade adds flavor and moisture.
How Long to Smoke a London Broil?
It will take around 40–50 minutes to smoke a London broil to medium rare at a temp of 225 degrees Fahrenheit.
However, keep in mind that this timing might be different as it is determined by the thickness of the meat as well as the type of smoker you use.
I strongly suggest that you use a meat thermometer to monitor the internal temperature of the meat.
When the beef has reached 125 degrees F (for rare), 132 degrees F (for medium-rare), and 140 degrees F (for medium), remove it.
Should You Brine a Smoked London Broil Steak?
If you are looking for a good way to flavor and tenderize inexpensive cuts of meat, then I suggest you go for steak brines.
However, this is not necessary for this recipe, and I don't recommend brining it due to the fact that the marinade is enough.
Final Thoughts on Pitboss Smoked London Broil
London broil is an inexpensive cut, and trimming the meat of any silver skin or excess fat before marinating might be required.
You can also use several cuts of beef in this London broil recipe.
A lot of people use flank steaks, but you can also go for a top-round roast.
Plus, there's the option of using a sirloin steak. The top-round roast is actually one of the leaner cuts of beef.
That definitely makes it similar to flank steak and other lean cuts of beef.
This concludes this guide, as you now have the perfect recipe for Pit Boss London broil.