Pan-fried burgers are easier than you think. With this easy recipe, you will learn how to cook the perfect burgers on the stove.
This means you can make this simple dinner any time of the year.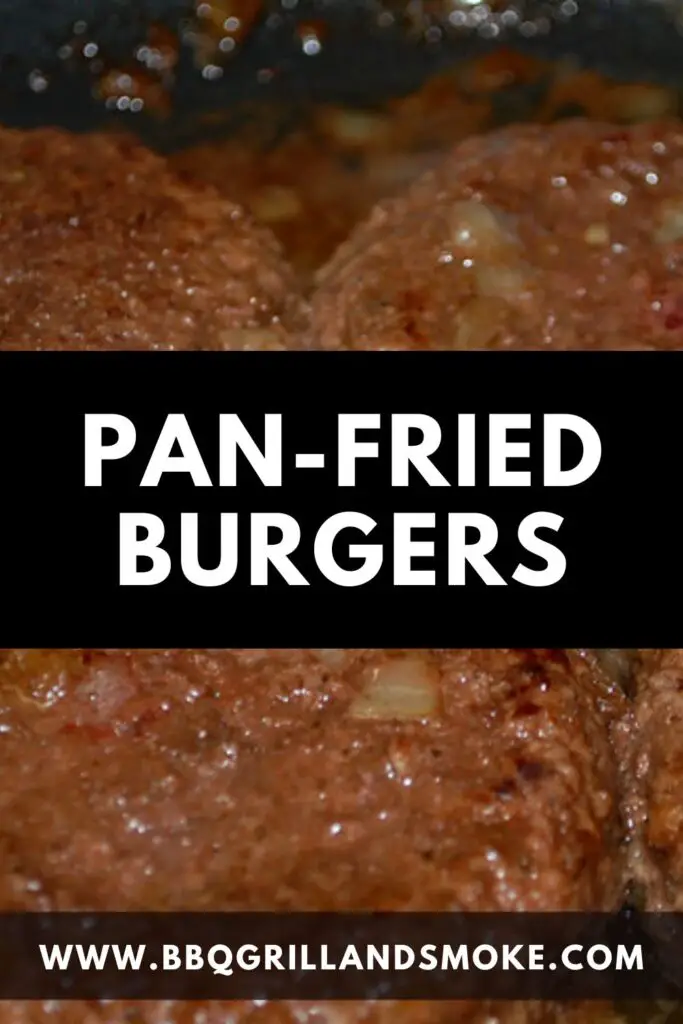 Create simply seasoned burger patties, pan-fry them in a skillet, and find the precise cooking time and temperature to ensure that you get it right.
You will be able to cook the best cheeseburgers and hamburgers with your preferred choice all the time.
Tips for Cooking Perfect Pan-Fried Burgers
Cook your burgers in a flat pan over medium-high heat.
When they hit the pan, the patties should sizzle, and you should see a nicely dark, golden-brown sear on the underside when you turn them over. This is a sign of a good burger.
In addition, getting a wide, extremely thin spatula is a great choice, as it works best for flipping.
It allows you to quickly slide under the burger and turn it without messing up the nice crust you just created.
That being said, it also helps keep these burgers from falling apart as you turn them over.
However, just press the pieces together, carry on if they do fall apart, and top with cheese; it will be as if nothing happened.
I strongly suggest you go for the spatulas that are sold for pancakes and cookies, as they work best, in my opinion. You will also do fine with a fish spatula.
Pan Fried Burgers Recipe
Course: Main Course
Cuisine: American
Prep Time: 5 minutes
Cook Time: 6 to 10 minutes
Total Time: 11 to 15 minutes
Servings: 4 to 6 burgers
Ingredients
1 ½ pounds of ground beef (80% to 85% lean)
4 to 6 hamburger buns, split
Kosher salt
4 to 6 slices of cheese, like American, Swiss, cheddar, or provolone (optional)
Freshly ground black pepper
Butter or oil for the pan
Burger toppings: sliced onions, ketchup, lettuce, sliced tomatoes, mustard, sauce, pickles, BBQ, relish
Equipment
Griddle or large skillet: stainless steel, nonstick, or cast iron
Wide, flat spatula
Laid-Out Instructions
First, you are to divide the ground beef into 4 to 6 portions. This is actually based on the number of burgers you would like to make.
After that, gently press each portion of ground beef into a disk around 1 inch thick, then press the middle to form a shallow "dimple" and pat the edges into a round.
The patty should look like a Frisbee and be slightly larger than your burger buns. And you shouldn't be worried if there are some cracks in the edges; avoid mashing the beef too much as you shape the patties.
That being done, heat a pat of butter or a teaspoon of oil in a griddle or large skillet over medium heat.
If needed, I suggest you work in batches. Simply place the bun halves cut-side down in the warm butter or oil, then toast until the surface is golden-brown. Afterward, transfer the toasted buns to a serving plate.
Now, increase the heat to medium-high, and with a careful eye, monitor the pan. You should know you are ready to cook the burgers when you see the first wisp of smoke.
After that, place the burger patties in the hot pan, making sure that you leave a little space between each one.
If necessary, just work in batches. As you know, the burgers should sizzle on contact. Just nudge the heat up a little if they don't.
Lavishly season with salt and pepper and cook for around 3 to 4 minutes. Quickly slide a spatula under the burgers and flip them to the other side.
It is very likely that you will see a dark brown char on the underside, and simply increase your heat next time if not.
That being done, season the other side lavishly with salt and pepper and cook for an additional 3 to 5 minutes to the doneness of your choice.
As previously mentioned, just press the edges together and carry on if the burger falls apart when you flip. Even so, your burger will still be delicious.
Top the burgers with cheese as soon as you flip them if you are making cheeseburgers.
Just cover the pan with a lid or other dome if the cheese is not melting fast enough, as this will help encourage the cheese to melt.
Just transfer them to the toasted buns when the burgers have finished cooking and finish with your favorite burger toppings.
How to Serve the Best Burger Recipe
Cajun fries
Onion rings
Zucchini fries
French fries
Sweet potato fries
Parmesan truffle fries
Parmesan potato wedges
Shoestring fries
Or, go with BBQ-baked beans, baked potatoes, corn on the cob, air-fried tater tots, homemade coleslaw, corn casserole, or any classic BBQ side.
Burger Topping Ideas
Sliced red onions
Chopped fresh parsley
Nacho cheese (Rico's canned nacho cheese)
Baby gherkin pickle
Other Burger Topping Ideas:
Lettuce
Mustard
Pineapple
Bacon
Ketchup
White onion
Sliced pickles
Sliced cheese
Guacamole
How to Store and Reheat
Immediately after cooking, allow the burgers to cool to room temperature, then store them in a resealable, tightly sealed container or wrapped tightly in aluminum foil.
After that, place them in the refrigerator for up to 4 days.
Simply reheat the burgers in a non-stick pan on the stovetop for the best results. Do this until they are completely heated through.
I suggest you add around 3 tablespoons of water to the pan to form steam; this will prevent the patties from drying out.
How to Freeze Burger Patties
I suggest you skip the salt from the spice blend when mixing the meat if you are going to freeze your burger patties.
Just add this before cooking the burgers immediately after they are thawed in the future.
Proceed to mix the burgers as instructed and place them on the wax paper-lined baking sheet.
Place the sheet pan into the freezer and freeze for around 3-5 hours, or just until the burgers are frozen solid.
That being done, cut the mini pieces of wax paper to place between them and stack them before you transfer them to a freezer bag. It can remain frozen for up to three months.
To cook, first, thaw fully in the refrigerator, then season the outside with salt and cook in the skillet as instructed.
Frequently Asked Questions
Do You Put Oil In The Skillet When Cooking Burgers?
Well, of course, you can, but it is certainly not necessary given that the beef has enough fat to hold the meat together as well as release enough to the point where the burgers don't stick.
Is It Better to Pan Fry or Grill Burgers?
This is your choice to make. In my opinion, I suggest you go with cooking your burgers inside your house when it is too cold for you to be grilling outside.
How Do You Pan Fry Burgers Without Burning Them?
To do this, you will need to regulate the heat of the skillet. The outside of your burger will burn, while the inside will be raw if it is too hot.
What Is The Secret To Juicy Hamburgers?
Just don't press the beef while it cooks, and let the burger patties rest for at least 5 minutes after cooking, as this will make sure that the juices remain in their place.
Final Thoughts
Make sure you do not press on the burgers with the spatula when cooking them, as this will cause the juices to leak from the burgers and form a drier result.
Also, cook the burgers in batches and cook the burgers to just under the desired doneness level if you are making burgers for a crowd.
Just transfer the cooked burgers to a baking sheet and keep them warm in a 300-degree Fahrenheit oven while you complete the rest of the batches.
It's time to go make the best pan-fried burgers, as you now have the perfect recipe to do so.